Hipsters are known for their trends. From thick-rimmed glasses to flannel plaid, they always strive to be unique. However, none of these trends are as elusive as the full, thick beard so many hipsters strive for.
Although hair transplantation surgeries have been available for years, beard transplants are becoming increasingly popular due to the latest male fashions. According to the International Society of Hair Restoration Surgery, facial transplant surgeries have increased 14.2% from 2008 to 2010 and it continues to be on the rise.
A beard transplant is historically done by a series of micrografts and minigrafts; harvesting the hair follicles from the back of the scalp and inserting them into incisions made on the face with a 0.8mm scalpel.  However, these techniques are very meticulous, time consuming and require quite a long healing period. In addition, these old techniques limit the surgeons to only harvesting 500-700 hair follicles in one surgery. Most patients require the harvesting of between 500 and 1000 follicles to complete their beard transplant, so this number is less than satisfactory.
The latest technique is called a NeoGraft Follicular Unit Extraction (FUE) hair transplant. This technique still collects the hairs from the back of the scalp and implants them in the necessary regions on the face. However the Neograft device improves the accuracy and speed of a FUE hair transplant while being less invasive, and requiring significantly less healing time. Using Neograft, a surgeon is able to harvest and transplant over 1500 hair follicles in one surgery making it more desirable for those individuals who require more hairs to be transplanted.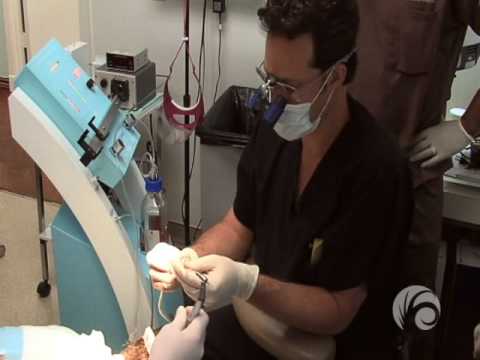 After the surgery one can expect the hairs that have been transplanted to grow as any normal hair would. A man will have to shave this hair like they would a normal beard. Dr. Bauman, the first plastic surgeon to routinely use the Neograft device says,
 "It takes about a week to heal from the procedure. It takes 6 to 12 weeks for hair to start to grow. Half of the transplanted follicles have visible growth after 6 months. The rest fill in after a year."
Although the latest techniques make a beard transplant surgery a more minor procedure it is not without its costs. A typical beard transplant surgery costs $10 per follicle. This equates to a cost of anywhere between $5000 and $10000. In addition, it should be noted that the hairs that are removed from the back of scalp never grow back.
With less invasive procedures becoming available and the trend of a thick, full beard being more prominent than ever, it's no wonder that beard transplants are becoming more popular. So, to all hipsters out there, you are not alone if you choose to embrace this growing trend.
Monica Leslie