Fish Farming, or aquaculture, as Fisheries Scientists call it, is a burgeoning industry around the World, especially in China. It does however, come with a whole host of problems that we, as smart consumers, should be aware of. This blog post will focus on a few of BC Aquaculture's problems and combines data from a wide variety of sources, however a good overview of the global industry can be found here!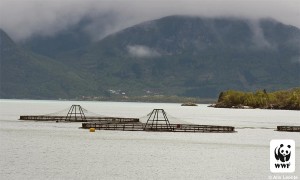 Image Source: Flickr User World Wildlife Fund.
The first major problem that we see in marine-based open system aquaculture facilities (where fish live in the sea water and there's no filtration of that water) is the nutrient load added to the water. When we're growing fish we want them to grow as quick as possible with as little food as possible (to maximize profit), so we use very, very high nutrient feeds. These nutrients leach out in the water around the pens and encourage algal and bacterial growth in the water. This can have some not fun consequences for the surrounding oceans! See very simplified YouTube video.  Moreover, it really messes with the sediment underneath the pens, changing the ocean floor there chemically which can have very long lasting repercussions on the plants and animals that live there. We're talking centuries long-lasting!
Now where do all those nutrients in the food come from? That itself is a big issue. They come from fishmeal, which is essentially small fish, ground up into pellets. These fish are caught in quantities that just boggle the senses (around 30 million tonnes every year). This fishing results in overexploitation and an undermining of the food web in an ecosystem. This happens because the little fish (that previously we hadn't eaten) are removed in a huge quantity, leaving no food for the slightly bigger, predatory fish. When you combine this undermining (bottom-up) fishing with top predator (top-down) fishing, you leave a lot of BC ecosystems in a very precarious position. Around 30% of fishmeal is made of small fish, although efforts are being taken to reduce its usage.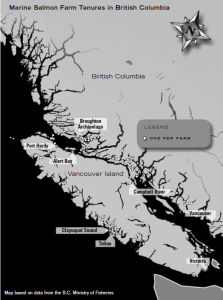 Finally, we have to think about where we are putting these potentially harmful fish farms. Around 90% of BC fish farms are in the Broughton Archipelago on the North Coast of BC (see Fig. from Leggatt Inquiry) . This is an area that has traditionally been held by many, varied BC First Nations, who have an ancestral right to live and harvest there without interference. Often fish farms are provincially approved without their permission, leaving these  people, who historically have 'lived off the landscape' (usually sustainably), to absorb the negative effects fish farms have on their environment. Further effort should be taken to actively involve and empower BC First Nations in the aquaculture decision-making process.
I hope this post showed you why Salmon Farming is such a contentious issue, although of course I only covered a tiny part of that huge debate. It is your choice on whether farmed Salmon is a good buy, but one thing is for sure, it ain't going away any time soon! With World population increasing so rapidly, aquaculture needs to fill those mouths as the already overexploited wild-caught fish stocks can, and should, not.
Al Eggo