Did you have an experience when your pretty classmate came late in the morning class and you did not recognize her? Please do not blame her for looking different. Women usually take at least 10 minutes to do makeup; however, if they wake up late, there are only two choices: give up on makeup or be really late on class or work. I am sure that most of the women have thought of this at least once, "uh, I am too lazy to do my makeup and remove it at the end of the day."
There is one solution for that: permanent makeup. Your eyeliner will not smudge even when you cry unexpectedly, your eyebrow will stay at the pool party and your lip colour will stay vibrant even after you ate hamburger. If you cannot give up on your eyebrow and your eyeliner, but it is hard to wake up 10 minutes early, think about getting a permanent makeup. You can sleep 10 more minutes but still look great with your perfect looking (permanent) makeup.
Permanent makeup is also called micro pigmentation, which is a skill used for tattoo. Perhaps, the steps for getting a permanent makeup are very similar to the procedures for getting a tattoo. Permanent makeup has some good effects on people. For example, it gives hope to people who have lost their natural brows by disease such as alopecia totalis or accidents. Also, women would not have to worry everyday about drawing asymmetrical, two totally different looking eyebrows.
However, there are many side effects for this makeup. According to CNN, the permanent ink that is used for eyeliner, lip color, or eyebrow may cause allergies, swelling, cracking, peeling, blistering, scarring, infection or granulomas. These reactions can be severe and hard to recover. FDA states that it has not administered the pigments used for tattoo or permanent makeup, but it did restrain some of the pigments that were reported to have side effects. Also, since permanent makeup is similar to tattoo, it cannot be removed easily. You would have to think carefully about the shape and the colour before you get it done. Moreover, permanent makeup is quite costly, so if you are okay with waking up a bit early and getting your makeup done, you might want to do that. However, if you do get permanent makeup, you will not need any extra makeup products, so you can save money. After all, it is fully up to you. Would you try getting a permanent makeup even though you know all those side effects?
Here is a video from a technician, Tracy Fensome. She shows the procedure for the lips permanent makeup.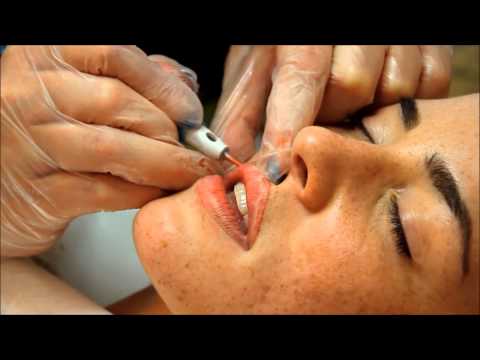 Michelle ShinHwo Bak