Listed below are selected teacher resources, picture books, and non-fiction related to home economics and culinary arts.
Teacher Resources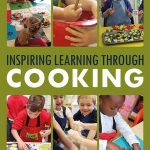 Inspiring learning through cooking, by Suzie Strutt
Grades: K-3. Cooking provides children with a wealth of opportunities to discover new materials and processes; develop their physical and social skills; and lead their own learning. Helping teachers and practitioners make the most of the valuable learning opportunities that cooking offers, this book provides all the information, support and inspiration needed to successfully introduce cooking into the early grades. eBook only.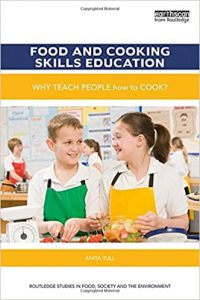 Food and cooking skills education: Why teach people how to cook?, by Anita Tull
Grades: K-12. This book explores food and cooking skills education in schools in England and Wales, detailing the historical and contemporary significance, challenges, and opportunities in the subject and how to move forward. eBook only.
Family & consumer sciences: 30 lesson plans: Family, foods, textiles, by Learning ZoneXpress
Grade: 8. This book contains lesson plans and worksheets on basic life skills such as budgeting, housing, nutrition, consumer decision making, cooking, and textile skills. Also includes teaching tips and techniques.
Picture Books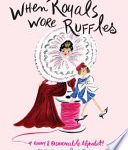 When royals wore ruffles: A funny and fashionable alphabet!, written by Chesley McLaren and Pamela Jaber, illustrated by Chesley McClaren
A little girl goes back in time and meets a cast of characters wearing the latest trends. In B, we see Bustles, in H there's sky-high hats (and hair!) and, in S, well, you won't believe the shoes. And when the girl finishes her stylish trip—with Y for You and Your own Zany style—she puts on a fashion show for the people she's met.
See what we eat!, by Scot Ritchie
Yulee and her friends Nick, Pedro, Sally and Martin are taking a trip to her aunt's farm to pick apples and make an apple crisp for a potluck harvest dinner. But first, Aunt Sara gives the friends a tour of the whole farm, where they learn what it means to eat balanced meals, why eating local food matters and all that goes into getting food from farm to table. Who knew there was so much to learn about what we eat?
Non-Fiction
What we wear: Dressing up around the world, by Maya Ajmera, Elise Hofer Derstine, and Cynthia Pon
Grades: K-3. What we wear can identify who we are: what team we play for or cheer for, where we go to school, how we worship, or how we represent our heritage. Whether it's a piper in a tartan plaid, a cowpoke in a cowboy hat, or a novice in ceremonial face paint, children everywhere wear different clothes and accessories for different reasons. But one thing they all have in common is that they are all unique and beautiful.
 I can make costumes, by Emily Reid
Grades: 3-6. Creating handmade costumes is fun, and it's also easy when the process is broken down into steps that are easy to follow. Readers are able to follow along with accessible, step-by-step instructions as they make a pirate, a fairy, an alien, a superhero, and more. Photographs of the necessary steps help visual learners successfully complete each project. An introduction to basic sewing and decorating techniques is included.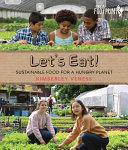 Let's eat! Sustainable food for a hungry planet, by Kimberley Veness
Grades: 3-7. This book uncovers the secret lives of our groceries, exploring alternative–and sometimes strange–farm technology and touring gardens up high on corporate rooftops and down low in military-style bunkers beneath city streets. Packed with interesting and sometimes startling facts on agriculture around the world, readers will learn everything from the size of the biggest farm in the world to how many pesticides are in a single grape to which insect people prefer to eat.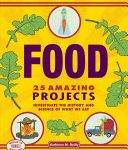 Food: 25 amazing projects, written by Kathleen M. Reilly, illustrated by Farah Rivzi
Grades: 4-7. The projects in this book gives students "food for thought" as they dive into exciting projects about the history, science, and cultural importance of food. Learn about about all aspects of food in daily life: how vegetarians balance their diet, how some cultures rose and fell based on a single food source, the route from farm to market, how eating locally makes an impact, and much more.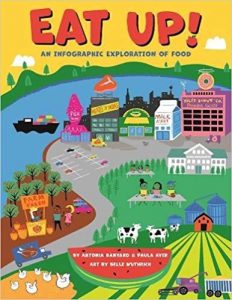 Eat up! An infographic exploration of food, written by Antonia Bayard and Paula Ayer, illustrated by Belle Wuthrich
Grades: 4-7. Through visually engaging infographics, this book explores many of the big questions about food, including who grows our food, where does our meat and fish come from, what the difference is between a hybrid and a genetically-modified crop, how much farmland there is in the world, what kinds of "extreme foods" are out there, and many more.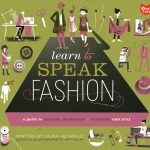 Learn to speak fashion, written by Laura deCarufel, illustrated by Jeff Kulak
Grades: 4-7. Not only can fashion be fun, silly, impulsive, and even inexpensive – it can also be a really rewarding avenue of self-expression for everyone. This book gets to the heart of what makes clothing so much more than what we put on our bodies. Topics include understanding how to dress every part of the body and how to make your own pair of pants, to learning how to harness your design ideas with an inspiration board or hold a fashion show in your backyard.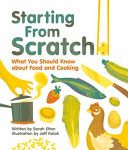 Starting from scratch: What you should know about food and cooking, written by Sarah Elton, illustrated by Jeff Kulak
Grades: 5-12. This book demystifies food and cooking by boiling it down to the basics. Kids will be able to make sense of recipes, measure and substitute ingredients, and stock a pantry, but they'll also discover that food is more than just a prepackaged meal. Includes several tasty recipes.
Foodprints: The story of what we eat, written by Paula Ayer, illustrated by Ira Olenina
Grades: 5-12. The everyday choices we make when it comes to food don't just have an effect on us: they also affect other people and the planet. This book enables readers to get the big picture about food production, marketing, and its role in society. Readers will discover how our food system evolved from hunter gatherers to online ordering; how mega-farms and factories came to produce the bulk of our current food supply; how to work through confusing nutrition advice and advertising; and more.
Food industry, by Erika Boas, Fiona Luray Wilhelm, and Jeffrey D. Wilhelm
Grades: 6-9. Part of the Issues 21 series, which examines contemporary issues in society in order to develop students' skills in the areas of critical thinking, creativity, communication, collaboration, ethical citizenship and activism. Includes 6 student books and a teacher's guide.
Eat fresh food: Awesome recipes for teen chefs, written by Rozanne Gold, photographs by Phil Mansfield
Grades: 7-12. Along with an All-Star Team of teen chefs who love to cook and love to eat good food, Gold has created more than 80 mouth-watering recipes, attuned to the seasons, refined for the kinds of food teens want to eat. With plenty of snacks, smoothies, school lunches, burgers, fabulous pizza, desserts, and more, each delicious bite is made with the freshest, best-for-you ingredients you can find.
Bad girls of fashion: Style rebels from Cleopatra to Lady Gaga, written by Jennifer Croll, illustrated by Ada Buchholc
Grades: 7-12. This book explores the lives of ten famous women who have used clothing to make a statement, change perceptions, break rules, attract power, or express their individuality. Included are Cleopatra, Marie Antoinette, Coco Chanel, Marlene Dietrich, Madonna, Lady Gaga, and more. Readers will learn not only about changing fashion styles through history, but about changing historical attitudes toward women, and the links between fashion and art, film, music, politics, and feminism.
 Food for today, by the McGraw-Hill Education Team
Grades: 10-12. A comprehensive foods textbook, including sections on the food supply, food science and technology, safety and storage, equipping a kitchen, reading recipes, and foods from around the world.
–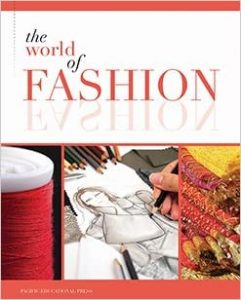 The world of fashion, written by Anne Brennan, Alison Harrigton McCabe, and Susan J. Smith
Grades: 10-12. Offers a look into the Canadian and global fashion industry, including manufacturing, design, marketing, consumer behaviour, and more. Develops inquiry and research skills by providing real-world examples for students to explore. See also, Clothing: Fashion, fabrics and construction
Clothes & your appearance, by Louise A. Liddell and Carolee S. Samuels
Grades: 10-12. This book is designed to help students understand the role clothing plays in their lives, how to make the best decisions regarding the selection and care of clothing, and how to construct apparel. In addition, students learn about textiles and design, the textiles and apparel industry, the many career opportunities in the textiles and apparel field, and how to develop the skills needed for success on the job.
---
Finding More Resources
To find more resources in this area, try the following:
Search using the General tab on the UBC Library website to look for material in all UBC Library branches.
Search using "Search Education Resources" box in the left hand bar on the Education Library website to limit your results to materials in the Education Library.
Use specific search terms to narrow your results, such as "cooking–juvenile literature", "cooking–study and teaching", "food supply–juvenile literature", or "clothing and dress–study and teaching".
To find lesson plans, include "lesson plans", "lesson planning", or "activity programs" in your search terms.
For more help with searching, please visit the Library Service Desk or e-mail ed.lib@ubc.ca.