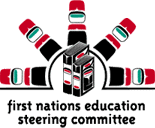 The First Nations Education Steering Committee (FNESC), an independent organization focused on increasing the quality of education for all First Nations people, is led by First Nation representatives throughout British Columbia.  Along with their commitment to improve education, the FNESC provides support services the First Nations Schools Association and the Indigenous Adult and Higher Learning Association.
Important links include:
First Nations Schools Association
Indian Studies Support Program
Indigenous Adult and Higher Learning Association
Post-Secondary Education and Training
Aboriginal Recruitment for 2010 Games
Atlantic FN SchoolNet Helpdesk
First Peoples' Cultural Foundation
FNESC logo [Online Image]. (n.d.). Retrieved November 17, 2009, from FNESC website. http://www.fnesc.ca/index.php
November 19, 2009 No Comments
Pathways to Technology initiative is to connect First Nations communities to the world.  Working to bring reliable high-speed Internet, they  recognize connectivity as paramount to closing the socio-economic gap between First Nations and other British Colombians.  The First Nations Technology Council (FNTC) and the First Nations Health Council have stated that broadband connectivity as a priority for First Nations.  Through the dedicated work of the FNTC and its partners, $22.5 million was granted to begin to provide connectivity to all 203 First Nations.  Pathways to Technology  is the overall initiative's name.  The benefits of broadband the site lists are related to: health care, education and skills development, cultural preservation and revitalization, economic development, land and resource management, and critical infrastructure monitoring.
Links include:
All Nations Trust Company & All Nations Development Corporation
First Nations Technology Council
Pathways to Technology logo [Online Image]. (n.d.). Retrieved November 17, 2009, from Pathways to Technology website. http://www.pathwaystotechnology.ca/
November 19, 2009 No Comments