Module 4 – Weblog Entry #1 – Bruce Spencer
I selected the Gwich'in Social and Cultural Institute as my first entry because of its significance to my research on the Gwich'in people. Their language is listed as one of eighty-eight dying languages in Canada. My research paper takes a look at the history of the language and what has been done to try to preserve and maintain the language during the past sixty years.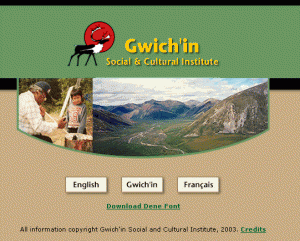 Also of interest are:
• Gwich'in Language Wikipedia taken from Answers.com
• The Gwich'in Settlement Area taken from the GDC website
• Information of the Gwich'in Land Claim taken from the GNWT's Aboriginal Affairs and Intergovernmental Relations website.