'Diwali Mela' at UBC Okanagan organized by the Indian Student Association

The Indian Student Association (ISA) organized Diwali, or as it is more popularly known, the 'Festival of Lights'. Diwali is one of the biggest festivals celebrated in India. It commemorates the victorious return of Lord Rama after 14 years of exile after saving his wife Sita from the demon king Ravana.
Diwali is celebrated to signify the triumph of good over evil symbolizing the dispelling of darkness.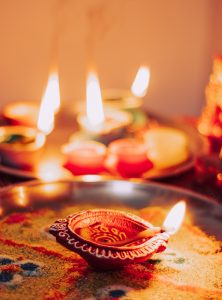 On Diwali, people decorate their homes with lights and make colorful rangoli's (patterns made on the floor with colors) in their courtyards. You will see people dressed in new clothes, bursting firecrackers, exchanging gifts, and praying to Goddess Lakshmi (goddess of wealth). 
Since Diwali is such an important festival for Indians, the ISA wanted to share those sentiments with everyone on campus by organizing a 'Diwali Mela' (fair). At the Mela, several local businesses set up stalls selling Indian goods like jewelry and clothes, offering henna designs, and painting diyas (earthen lamps). As the evening proceeded, there were stunning performances put up by the Bhangra Club and UBCO Beats Club. The students were served traditional Indian food and dessert like biryani, paneer pakode, chilli chicken, jalebi, and gulab jamun. The night concluded with everyone lighting up sparklers. 
As an international student, being far away from my family and culture creates a feeling of isolation. Events like this instill a sense of belonging among students and preserves the diversity on campus. Other members of ISA shared feelings of nostalgia and distance from their cultures and families when they first arrived in Canada, however ISA events such as, Diwali provided them with a community to celebrate their cultural identities.  
These events cultivate among students a sense of belonging at the university.
Moreover, celebrating different cultural events on campus promotes inclusivity. Learning about other cultures educates people to be mindful and respectful of different perspectives. The Diwali Mela was attended by not only Indians but also by people from diverse backgrounds. It left us with memories of a fun night spent with friends and the community.
Photo by Prashant Gupta on Unsplash