Compilation of Artwork Exhibited at FINA Gallery by Nasim Pirhadi
Say Her Name 
artist's statement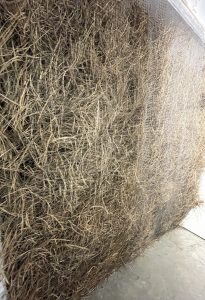 Using pine needles, I built a wall to embody the restrictions the Islamic Republic imposed upon Iranian people.
A wall between Women and Men 
A wall between Iran and the free world 
A wall between the dispossessed and the privileged
Many people died to cross the wall 
Many are in prison because they think there shouldn't be a wall 
Many people inside Iran are trying to connect to the free world by destroying the wall
Many are risking their lives by choosing to live as though there is no wall.
Many Iranian citizens outside of Iran cannot return home because of the wall 
Many religious and sexual minorities cannot live safely inside the wall
The video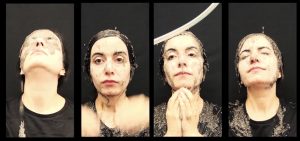 In the video, I am repeatedly smearing my face with and then cleaning it of basil seeds as traditional drum music plays in the background. This music is normally played in zoorkhanehs, traditional gyms that only men are allowed to enter and participate in, and whose name translates to House of Strength. There is an old belief that women are not purified enough to enter these sacred places, and that the inherent corruption of womanhood makes them undeserving of titles like 'hero' or 'champion'. Through the repetitive act of cleaning my face of basil seeds, positioned here to represent Irian womanhood, I am asking: is it enough now? Am I purified enough? Am I eligible now?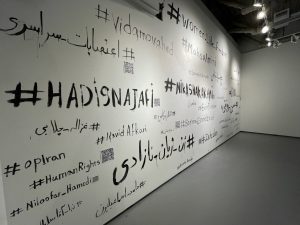 In Farsi, the word for basil is 'Reyhan', which is also a common female name, so, basil seeds and the gelatinous mass they create upon contact with water are embodying female kinship networks. The way that basil seeds swell twice their size and bond together upon coming into contact with water is representative of the misogynistic fears surrounding the contagious nature of women's drive for freedom – if one woman is fighting for it, she might 'infect' other women around her with the same ideas."
The purpose of the show was to raise the awareness about the unrest in Iran and be the voice of the Iranian people. Informing the audience and bringing them into a conversation like easing it a little because this is a difficult conversation especially with so much global attention on it. The exhibition meant the criteria of here come, you are welcome to the conversation, see a little bit of what's happening in Iran.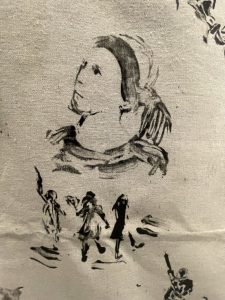 Nasim is currently working on her new project about women's rights in Iran which is the continuation of her previous works and is a network that depicts the layout of an Iranian traditional gym called Zoorkhaneh (The House of strength). In Zoorkhaneh, a variety of tools are utilised, including Meel, Zarb and Zang (drum and bell), Kabbadeh (bow and chain), Sang (shield), and Takhteh Shena (Push-up Board). To construct the Zoorkhaneh structure, she is creating some of this equipment out of natural elements including wood, basil seeds, and sugar, as well as creating some paintings and video art.
About the author
Nasim Pirhadi is a multidisciplinary artist and MFA candidate at UBCO whose artistic practice are mainly a compilation of spatial installations, video art, sound, and drawing. She is interested in creating interactive experiences to facilitate narratives in her works. Her works explore culturally sensitive topics in the complex socio-political environment of her home country, Iran. Her research-oriented practice engages with feminist approaches to female identity and subjectivity and gender performativity. She has presented at festivals and artist residencies across Iran and internationally. Nasim won the selected award of the third contemporary drawing Festival in Iran in 2011 and has been shortlisted as eight finalists for the Behnam Bakhtiar Award in Monaco, France, in 2017. She has recently received the Audain Foundation travel award for a research trip to New York.