NEED TITLE

by Shiza Maqbool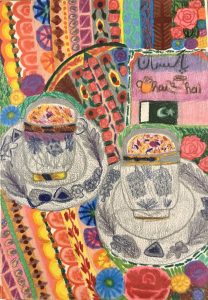 Artist Statement
Her creative illustration showcases how she senses 'place' by representing her home nation of Pakistan. Her piece compiles key trends and symbols such as Kashmiri chai, truck-art and her native tongue which is Urdu. All of these are very well known in Pakistani culture so she wanted to choose a place that represented the 'non-Canadian' side of her. She chose Pakistan since it represents her 'home away from home' while being a place for her to connect to her cultural roots and learn from others. She uses her experiences to reveal the diversity of her country and tell its stories through her artwork.
About the Contributor
Shiza Maqbool dabbles in the visual arts in her free time while being a first-year Arts student at UBCO. She is a self-taught artist and has been drawing since the age of four.  Shiza hopes to become a Speech-Language Pathologist in the future while still pursuing art as a finely-tuned hobby.
Illustration by Shiza Maqbool