In Conversation with Aliyah Ayorinde, Busie Adebayo, and Kojo Clarke by Samaya Miller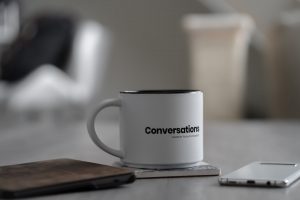 Describe how your membership in a student organization makes you feel included in a way that is unique from your experiences with the general school population. 
Aliyah Ayorinde (AA) is a staff member at the UBCO Student Experience Office. She is currently the orientation event coordinator and works to aid in the programs and events of her office:
I first started when I was a student- that's how I first met everyone in the student experience office- and I was an orientation leader. At first, I was apprehensive because I thought you had to be a certain way, but when I was going through the interview process, they emphasized the importance of seeing me as I am and that there was no need to pretend to be whom I think they wanted me to be, and it was offered in a way that was accessible to me. Which boosted my confidence and made me want to do well in the role because I felt like, you know, I'm going to be valued as myself, and then the next year everyone was encouraging me for doing so great, and it made me feel so happy and way more confident to be a senior leader. The following year, again, I was so confident, which made me apply for student staff, and then later, when I graduated, I became a full-time staff member, knowing that my gifts were appreciated.
Busie Adebayo (BA) is the VP External for the UBCO African Caribbean Student Club (ACSC):
ACSC makes me feel included simply by creating a space where I can see and interact with people who closely relate to a similar culture that I grew up in and the experiences, good and bad, that come with being African or Caribbean in Canada. The club provides room for us to come.
"

ACSC makes me feel included simply by creating a space…"
Kojo Clarke (KC) is the VP Finance for the UBCO ACSC:
In Kelowna, there are very few spaces that allow us to exist in joy. I believe that majority of my happiest moments have been through the club and have helped me find a support circle to aid me through my university career. The events were always 'come as you are' without a fear of prejudice.
Please describe a typical meeting or event of this student organization.
AA: Black community lunch: Initially, it was going to be a part of Black student orientation, but we felt like the timeline was too short to include it in September, 2022. So, we pushed it to October so we could get more resources and connect with campus partners better… [and support] Black student orientation. I did become the main coordinator, but was lucky to have help from the whole team, particularly Prapthi and Tage.
BA: At a typical ACSC event there is always food, music, dancing, and vibes. It's really just people having fun together.
KC: I think the differences in the events make them unique, but one thing that was certain is there is always music and food.
Please describe the benefits (personal and/or group-wide) experienced after a meeting or event with this student organization.
AA: Well, I would say it benefits me because it benefits the community. What I like to see the most is when I get to see everyone being connected and when people are having those conversations and just being around each other and just having vibes and good times. That's when I'm like, you know this was worth all the panic [laughs]. With the community, you know, I've been collecting feedback as we go so I can know how to improve in the future. And the main points were just the importance of everyone being connected to others and knowing that there was this event where it was focused on the Black community and their wellness. I knew that this event would have been something beneficial for me as a student.
"Being acknowledged through this event made students feel part of the space."
BA: Personally, I've always met at least one new person by the end of every ACSC event. So, I would say that one of the main benefits of being a part of this club is making new connections and friendships, which also goes back to the topic of inclusion on campus. ACSC events are also mostly fun events so it's a bit of a pick-me-up after a stressful week filled with assignments and tests.
KC: The purpose is to promote interest in and knowledge of African and Caribbean cultures among UBCO students and the greater Kelowna community. This helps create spaces for these communities to feel a sense of home and belonging as well as communicate amongst likeminded peers.
Any future events for the Black Community to help foster inclusivity?
AA: I would love to improve the Black community wellness lunch first because I think having this and a separate piece for education could be very useful as I noted that this was needed for some students. I would love to also do some workshops about being a black student and managing the expectations of the community and your family and university so that students can feel connected to one another and know that they are not just carrying the weight of their community on their backs alone. I would also like to collab[orate] with different campus partners on campus for equity and inclusion.
Please describe how you believe this student organization promotes equity.
BA: I think ACSC promotes equity by providing space for everyone to celebrate their different cultures together. We also have a few things planned for next semester that deal with mental health and self-care for people in the club, so hopefully those will also contribute to our promotion of equity on campus!
KC: I think that what we try to promote is that other students have a voice and a say in what they can enjoy as well. This is not a slight on any other club, but the conversations I have with our members is that there is not a club as inclusive as ours. We try to create a great vibe and use culture to drive our events. Our motto, Ubuntu, means I am because you are. We can't exist without our members and our goal is to allow those who have a voice, or [those who] don't to still feel joy because you are surrounded by joyous people.
"Our motto, Ubuntu, means I am because you are."
What would you say to someone who is struggling with feeling safe and included in our community?
AA: I see you, I feel you, and I empathize heavily. It's hard to feel like you are not alone when the campus is telling you that you are alone, but know that you are not and there are people here who want to support you and see you thrive despite the lack of systemic change … We want to see you become the best version of yourself. It's hard to go out every day having to be brave… I'm rooting for you.
"…

there are people here who want to support you and see you thrive…"
Photo by Cody Engel on Unsplash