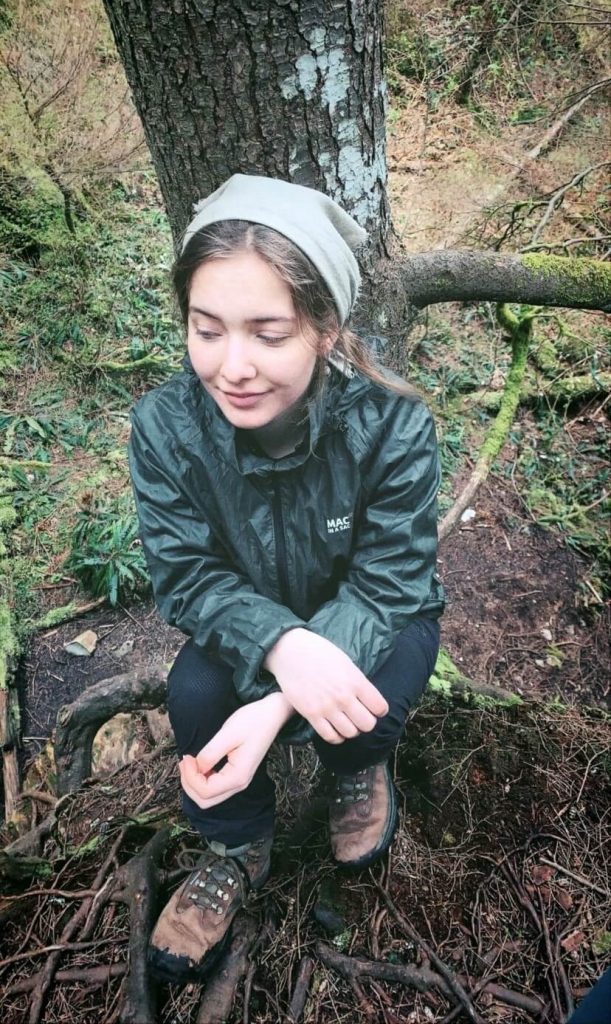 Hi – I'm Kira! I was born in the States, then moved to the Netherlands in 2010. I went to Scotland to start university, however, after my first year, I realized that what I really wanted to study went beyond what was offered at the university, so I decided to transfer to UBC where I would be able to build my own personalized degree. I'm in the Faculty of Arts, my major is Interdisciplinary Studies. The theme of my major is Forest Communities with a secondary category in Anthropology.
For the past couple years at UBC, I've been volunteering with Sprouts Café, which is a food security initiative based in the Life building. I was also recently accepted into the Sustainability Ambassadors Program, which I will start in September. I was a Peer Tutor in BIOL 121 this past winter term and summer term, and I'm very grateful for the incredible mentors I've had in this role, Lynn Norman and Brett Couch.
What do you most enjoy about being a peer tutor?
I like being able to relate to the students. As an undergraduate student who fairly recently took BIOL 121 myself, I've been where they are and I know how they're feeling, so now I want to help them in their understanding and give back in a sense. I really love office hours where I get to work with students individually and in small groups. It's very rewarding to help them develop their understanding and to see ideas "click" that were initially challenging for them.
What has been an interesting outcome of your peer tutoring experience?
Getting to know the teaching faculty has been a great thing that I've been able to take away from this experience. Being able to get to know them, work with them, and gain from their experience has been really wonderful.
How has your unique background influenced your peer tutoring experience?
I took BIOL 121 myself within a year of first joining the teaching team, so I still remember what it was like to be a student in this course. I started tutoring back in 2019, so I'm also quite comfortable in that role. I'm also able to draw upon what I'm learning in my other courses when helping students. For example, in my office hours the other week a student came in with questions about niche partitioning and I was able to share some extra insights about the topic that I recently learned in one of my forestry courses.
What other teaching and learning opportunities have you been part of?
I had the opportunity to give a guest lecture when I was a student in Brett Couch's BIOL 121 section. It was during the ecology section of the course, so I spoke about salmon and bears and how Indigenous ways of knowing can teach us a lot about forest systems. I also showed a portion of a TED Talk on the topic featuring Dr. Simard as I felt that she could explain it better than I could.
What is something you are currently doing at UBC that you are excited about?
I recently joined Hapkido through UBC Recreation as well as Dance Horizons, which has been a lot of fun!
What do you like to do in your spare time?
Last summer I did a full-time course for acting training that was for on-camera as well as voice over for film and television. On the side I am a working voice actor and I'm hoping to be signing with an agent this summer. I also very much enjoy singing.
What are your plans following graduation?
I've experienced a lot of changes in my life, so I like being adaptable and letting go of plans as I've found that plans usually don't turn out the way that you expect them to anyway. That being said, I think it's very much in my future to be doing a masters, and probably also a PhD. It would be nice to visit Scotland again, but I'll probably be based in BC for a while yet!