Over a three day stretch, secondary students organized, marched, walked, spoke, and shouted out against oppressive labour legislation in British Columbia and for their teachers and the BCTF.  It's rare that secondary students get opportunities to unify as a political force at the provincial level, but now in this labour dispute the students are making a difference.  On Friday, 2 March, thousands of students walked out of their classes and schools and rallied across the province.  In Vancouver, the students descended en masse for a rally at the gallery.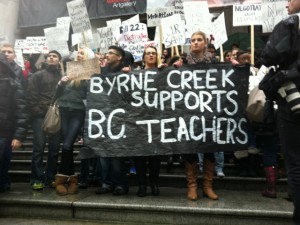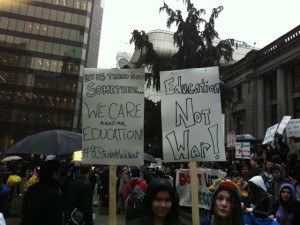 On Tuesday, 6 March, at the BC Fed and BCTF rally hundreds of the youth marched with the unions down Government Street and to the steps of the BC Legislature.  For the crowd of 6,000, two young women, Hannah Case and Erin Galbraith, spoke a lotta truth to a power undermining their teachers' rights.   In Vancouver, on 7 March for the rally at the gallery, secondary students Navi Rai and Melissa Wong stood together on the steps and voiced their support for the teachers' rights and their right to a fair government.  Both were active in organizing Friday's walkout.  And raising the roof of nature, Chandler McCorkingdale rapped.  Sorry, BC Liberals, the students and the public are standing with the teachers.
Now, where in the world are the missing BC post-secondary students, especially the Education majors?  Especially now?  I know that some are organizing online.   And I know that the Canadian Federation of Students BC is 100% behind the BCTF and the teachers.  But across three rallies not a single post-secondary student signed onto the speaker's lists.  Not a single one spoke while thousands of the secondary students have shown their strength as a political force.  Perhaps UBC's Teacher Education Officer John Yamamoto's interview with the CBC's Morning Edition on 7 March is telling.  Yamamoto advised that the Education students should, nay must, remain neutral.  Some advice for the teacher candidates– one gets the sense that he thinks he is advising 700 administration candidates!  Where are the post-secondary students and will the CFS BC organize the group to be heard or present?