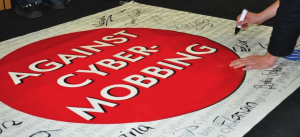 Heritage Minister James Moore announced $250,000 in funds this week to support the Federal government's Youth Take Charge initiative. The new funding supports a youth-led anti-bullying project, primarily through the Canadian Red Cross's Stand Up to Bullying and Discrimination in Canadian Communities project, building on the Red Cross's Beyond the Hurt program. The Red Cross funds will be used to train 2,400 teens ages 13 to 17 to deliver workshops for their peers. The announcement was made at the Ottawa high school where Jamie Hubley was a student when he heart-breakingly took his life in the throes of bullying on 15 October 2011.
The new initiative and funds signal increasing concerns with bullying and cyberbullying, which is receiving due attention; mobbing, including cybermobbing, is also drawing attention. Although mobbing can refer to a group of bullies, it less obviously refers to scenarios where students, teens, etc. succumb to peer pressure to gang up on one or a few individuals. Any one of those joining into mobbing may never be suspected of bullying per se, as they are unlikely to single-handedly act against a target, but collectively all too readily assume the characteristics of the pack.
In the past year were two highly publicized suicides of young women in tormented by cyberbullying and cybermobbing through social media. The tragic story of Amanda Todd, who took her life on 10 October 2012 after posting on YouTube an emotional cry for help and description of how she suffered, generated a wave of compassion and questions: how could this have happened to a 15 year-old high school student at CABE Secondary School in Port Coquitlam, BC. Who and what are responsible? Why? Canadians relived a nightmare again when Rehteah Parsons, a 17 year-old student in Coal Harbour, NS, took her life on 7 April 2013. This young woman was a tragic victim of rape and subsequent malicious social media practices. Yet the deaths of these young women followed three suicides in 2011– young women all of which were tormented through social media practices maligning and targeting them: Emily McNamara, Jenna Bowers-Bryanton, and Courtenay Brown took their lives in March and April 2011. There is no getting over these young women, Jamie Hubley, or the many others who lost or took their lives for similar reasons.
Teachers have for years been taking stands against bullying and mobbing and need help and support, and they need insights into how to protect themselves from making a mistake in the selection of resources. For instance, on 29 May 2013, a Winnipeg teacher at École Julie Riel in St. Vital showed a popular anti-bullying movie titled Love is All You Need?, using the YouTube version. It's a professionally produced movie with a powerful message. Writer and director Kim Rocco Shields defended the movie, noting that "it was created to open eyes of more adults and maybe teenagers, late teens, that couldn't really grasp the idea of why kids were being bullied and why kids were taking their own lives." Contemplating an edited version for use in schools, she reported that "some of the experts said, right then and there, we must change the ending so it's more uplifting."
With the explicit peer-induced and self-inflicted violence of the video, a student fainted in class and the boy's parents understandably became quite upset. The boy's father was straightforward: "A teacher chose something that was viewed that was not part of the official curriculum." Superintendent Duane Brothers called the video "clearly inappropriate."
Hopefully, in addition to the $250,000 for youth-led anti-bullying project more funds will be forthcoming forthcoming from federal and provincial governments for teacher-led initiatives.