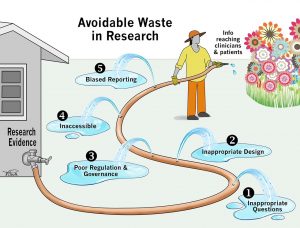 In January 2014, Professor Ian Chalmers and colleagues including Jonathan Grant, Ben Djulbegovic, and John Ioannidis launched a landmark Lancet series relating to research waste? Why 'landmark'–isn't that an overused trope? Not in this case because these preeminent scientists were looking in the mirror. Instead of 'more research is needed' and 'more funding is needed' these global leaders examined avoidable waste. Also in 2014, the METRICS (Meta-Research Innovation Centre at Stanford) launched.
They were heady days indeed. During that year the Centre for Open Science, in collaboration with Science Exchange of Palo Alto were trying to replicate findings from key cancer biology trials. You can guess how that worked out. Or read about it here.
If this isn't too depressing you can get up to speed quickly via Rigor Mortis by NPR journalist Richard Harris. Who is not to be confused with the other Richard Harris (both great, of course). It's a four-hour read that will change your life if some of what you are hearing here is news. Thanks to David Moher @dmoher for pointing me to that one.
Kudos international award-winning science graphist Vicky Earle @EarleArt for the graphic above and more to come on this blog … k2