So there I was, all dressed up in business formal and (literally) killer patent heels, standing in front of an audience of a hundred in the Ponderosa Centre, ready to launch into the speech that I have been working on for the past month. Why do I subject myself to the scrutiny of the public, the shaky nerves, and the horror known as Impromptu Speech? Because I actually find it VERY. VERY. FUN. *cue fangirl squeeeeee*
UBC's Business Communication Club hosted a public speaking contest this past Thursday called SpeakOut – the first of its kind on campus in almost a decade. We went through an auditions round earlier in the month where they narrowed it down to six finalists. We then paired up with professional Toastmaster coaches and practised our speeches with the topic "The Next Great Idea".
I passed along my two complementary tickets to my parents, as it has become kind of a tradition for them to attend all my speech contests (and give me their brutally honest opinions). The room was set up with a dozen or so round banquet tables and seated about a hundred. I along with a few of the other finalists got there early to test out the lapel mics. The event was heavily sponsored by CGA (Certified General Accountants) hence we had a wonderful keynote, John Noonan, from CGA to talk to us about the fascinating nuances of public speaking.
The competition itself was AMAZING, mainly because all the finalists were talented in so many different ways! A big congrats to Samantha (Sauder '09) for winning the competition! You rocked girl! And a big congrats also to Roy (Sauder '11) for winning People's Choice!
What I Liked
Classy atmosphere in the room – each detail was meticulously attended to, such as the flowers on each table, the banners etc.
Amazing keynote speaker
Transparent judging criteria
Awesome pamphlet introducing all the speakers
Giving complementary tickets to finalists was very thoughtful!
GREAT FOOD – salads, bread, lasagna, pasta, CHEESECAKE <3
Smooth information flow – the BizzComm execs knew exactly what they were doing and kept us in the loop all the way since the audition round
Starbucks cards taped under random chairs was a nice touch
Opportunities to network with CGAs at every table!
No technology malfunctionings that I was aware of (they even video taped the audition speeches!), well done guys
Nice incorporation of promotion for Style and the City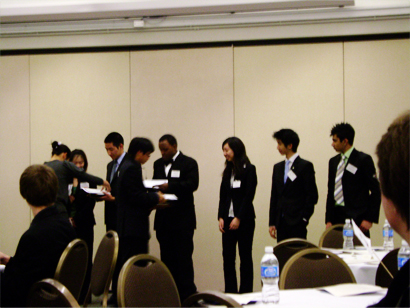 Points for Improvement (personal opinions)
One more mic would have made the transition process smoother
Voting ballots for People's Choice were not collected from at least one table
Postpone voting for People's Choice to perhaps after dinner – hmm… I understand that it's nice for people to vote when the speeches are fresh on their minds, but it's easy to be heavily influenced by the last Impromptu speech (though the last one just happened to be my favourite!) when the evaluation should've have been about the Prepared ones as well
Now to be just a little harsh on the dear contest chairs… it would've been nicer – since this is a public speaking contest – if they didn't read off a piece of paper when introducing the speakers. But seriously, they already went above and beyond what many other clubs have done in terms of a professional events, so no complaints!