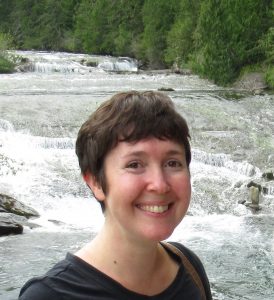 Angie O'Neill is a Senior Instructor in the Department of Zoology.  She has a BSc in Animal Biology and a MSc in Zoology, both from the University of British Columbia.
Angie started teaching at UBC as a Sessional Lecturer in 2005, and over the past fifteen years she has taught a variety of courses.  Currently, Angie is thrilled to be teaching BIOL 204 (Vertebrate Structure and Function) and BIOL 205 (Comparative Invertebrate Biology), and has developed many activities and learning resources for both the lecture and lab components of these courses.
She is honoured to have been awarded the Faculty of Science Killam Prize for Excellence in Teaching in 2010 and in 2016.  She has served as the Biology Representative to the Science Curriculum Committee for the past six years.
What led you to pursue a career in teaching?
I didn't initially intend to go into teaching – my plan when I first arrived at university was to be a medical doctor.  It wasn't until I was a grad student, when I taught my first class as a TA, that I completely fell in love.  I found myself thinking about teaching all the time… how was I going to explain this concept to my students?  How was I going to get my students excited about biology?  It just hit me that this was what I most wanted to do, and so I put all my time and energy into pursuing a career in teaching.
What do you like best about being an Instructor?
I love interacting with students.  I love sharing my passion for amazing animals with students, and I find it so rewarding when students get excited about biology.  I especially love it when students ask questions, when they really start thinking about the relationship between structure and function and they want to delve deeper into the concepts.
What is something that you are currently doing in the UBC teaching and learning space that you are excited about?
As a member of the Biology Undergraduate Program Evaluation and Renewal team, I'm investigating which skills faculty and students identify as important, and whether our students have the opportunity to develop these skills during their time in the Biology Program.  I've been facilitating focus groups with our students to learn what skills they want to master during their BSc, and I'm looking forward to hearing from many more of our students with the skills survey I'm currently developing.  I find it inspiring to work with Trish Schulte, Jaclyn Dee, Christine Goedhart, Miranda Meents, and Sunita Chowrira, who are all so dedicated to making our Biology Program the best possible experience for our students.
As a member of the Biology Teaching Assistant Training Program (BioTAP) team, I work together with Carol Pollock, Kathy Nomme, Chin Sun, Stella Lee, and Rhea Storlund to plan and facilitate workshops to help TAs develop their teaching skills.  It is so rewarding to facilitate these workshops, interacting with our talented teaching assistants as they enthusiastically role-play classroom scenarios and as they think up great ideas while discussing teaching strategies.
What do you like to do in your spare time?
I love to get out into nature.  I enjoy photography, especially nature photography.  I use many of my photos of amazing animals in my lecture slides and on Canvas.  My favourite thing in the world is to spend time with my husband Greg and with my family and friends.