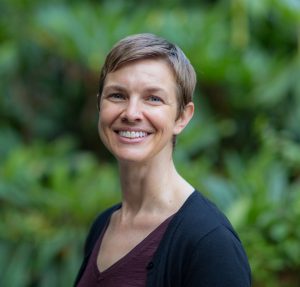 Christine Goedhart, PhD
Science Education Specialist
University of British Columbia
christine.goedhart@botany.ubc.ca
Born and raised in a suburb of LA, Christine began her undergraduate studies at Fullerton College before transferring to Cal State Fullerton, where she earned a BS in Biology. She then did a PhD in Biological Sciences at UC Irvine, where she investigated aspects of plant physiological ecology in local ecosystems and was introduced to the theory and practice of pedagogy and course design in the Pedagogical Fellows program.
After graduating, Christine knew that she wanted to teach at a community college. She worked as an adjunct instructor at several local community colleges for a couple years before getting hired full-time at Citrus College. As she got to know her students, Christine learned the value of diversity and the importance of inclusion in teaching and learning. Over the years, she made many iterative changes to her course design and teaching practices to be more equitable and inclusive for students, and she personally experienced how challenging this process can be.
As such, she decided to take on a new position at UBC as a Science Education Specialist so that she could support others through the process of changing their teaching practices and making their courses more equitable and student-centred. In her current role, Christine works with individual faculty and teaching teams, and is also involved in several initiatives and projects that aim to improve undergraduate teaching and learning in Biology and the larger Science program.
In her downtime, Christine likes to explore new places around Vancouver with her partner Kim, and is always down for good food, great coffee, and interesting conversation. Her goal is to enjoy every moment she has during this beautiful thing called life.