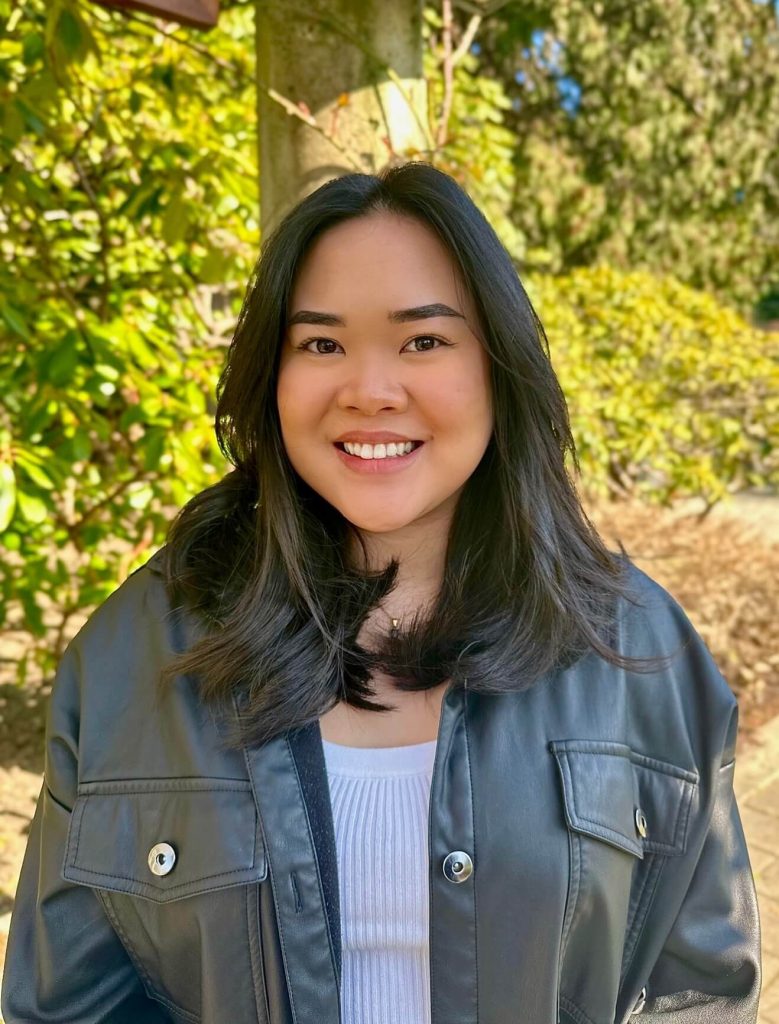 Hi, I'm Zandra! I was born in the Philippines, immigrated to Canada in 2008 and lived in Saskatoon, SK (Treaty 6 Territory, the Homeland of the Metis) since. I completed my undergraduate degree at the University of Saskatchewan (Usask) where I received my BSc. Hons. in Biology with a minor in Archaeology. In my undergrad, I was able to conduct my own experiments on collision avoidance in insects using electrophysiology.
Currently, I am a 2nd year master's student in Zoology at the Altshuler (Flight) Lab in the Biological Sciences building. My project looks at how birds process visual information in order to move about in their natural environments. In my experiments, I provide zebra finches (Taeniopygia guttata) with visual stimuli and collect extracellular neural recordings from their midbrain to see how the birds respond to motion parallax.
During my time at UBC, I have TAed BIOL 363 (Laboratory in Animal Physiology) for four terms.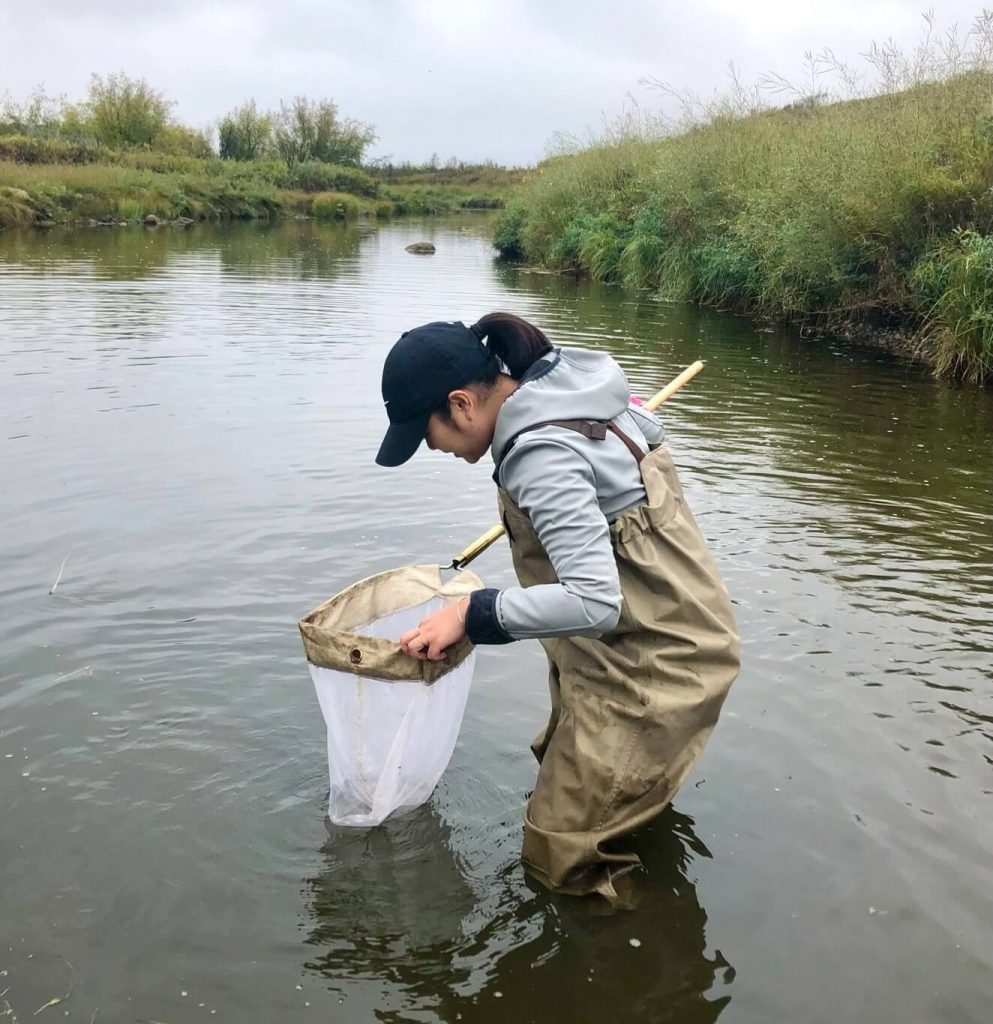 What do you most enjoy about being a TA?
As a TA, I've really enjoyed working with students, especially in a laboratory environment. It is exciting being able to witness my students becoming interested in science and developing scientific questions of their own. I think one of the most rewarding aspects of being able to TA is building connections with my students. It is a fulfilling experience when I can be a part of their academic journey.
What has being a TA brought to your graduate studies experience?
Being a TA helps me understand the importance of time management and the skill of being able to balance both the research and teaching aspect of my graduate degree. Additionally, being a TA allows me not only to learn during my degree but to use some of my knowledge and pass it down to the next generation of scientists.
What has been an interesting outcome of your TA experience?
One of the most interesting outcomes of my TA experiences has been realizing that teaching is one of my biggest passions. Being able to interact with students and instructors has helped me recognize that teaching is something I would like to pursue in my future career.
How has your unique background influenced your TA experience?
In my family, I come from a long line of educators who work with a wide variety of students. Something that has been instilled in me since I was young is the importance of having an inclusive, safe, and supportive learning environment. Apart from that, being a woman of color and a first-generation immigrant has allowed me to view academia from a very different point of view. The experience of being of a minority background has allowed me to be cognizant of the barriers I had to face during my undergraduate. All my lived experiences allow me to keep working towards a goal in providing a welcoming and safe learning environment. One way I think about how I can contribute to education is often asking myself how I wish that I had been treated by my educators (professors, TAs, instructors) as a learner.
What teaching and learning opportunities have you been a part of?
Throughout my graduate degree, I have been able to attend various workshops and events that have helped shape my teaching styles and techniques in order to provide a better learning experience for my students. One of these was the CTLT TA Institute in which I was able to attend a series of seminars around the topic of Exploring and Supporting Inclusivity, Equity, Accessibility and Wellness. I think that it is important to recognize the inequalities that different people face in academia, whether it be mentally, physically, or financially. It is important to me to be able to be involved in making sure that we are working towards breaking down the barriers that inhibit our students from obtaining the education they deserve.
Another workshop I have been fortunate enough to attend is the Instructional Skills Workshop (ISW) for graduate students. In this workshop, I was able to hone my personal teaching style and had the opportunity to watch my peers and learn new ways to incorporate teaching techniques.
What is something you are currently doing that you are excited about?
Currently, I am working with the Heart and Stroke Foundation in developing workshops for those with lived experience with cardiovascular diseases. These workshops will focus on how patients are able to use their experiences to inform how cardiovascular research is being facilitated. Patient care is an integral part of medical research and more research labs have been looking to involve those that are directly affected by these illnesses. Developing workshops to bridge the gap between science and community is an exciting way to see science at work.
What do you like to do in your spare time?
My real love outside of academia is art. When I'm not reading scientific papers or grading lab reports, you can find me doing a craft. I especially love sewing (I brought my sewing machine all the way from Saskatoon) and creating patterns for clothes. I also enjoy thrifting and finding ways to repurpose and reuse preloved clothes that would otherwise end up in landfills.
Fun fact: Prior to applying for undergrad, I have compiled and completed a portfolio to apply for fashion and design school. However, the science bug in me was just a little louder.
What are your plans following graduation?
I tell myself I should take a break since I haven't had a proper break since elementary school. However, I hope to be able to TA in the summer while taking Education courses. For the next year, I plan on finding any teaching experience I can. This will hopefully allow me to think about what I would like to research when I apply for a PhD in Pedagogy and Curriculum in the fall next year. In the (far) future, I would like to be able to either teach or develop science courses for post-secondary education that are built upon the basis of equity, diversity, and inclusion (EDI).