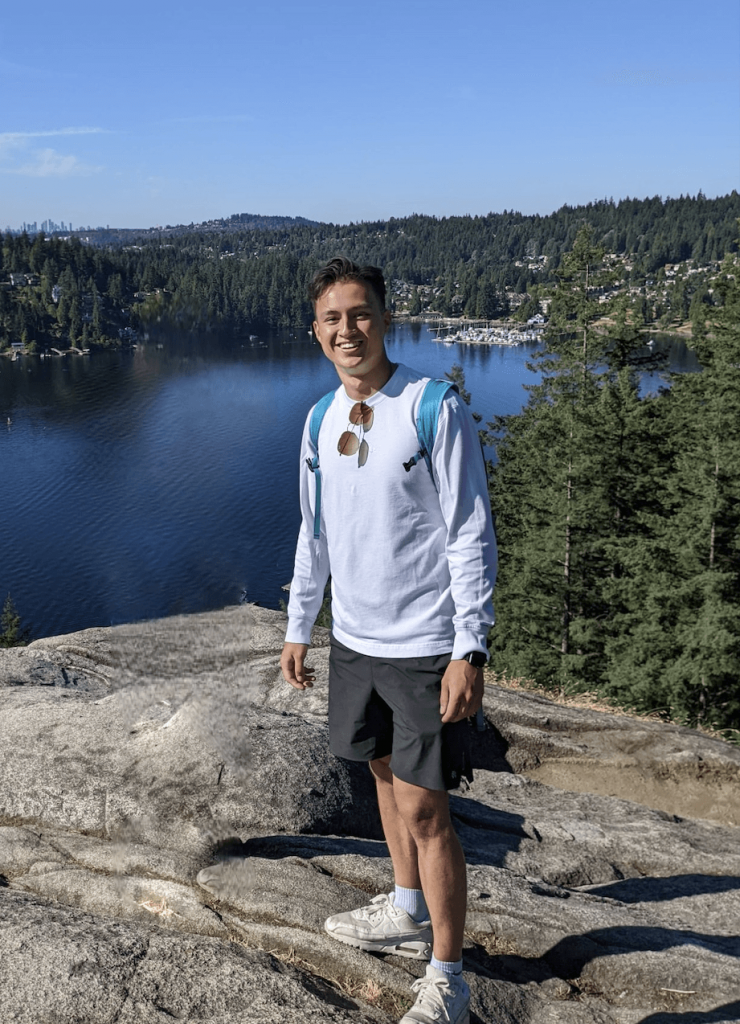 Hey there! My name is Sebastian and I am a 4th-year undergraduate student in the Faculty of Science's Biology program. I was born and raised in the beautiful city of Vancouver, BC.
I have been incredibly fortunate to have done many fascinating research projects over the course of my degree here at UBC. During this past school year, I served as a Science Peer Academic Coach for the Faculty of Sciences. I also completed a 16-month Co-op, prior to this school year, which was instrumental to my development as a young researcher and has served as a springboard for my future endeavours. I was lucky enough to present my co-op project, which focussed on epigenetic modifications in osteosarcoma, at two different international conferences!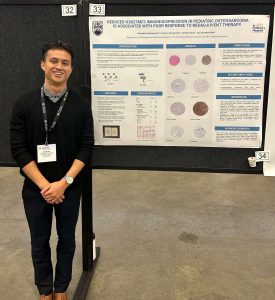 Now, I am conducting research at the Lim Lab at the BC Children's Hospital Research Institute with a focus on osteosarcoma tumour modelling. I am looking forward to working in the Park Lab at BC Cancer this summer to explore the tumour immune microenvironment in osteosarcoma! For almost two years I have also been working with the Institute for Work & Health in Toronto, ON. That research project is focussing on policy guidance for young people afflicted with episodic health conditions in the workplace.
What are you researching?
Currently, at the Lim Lab, I am researching the use of the chorioallantoic membrane (CAM), found in embryonic chickens and reptiles, as a model for osteosarcoma tumour growth. Osteosarcoma is the most common pediatric bone tumour and is the same cancer that afflicted Canadian Hero Terry Fox. Previous research has grown tumours, that are surgically removed from patients, in mouse models to observe growth in a near-natural environment. Despite the popularity of mouse models, they are constrained by ethical, financial, and time limitations. The CAM can provide a strong nutrient flow to tumours for growth and has a much higher turnaround time than mouse models. Very recent research has attempted to grow human-derived osteosarcoma tumours in the CAM, but only sampled a single patient's tumour and lacked microscopic assessment of tumour growth. My research presents an expanded study, incorporating 5 different tumour samples, with microscopic assessment, to further establish proof-of-concept that the CAM may be a suitable host for the propagation of human-derived osteosarcoma. We hope that it lays the groundwork for more advanced studies that want to investigate drug response and disease spread for osteosarcoma in the CAM model.
Why is this research important?
Osteosarcoma is a troubling tumour with generally stagnant survival rates. Standardized treatment protocols use a 'one size fits all' approach that does not account for differences in the tumour between different patients. Hence, the survival rate is 60-70% and diminishes to less than 30% when it spreads to other parts of the body. Osteosarcoma, unlike some other cancers, has no known genetic mutations to target that are consistent among all patients. This makes it a strong candidate and advocate for personalized cancer treatments. These different animal models such as the mouse or the CAM offer the possibility of a translational, or 'bench to bedside,' approach to treatment in the future. The hope is that a patient's biopsied tumour can be grown and multiplied in CAM models, studied for disease behaviour, and potentially targeted with a blend of treatments that may guide the proper course of treatment for the patient.
What do you most enjoy about doing research?
I most enjoy the scientific inquiry that is intertwined with research in general and specifically for my area. Cancers are fascinating diseases that, despite sharing nomenclature, are wildly unique. Despite being able to evade many of our treatments and being remarkably unique, they were once normal cells that acquired these unique cancerous traits. This mere fact makes them intriguing as diseases, rather than invading bacteria or viruses. There are also so many rapidly evolving fields under the umbrella of cancer research leveraging some of the most bleeding-edge technology in the biomedical sciences.
What has been most challenging about doing research?
A large challenge of biomedical research is the 'unexpected'. Projects often run into hurdles, experiments go awry, writing takes a while, and the list goes on. Often times the speed you want to go is just not feasible for a given project. Despite this, you have more time to reflect on your research which is equally as important.
What has doing research brought to your undergraduate experience?
Research has ultimately brought context to my undergraduate experience. Having the fortune to have conducted multiple projects has highlighted my interests and distilled my direction more than any class could have.
What advice would you give to other students considering doing a research project?
Do it! It is one of the more fulfilling things you can do during your degree even if you decide not to pursue it beyond your undergraduate education. If you are passionate about a topic that one of your professors researches, reach out to them. Most professors are thrilled to share their work with a passionate student and may have an opportunity for you that can shape up into a research project (volunteer basis, directed studies, honours thesis, self-developed co-op employment, etc.). Otherwise, you can also explore department pages that you are interested in and read about their researchers. From there, you can reach out to see if they have the capacity to work with you. At the end of the day, you are your best advocate and you should always set your eyes on opportunities that challenge and excite you!
What do you like to do in your spare time?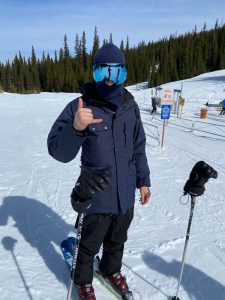 I love to ski and living in Vancouver affords UBC students the ultimate backyard! My favourite mountain to ski at is actually Big White which is a longer drive, but the local mountains are also top-notch. I also love to surf, but unfortunately don't get to go often.
What are your plans following graduation?
I plan to pursue studies that complement my interests in translational biology, pathology, and precision medicine.