ABOUT A THIRD OF ALL BC SCHOOL DISTRICTS HAVE A SIMILAR POLICY IN PLACE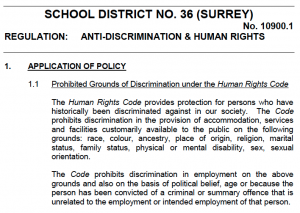 Renee Bernard, News1130, November 15, 2013– The largest school district in the province will become the latest to adopt an anti-homophobia policy.
Surrey school board trustees have voted unanimously to embrace the new anti-discrimination code.
Gioia Breda of the Surrey Teachers Association worked on the document and says it's an important philosophical statement to support students facing homophobic bullying.
"You can compare students who experience racism, for example. When they go home, those students have parents who are often supportive and sympathize, whereas LGBTQ youth may not have come out to their parents," she explains.
She calls it a pro-active code.
"It offers a positive and inclusive curriculum, more sexual health education for LGBTQ youth, and education for administrators, staff and counsellors about LGBTQ issues."
She says the policy is designed to protect both students and staff.
Just over a decade ago, the school board made national headlines in its fight to ban books featuring same-sex couples, a policy it eventually changed.
The board's anti-bullying code was adopted with relative ease, compared to the situation in Burnaby a few years ago, when that school board encountered protests from parents.
About a third of all BC school districts have anti-homophobic bullying policies in place.
Read More: News1130