2008 was a good year in the sense that I entered the workforce full time and managed to hold on to jobs during the school year. 2008 was a bad year in the sense that I spent money frivolously on non-essentials such as clothing and food. Textbooks are also huge drains from my savings.
Note: Always wanted to use the word "fiscal"… it makes everything sound so official! Oh and this entry is all about money, so stay away if financial talk isn't your thing.  I pay for all of my own stuff except groceries and around one meal a day (lovingly supplied by my parents, fyi i still live at home).
EXPENSES PIE GRAPH

I tried to keep as an accurate account as possible (…have the habit of spending cash/debit instead of credit… ah well). As you can see, UBC textbooks took a ridiculously huge chunk out of my wallet. I'm quite happy that my university tuition was only a few hundred bucks.
EXPENSES PIE GRAPH – "WALLET" ACCOUNT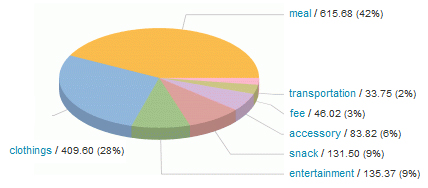 The above graph takes out all the "major expenses". Ever since univ started I've been lavishly spending money on fastfood at lunch, a habit I hope to drop this year. Clothings expenses were up there as well – averages to about $30 a month which isn't too bad.
EXPENSE BAR GRAPH – "WALLET" ACCOUNT
It's skyrocketing towards the end of the year haha… blame Boxing Day.
INCOME/EXPENSE BAR GRAPH
Green bar = income, red = expenses. Got a job in July. Pulled in a deficit for September, but otherwise I'm in the green!
BALANCE LINE GRAPH
This doesn't represent the actual balance (give or take a few grand), but I love having visual representation!
Now isn't dealing with finances fun?! Coming up next: where are Phoebe's incomes coming from? AKA Making money at UBC =D On a sidenote, for those of you looking for cheap textbooks, refer to my buying textbooks at UBC post back in September. Hope it helps!
QOTW: What do you spend the most money on? What about non-essential items?