Welcome to my e-Portfolio!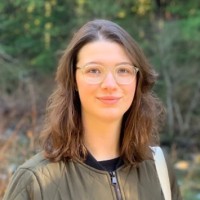 My name is Emma Metcalfe Hurst and I am currently a third year MASLIS graduate student at the UBC iSchool enrolled in the First Nations Concentration Curriculum (FNCC). I also hold a BFA (2016) from Emily Carr University of Art & Design in Critical and Cultural Studies (major) and Curatorial Practice (minor). My work as an archivist and librarian is informed by my interdisciplinary work as an artist, curator, writer, designer, publisher, and recorder. I am particularly interested in the intersections of art production and information studies, community-based archives, intellectual property rights, public programming, archival outreach and advocacy, and designing user-centred experiences with information to improve access.  
I currently work as a Student Reference Librarian at the Music, Art, and Architecture (MAA) Library at UBC and as a Dance Archivist for Karen Jamieson Dance.
This e-portfolio website shares my relevant work experience and education to date, and also offers a sampling of recent information-based projects and writing that I have produced. To get in touch with me, you can e-mail me at emmametcalfehurst@gmail.com or visit my social media links below. A full archives of my past creative projects can be found here: www.emmametcalfehurst.ca