Module 4 Sites
Windspeaker-Canada's National Aboriginal Newsource

http://www.ammsa.com/publications/windspeaker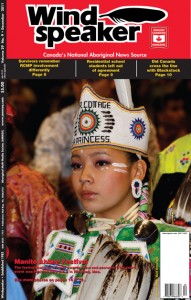 This publication is very broadly distributed throughout all of Canada. The editorials and submission pieces come from writers nationally. They focus on current events, music and art and personal pieces. Links are available to other Canadian publications and Aboriginal radio stations. I really liked the section on health and book reviews – point of view pieces and experts providing information and advice on a plethora of projects.
First Nation's Education Steering Committee
http://www.fnesc.ca/publications/index.php
An independent society that focuses's on improving education in British Columbia. The links are an excellent support for learners, parents, and educators. There is also a focus on news releases with editorial reviews to delve deeper into issues that are being identified. The publications page has a search engine to research topics and reports related to Aboriginal education.
First Nation's School Association
http://www.fnsa.ca
At first glance, I noticed that these pages from FNSA really centred on progressive education for First Peoples. I really found the current events section of the site extremely informative. And there was also a publications centre which has a variety of articles, papers and publications. They have a lending library! This is a fabulous resource that I haven't seen before. There is also, a special needs resource toll free hotline for parents, educators and administrators who are seeking advice or connections. To have full access to all publications and services you do need to become a member or associate member but it would be immensely worthwhile to undergo that process.
National Centre for Firsts Nations Government
http://www.fngovernance.org/publications/index.htm
NCFNG site contains an enormous amount of articles for all Canadian to learn and understand to process involved in the First Nations Government process. There are research publications, governance best practice reports, and presentations of findings. It is a trans-national site from BC to the Atlantic Provinces that is fabulous at detailing information for support and services for communities and youth engagement. You can find commentary that is specific for your centre or you can garner a better understanding of issues and events in other areas of Canada. They have offices in each area for support.
First Nations Summit
http://www.fns.bc.ca/
FNS is a very professional set of pages that has live webcast broadcasts from Chiefs and community members nationally and internationally. The references available include editorials, and FNS press releases. I was really intrigued by the current events section which included the FNS presentation to the BC Missing Women's Inquiry which is available in pdf format. As you scroll through the pages, it is a great option to look at the videos from Grand Chief Edward John as he speaks to a variety of organizations including but not limited to; the United Nations and a National China Trade groups.