This is a literature review focusing on virtual learning environments and e-learning in the
Context of Te Reo Māori and Kaupapa Māori Education.  Some of the main areas discussed include:
Teaching & learning practices for e-learning environments
E-learning for Kaupapa Maori peoples
eLearning principles and practices for Indigneous learners
Discussions on culture, relationships, and pedagogical issues
I found it helpful in my study of eLearning for Indigenous learners to read about a study conducted with a specific group of Indigenous learners.
http://www.educationcounts.govt.nz/__data/assets/pdf_file/0004/72670/936_LitRev-VLEs-FINALv2.pdf
An article by Paul Hughes discusses Aboriginal ways of learning and learning styles. After presenting some background information on Aboriginal education in Australia, he describes some of the links between culture and learning styles, and provides a new model of learning.  I found his discussion on the primary and secondary differences between Aboriginal and western learners very helpful.
This is such a great website!
http://cli.ccl-cca.ca/FN/index.php?q=home
On this site you can explore the elements of the First Nations Holistic Lifelong Learning Model.  My term project is looking at ways to support adults undertaking eLearning endeavors, so having an understanding of what a model of learning looks like for indigenous peoples is essential.  I love the visuals and interactive components of the site.  In the model you'll read, "Raindrops depict learning guides such as mentors, counsellors, parents, teachers, and Elders.  These individuals provide the learner with opportunities to develop mentally, spiritually, emotionally, and physically throughout the lifespan, and are an integral part of a cyclical, lifelong learning process".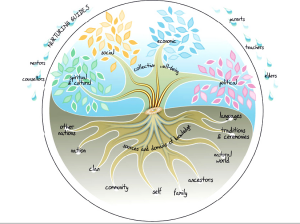 This is a 2010 document published by "The Conference Board of Canada".  It looks at ways in which eLearning can narrow the gap between First Nations people living on reserves and non-Aboriginal people in Canada.  The findings are based only on a brief literature review, but it does present a list of 11 recommendations supported by other research I have encountered.
While looking for resources to support online learners I came across this blog.  (http://firstnationspedagogy.com/blog/).  It has pages for education, activism, governance, health, history, knowledge, and featured articles.  There are podcasts, videos, images, information, and dialogue on all these aspects.  There are not a lot of entries from the past two years, but the information is still very relevant and well presented.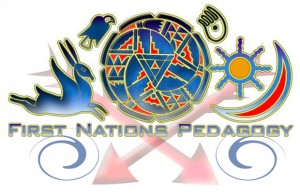 http://www.imaginingindians.net/home2.htm
Further to my quest for finding aboriginal spaces in cyberspace I have come across ImaginingIndians.net. This is a paper doll timeline project created in 2000 by an aboriginal artist skawennati tricia fragnito. It traces some of aboriginal history from 1490 to 2490 through journal entries and outfits for the paper doll.
Does this project create an educational space for an aboriginal artist to self-represent her perspective of the image and history of indigenous peoples in North America? Artists have historically represented both the dominant cultural practices of the time, but also have acted as activists and produced works that subverted mainstream culture. Can a presence in a virtual environment have the same effect? I have asked for an interview with the artist to ask her opinion, but from what I have seen there is a movement among many aboriginal artists, world wide, to create spaces to connect them to each other, but also to put forward their telling of the past and their vision of the present and future.
This is then, an educational space. Where aboriginal and non-aboriginal peoples can meet and exchange information, and this information can be created by indigenous peoples. This does give contemporary FN peoples an opportunity to control the message. To me this is a very good reason for FN communities to educate themselves and their youth about electronic technology. You have to understand the medium in order to re-purpose it for your own ends.
This site provides a New Zealand published report on Virtual Learning Environments and e-Learning in the Context of Te Reo Māori and Kaupapa Māori Education.  Emerging themes include:
The Learning Environment
Relationships and Communication
Collaboration
Pedagogy
Quality Tools
Barriers and benefits to effective eLearning are also identified.
This paper discusses ways to use Moodle to support the learning strengths of Indigenous Australian university students.  It looks at the ways that ICTs can be aligned with Indigenous ways of learning and presented in ways that are culturally relevant.  The paper identifies ways in which Aboriginal learning styles differ from non-Indigenous learning styles, and provides strategies for using Moodle to support Aboriginal eLearning.
www.ascilite.org.au/conferences/auckland09/procs/duggan.pdf
This report report (2008) was prepared for the Canadian Council on Learning's Aboriginal Learning Knowledge Centre by Ningwakwe Priscilla George.  It is a literature review on Aboriginal literacy.  Some of the emerging themes include community-based (one-on-one, small group), institutional, workplace,
family, health/well-being, oral history, working with Elders and seniors, and Aboriginal language programming.  While focusing on adult literacy, the report emphasizes the importance of family literacy and lifelong
learning.www.nald.ca/library/research/ccl/nourishing/nourishing.pdf
Laurel Dyson published "Constructing Shared Online Learning Environments for Indigenous Cultural Inclusiveness" (2003).  It looks at some of the challenges for online learning for Aboriginal students and identifies several conditions for effective delivery.  Some of the key conditions include:
Flexibility
Interactivity
Minimal text
Cultural appropriateness
Indigenous-specific virtual space
Optional customization for individual learners
The paper looks at several previously completed studies to support these conditions.