FIRST VOICES (Brentwood Bay, BC)
First Voices is a suite of web-based tools and services designed to support Aboriginal peoples engaged in language archiving, language teaching and culture revitalization.
 The First Voices language tutor is a free software that can be downloaded and local language archived in it, games and other language learning activities can be developed with the software. It support instructor and student tracking. The First Voices Language Archive contains about 60 different language communities at this time, some publicly accessible, some not.
http://www.firstvoices.com/
The First Nations Interactive Holistic Lifelong Learning Model:
I really liked this interactive flash model for holistic learning. It is a good example of how technology can support the interconnected webs of relationships in First nations communities and in education.
http://www.ccl-cca.ca/pdfs/RedefiningSuccess/CCL_Learning_Model_FN.pdf
http://cli.ccl-cca.ca/FN/index.php?q=model
A Victory for the Tsilhqot'in
Blue Gold: The Tsilhqot'in Fight for Teztan Biny (Fish Lake)
This is a fabulous film that shows the power that media can have to change the course of events when a community decides to take a stand. Blue Gold expresses the Tsilhqot'in peoples' unanimous rejection of Taseko Mines Ltd.'s proposal to drain Teztan Biny (Fish Lake) in order to stockpile mining waste.  They had help to make the film from R.A.V.E.N. and assistance with fundraising. This is an approach being taken more and more by small indigenous communities to reach the mainstream population – many of whom support the causes if they know about them.    http://www.raventrust.com/video-bluegold.html
Alanis Obomsawin
One of Canada's most distinguished filmmakers, she has worked at the NFB for over 40 years. when I was researching aboriginal film I found out that she was the director of the incredible film that I saw years ago:Kanehsatake: 270 Years of Resistance . She has made so many films and is passionate about speaking out for aboriginal people. She also received an Honourary Degree from UBC recently where she gave a speech honouring the NFB for supporting her work.
http://www.onf-nfb.gc.ca/eng/portraits/alanis_obomsawin/
National Panel on First Nations Education: News Release – Equitable Funding, Language, Culture and Technology Key to Improving High School Graduation Rates
It looks like there is money being made available to make some concrete improvements in First Nations education.  Calls for improvement in funding, integrating culture and language into curriculum and ensuring equitable access for all First Nations students has been going on for a long time. "Closing the gap between educational achievement for youth in mainstream society and First Nations' youth is the single biggest shot in the arm we can give Canada's economy where demand for skilled and knowledge-based workers is likely to remain greater than our ability to produce them," said Panel Chair Scott Haldane.
http://firstnationeducation.ca/2011/09/30/panel-hears-equitable-funding-language-culture-and-technology-key-to-improving-high-school-graduation-rates/
Hui, Stephen, First Nations Students need Internet Technology, advocates say, Georgia Straight, September 3, 2009.
Even if remote communities have technology often it is difficult at home and school to make good use of them because of the poor bandwidth. Remote communities all over Canada have been promised better bandwidth in these communities but most are still waiting. Technology would open access to online support for high school specialist courses in maths and sciences, technology skills, programs that can support digital music and art in areas where only four or five students makes it not economical to have a teacher in the community.
http://www.straight.com/article-254208/first-nations-kids-need-net
USAY (http://www.usay.ca/)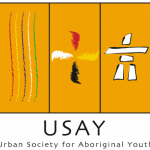 Description:
I discovered USAY when I was researching New Tribe Magazine.  USAY is a non-profit organization in Calgary and been in existence since 2001.  "USAY strives to provide essential programming and services to Calgary's Aboriginal youth between the ages of twelve and twenty-nine."  Taken from their website, their mission statement is:
The Urban Society for Aboriginal Youth (USAY) will enrich the lives of all urban Aboriginal youth by nurturing self-empowerment and fostering healthy collaboration and communication to ensure healthy future generations.
USAY provides many programs for Aboriginal youth will includes but is not limited to:
New Tribe Magazine
Aboriginal Anti-Racism Movement
New Kicks 4 Kids (in partnership with Nike Canada)
Career Planning
Personal Finance courses
All of the board of directors of USAY must be under the age of 30 so that they have a better understanding of the issue that are affecting Aboriginal youth.
~ Ryan
New Tribe Magazine (http://www.usay.ca/services/new_tribe)
Description:
New Tribe is a monthly magazine published in Calgary, Alberta.  They aspire to be the "voice" of urban Aboriginal Youth focusing on the communities surrounding the Calgary area. Similar to SAY Magazine, New Tribe hopes to inspire Aboriginal youth through their stories and encourage Aboriginal youth to not only read their magazine but contribute to it as well. To subscribe to New Tribe magazine you can sign up on their website to be part of their mailing list.  Magazines are distributed to several locations around the city and one is also able to view current and past issue on their website.
~ Ryan
Say Magazine (http://www.saymag.com/)
Description:
SAY Magazine is a quarterly-published magazine "dedicated to recognizing American Indian, Alaska Natives, Native Hawaiians, First Nation, Metis and Inuit achievement and includes information on economic development, education, entertainment, sports and health." Through stories, profiles and imagery, SAY Magazine hopes to inspire those that read their magazine.  They claim to be the number one magazine and their target audience is Native Youth.  SAY Magazine also has an App for the iPhone and iPad and is available on iTunes.  Issues (past and present) are available on their website.
~ Ryan
First Nations students need Internet technology, advocates say
(http://www.straight.com/article-254208/first-nations-kids-need-net)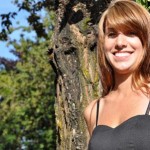 Click the above image to link to YOUTUBE to watch the interview
Description:
This is a story that I came across on the straight.com on Denise Williams (a member of the Cowichan Tribe) who is a youth initiative officer for the First Nations Education Steering Committee.  Williams believes that broadband internet access will aid the FN in BC by expanding opportunities available to them, many of which live in rural and/or remote reserves.  She strongly feels that having high-speed internet will greatly improve the delivery of distance education where numbers, distance and proximity make delivery of education very expensive.
~ Ryan
---
This is the home page of project developed to teach game design to Aboriginal youth, and have them create a game based on their own context and experience. It was produced in partnership with the Owisokon Lahache of the Kahnawake Survival School. Part of the plan is to empower Aboriginal youth to see themselves as creators and builders, and the other part is to pass on knowledge from elders and preserve stories.
Does this clash? Not sure. Just finding more and more projects that seem to support the idea that Aboriginal designed new media can be an effective teaching tool, and a method of preservation.
Technology can be utilized to preserve a culture rather than destroy it
Perhaps the following statement is too simplistic in nature but I assume that every race, culture and community share the same struggle when it comes to the growing disconnect between its generations.  As technology (ie: internet, computers, web 2.0, social media, etc.) have entered the discussion this divide seems to have increased even more.  Not unlike any other culture or community today's Aboriginal Youth are being raised in a digital age. Without knowledge or prejudice I assume teachers and elders from Aboriginal communities are having similar problems in engaging and connecting with the youth as their non-Aboriginal counterparts do.  I also understand that there exists a fear that technology (ie: the internet) may in fact eradicate many traditions and cultural values that the elders hold so dear.   Only three weeks into this course I have learned about some of these fears but I hold fast (at this point) to the notion that technology can be used to preserve a culture, not destroy it.
The focus of my weblogs and research will be centered on the assumption that, with respect to Aboriginal youth, technology can be utilized to preserve a culture rather than destroy it.  I intend to find examples, articles, and websites that show this to be true.  It is vital that my research be authentic and not merely from an ethnocentric perspective.  Elders may not share the same passion and enthusiasm for technology as today's youth do but I feel that if used properly technology can be a valuable tool employed to preserve a culture.
~ Ryan
The First Peoples' Project
(http://www.iearn.org.au/fp/)


(click on above image to be redirected to a video on the edutopia.com website explaining a project completed by the Choctaw Tribal School)
Description:
The First Peoples' Project uses computer technology (and the web) to connect Indigenous youth from around the world. It is a way to encourage and engage students to participate in a form of education that is meaningful, personally relevant and valued. All submissions and stories must be made with the authorization from community leaders and elders therefore nothing is posted without consent which adds to the credibility and authenticity of the project. Unfortunately it appears as though it only ran for 10 years – 2007 being the last year of the project (although I hope I am wrong on this point). I feel as though this is an excellent example of technology being used to bring Indigenous cultures together.
~ Ryan
Red River College's H.A.W.K. Camp for Aboriginal Youth
(http://redblog.typepad.com/blog/2011/08/aboriginal-youth-soar-at-rrcs-hawk-camp.html)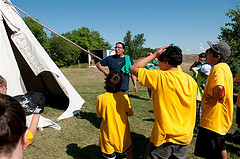 For the past two summers, Red River College has offered its Hands-On Activity Week for Kids (H.A.W.K.) which is a camp geared towards Aboriginal Youth aged 11-13.  The week-long camp introduces Aboriginal Youth to the Construction Trades, Electronics, Mechanical Engineering Technology/Manufacturing, Aviation and Civil Engineering.  Many students are getting their first introductions to these fields of study.  Besides the hands-on experiences with the trades and technologies, camp-goers also took part in many team building activities, story-telling and drumming, all aimed at bolstering each individual.  The camp is free of charge and is available on a first-come-first-serve basis. Participants also receive a free t-shirt as well as lunch and snacks each day.
~ Ryan
ACTUA   (http://www.actua.ca/en/aboriginal-youth)
Description:
Actua is a Canadian organization that provides youth the opportunity to learn about Science and Technology in an informal, practical environment.  One of Actua's outreach programs is geared directly towards Aboriginal youth.   Aboriginal role models within the community aim to inspire the youth to become life-long learners through "hands-on" experiences.  It is expected that these positive encounters will have a lasting impact on the youth that will in turn help build and maintain strong Aboriginal communities.
~ Ryan