While looking for resources to support online learners I came across this blog.  (http://firstnationspedagogy.com/blog/).  It has pages for education, activism, governance, health, history, knowledge, and featured articles.  There are podcasts, videos, images, information, and dialogue on all these aspects.  There are not a lot of entries from the past two years, but the information is still very relevant and well presented.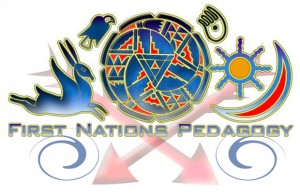 November 6, 2011 No Comments
I have been surfing the net to find resources that will help me with my focus of educating the First Nations child in a regular school. I need to find resources that will teach me ways to reach out to my First Nation students and tell me why these methods would be effective. There are lots of sites and documents but after our journey through this course I am very cautious about what I choose. From the plethora of information I have to find meaningful, authentic sources. After our readings about non aboriginal researchers and their tainted work, the wannabee Indians and their half-baked philosophies, and the passionate Indian radicals without sound traditional reasoning, I have to sift and sort to find some gold nuggets.
There is much work out there done by First Nation researchers or work by non-aboriginals that has the support and approval of the First Nations people. I have found articles about the history of First Nations education, the First Nations Pedagogical beliefs, challenges faced by First Nation students in schools on and off reserves, and learning styles that are conducive to educating a First Nations child. There are documents from various education ministries from all over Canada in which they propose and approve of ways in which First Nation beliefs can be incorporated into to regular teaching content to make the learning more applicable, and in my opinion more complete. Here are some of them:
1. Learning Styles of American Indian/Alaska Native Students: A Review of the Literature and Implications for Practice
By Cornel Pewewardy
2. Aboriginal Education in Canada: A Retrospective and a Prospective
By Verna J. Kirkness
3. Joining the Circle: A Practitioner's Guide to Responsive Education for Native Students By Agnes Grant and LaVina Gillespie
4. Culturally Relevant Pedagogy: First Nations Education in Canada
By Faith Maina
5. Teaching in a First Nations School: An Information Handbook for Teachers New to First Nations Schools
2006 by First Nation Summit of British Columbia
6. Some Ministry Documents:
INTEGRATING ABORIGINAL PERSPECTIVES INTO CURRICULA: A Resource for Curriculum Developers, Teachers, and Administrators 2003 Manitoba Education
Ontario First Nation, Métis, and Inuit Education Policy Framework (2007) @
Shared Learning British Columbia
November 5, 2011 No Comments
Indigenous Knowledge & Pedagogy in First Nations Education: A Literature Review with Recommendations (Dr. Marie Battiste, 2002)
In response to the Government of Canada's evolving commitment to work with First Nations to improve Aboriginal educational opportunities, Dr. Marie Battiste unveils a framework that extends beyond a program of steps to be implemented to illustrate the shift in perspective that will be required to move past the Eurocentric assumptions and prejudices that have undermined Aboriginal education and have been indifferent towards Indigenous knowledge. The task of breaking through the colonial mindset that continues to view Indigenous ways of knowing as inferior because it cannot be effectively categorized and analysed using Eurocentric logic involves acknowledging the value of Indigenous knowledge and re-examining the widespread acceptance that Eurocentric knowledge commands the most value. Battiste calls on the Canadian government to recognize that Aboriginal education is distinct and accept that they have a responsibility to protect Aboriginal knowledge, languages, and heritage.
Aboriginal learning and identity continue to be affected by curriculum and authoritative behaviour in Canadian schools that propagate a Eurocentric perspective of learning and thinking which have isolated Aboriginal people from educational opportunities that build individual and community wholeness. In the pursuit of balancing our educational system, indigenous ways of knowing must be valued and respected. Embracing the inclusion of indigenous knowledge in our schools moves beyond teaching indigenous heritage and creates transformative educational opportunities that seek to overcome the mistrust and deprivation that still emanate from colonization.
October 7, 2011 No Comments