Posts from —
December 2011
Our school district Cultural Coordinator has shared many resources with me over the years. One of the most recent was the book, Anishnaabe World: A Guide for Building Bridges between Canada and First Nations written by Roger Speilmann. This is an enjoyable and  humorous read. Written in 2009 this survival guide includes chapters such as "Everything You Always Wanted to Know About Treaties (But Were Afraid To Ask)" and "Native Humour and Why Canadians Often Don't Seem to "Get It"".
Roger and his family lived in Pikogan, an Anishnaabe community in northwest Quebec, for 11 years. All author royalties from this book are donated to the Native Students Association at Laurentian University.
This book has been held by many hands in our school district and gifted from one aboriginal support worker to another and then to me. I am wondering who I will next share it with.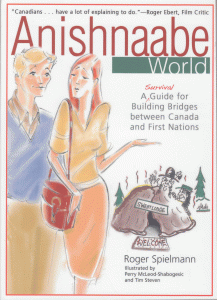 December 4, 2011 No Comments
With the country's and world's attention on the Attiwapiskatt reserve, do you feel that we are at a tipping point? How can we sustain the attention of our citizens and government to the issues of these struggling communities. Now that the Red Cross has moved in to one of our own communities in absence of flood, fire, earthquake . . . surely this must be a wakeup call? Perhaps we need to support the Red Cross so that the organization can afford to move into other communities. I don't intend for my support to the red cross to take responsibility off of our government's shoulders but to shame the government into action.
Those of you who are living outside of North America. Are you receiving much news of this situation? "The government continues to blame the victim." Shameful! For those of you not living in Canada below are a couple of links.
Peter Mansbridge will have an extended interview airing this weekend on One on One with Shawn Atleo – the national chief of the assembly of first nations.
Eight minutes of the interview is shared on The National – 20:58 – of the broadcast.
http://www.cbc.ca/video/#/News/TV_Shows/The_National/1233408557/ID=2172409833 http://www.cbc.ca/video/#/News/TV_Shows/The_National/1233408557/ID=2172409801
December 4, 2011 No Comments