FIRST VOICES (Brentwood Bay, BC)
First Voices is a suite of web-based tools and services designed to support Aboriginal peoples engaged in language archiving, language teaching and culture revitalization.
 The First Voices language tutor is a free software that can be downloaded and local language archived in it, games and other language learning activities can be developed with the software. It support instructor and student tracking. The First Voices Language Archive contains about 60 different language communities at this time, some publicly accessible, some not.
http://www.firstvoices.com/
The First Nations Interactive Holistic Lifelong Learning Model:
I really liked this interactive flash model for holistic learning. It is a good example of how technology can support the interconnected webs of relationships in First nations communities and in education.
http://www.ccl-cca.ca/pdfs/RedefiningSuccess/CCL_Learning_Model_FN.pdf
http://cli.ccl-cca.ca/FN/index.php?q=model
A Victory for the Tsilhqot'in
Blue Gold: The Tsilhqot'in Fight for Teztan Biny (Fish Lake)
This is a fabulous film that shows the power that media can have to change the course of events when a community decides to take a stand. Blue Gold expresses the Tsilhqot'in peoples' unanimous rejection of Taseko Mines Ltd.'s proposal to drain Teztan Biny (Fish Lake) in order to stockpile mining waste.  They had help to make the film from R.A.V.E.N. and assistance with fundraising. This is an approach being taken more and more by small indigenous communities to reach the mainstream population – many of whom support the causes if they know about them.    http://www.raventrust.com/video-bluegold.html
Alanis Obomsawin
One of Canada's most distinguished filmmakers, she has worked at the NFB for over 40 years. when I was researching aboriginal film I found out that she was the director of the incredible film that I saw years ago:Kanehsatake: 270 Years of Resistance . She has made so many films and is passionate about speaking out for aboriginal people. She also received an Honourary Degree from UBC recently where she gave a speech honouring the NFB for supporting her work.
http://www.onf-nfb.gc.ca/eng/portraits/alanis_obomsawin/
National Panel on First Nations Education: News Release – Equitable Funding, Language, Culture and Technology Key to Improving High School Graduation Rates
It looks like there is money being made available to make some concrete improvements in First Nations education.  Calls for improvement in funding, integrating culture and language into curriculum and ensuring equitable access for all First Nations students has been going on for a long time. "Closing the gap between educational achievement for youth in mainstream society and First Nations' youth is the single biggest shot in the arm we can give Canada's economy where demand for skilled and knowledge-based workers is likely to remain greater than our ability to produce them," said Panel Chair Scott Haldane.
http://firstnationeducation.ca/2011/09/30/panel-hears-equitable-funding-language-culture-and-technology-key-to-improving-high-school-graduation-rates/
Hui, Stephen, First Nations Students need Internet Technology, advocates say, Georgia Straight, September 3, 2009.
Even if remote communities have technology often it is difficult at home and school to make good use of them because of the poor bandwidth. Remote communities all over Canada have been promised better bandwidth in these communities but most are still waiting. Technology would open access to online support for high school specialist courses in maths and sciences, technology skills, programs that can support digital music and art in areas where only four or five students makes it not economical to have a teacher in the community.
http://www.straight.com/article-254208/first-nations-kids-need-net
The Australian Flexible Learning Framework seeks to reach Aboriginal students in Wales who are often excluded from traditional (Western) educational opportunities.  The organization has designed and executed various elearning programs to help students earn Level I and II Land Conservation certification.  The rationale for the project seems very mainstream, and could be the rationale for any elearning program:  to reach students who are geographically separated from the learning institution.  Although the organization has many experienced teachers involved with the project, there is no mention of Elders or even tribes members in the decision-making process.  Neither is there much discussion of the teaching methodologies used, aside from mentioning that the courses use a great deal of storytelling.  A report on the project states that students were engaged by having them design learning objects that could be used by future students.  The quality of the students' work, however, made it unsuitable for future learners.
The project seems to have several issues.  It does not use the expertise of Elders from the tribes, and we are not sure if the teachers use a place-based method of teaching that takes an holistic approach to land conservation.  We can't be sure, for instance, whether the students' prior knowledge about places and natural phenomenon is validated or whether it is ignored for a Western concept of place.  One cannot be too sure whether the organization relies heavily on storytelling.  Storytelling might be a dominant way of transmitting knowledge, but it isn't the only way within Indigenous communities.  If the organization is indeed relying heavily on storytelling, then this could be a Western stereotype at work in an educational context.  I mention this site because it contrasts with what we've been learning about Indigenous knowledge and ways of knowing.
http://www.flexiblelearning.net.au/content/el024
This is a literature review focusing on virtual learning environments and e-learning in the
Context of Te Reo Māori and Kaupapa Māori Education.  Some of the main areas discussed include:
Teaching & learning practices for e-learning environments
E-learning for Kaupapa Maori peoples
eLearning principles and practices for Indigneous learners
Discussions on culture, relationships, and pedagogical issues
I found it helpful in my study of eLearning for Indigenous learners to read about a study conducted with a specific group of Indigenous learners.
http://www.educationcounts.govt.nz/__data/assets/pdf_file/0004/72670/936_LitRev-VLEs-FINALv2.pdf
On the Ontario Ministry of Education's website there is a page called "Aboriginal Perspectives: A guide to the Teacher's Toolkit".  The first section provides lists of the expectations in the revised curriculum that contain Aboriginal perspectives.  The second section consists of teaching strategies related to these expectations to use in the classroom.  The part I found most helpful was the information on culture, tradition, and language.  It introduces the "language of the circle" as well as other aspects of Indigenous culture. While not comprehensive, it provides a goo introduction for mainstream educators.
An article by Paul Hughes discusses Aboriginal ways of learning and learning styles. After presenting some background information on Aboriginal education in Australia, he describes some of the links between culture and learning styles, and provides a new model of learning.  I found his discussion on the primary and secondary differences between Aboriginal and western learners very helpful.
This is such a great website!
http://cli.ccl-cca.ca/FN/index.php?q=home
On this site you can explore the elements of the First Nations Holistic Lifelong Learning Model.  My term project is looking at ways to support adults undertaking eLearning endeavors, so having an understanding of what a model of learning looks like for indigenous peoples is essential.  I love the visuals and interactive components of the site.  In the model you'll read, "Raindrops depict learning guides such as mentors, counsellors, parents, teachers, and Elders.  These individuals provide the learner with opportunities to develop mentally, spiritually, emotionally, and physically throughout the lifespan, and are an integral part of a cyclical, lifelong learning process".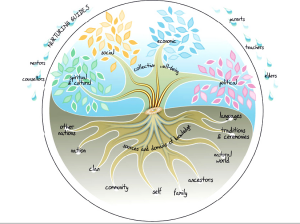 This is a 2010 document published by "The Conference Board of Canada".  It looks at ways in which eLearning can narrow the gap between First Nations people living on reserves and non-Aboriginal people in Canada.  The findings are based only on a brief literature review, but it does present a list of 11 recommendations supported by other research I have encountered.
While looking for resources to support online learners I came across this blog.  (http://firstnationspedagogy.com/blog/).  It has pages for education, activism, governance, health, history, knowledge, and featured articles.  There are podcasts, videos, images, information, and dialogue on all these aspects.  There are not a lot of entries from the past two years, but the information is still very relevant and well presented.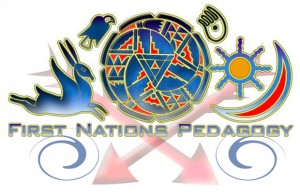 This site provides a New Zealand published report on Virtual Learning Environments and e-Learning in the Context of Te Reo Māori and Kaupapa Māori Education.  Emerging themes include:
The Learning Environment
Relationships and Communication
Collaboration
Pedagogy
Quality Tools
Barriers and benefits to effective eLearning are also identified.
This paper discusses ways to use Moodle to support the learning strengths of Indigenous Australian university students.  It looks at the ways that ICTs can be aligned with Indigenous ways of learning and presented in ways that are culturally relevant.  The paper identifies ways in which Aboriginal learning styles differ from non-Indigenous learning styles, and provides strategies for using Moodle to support Aboriginal eLearning.
www.ascilite.org.au/conferences/auckland09/procs/duggan.pdf