Our school district Cultural Coordinator has shared many resources with me over the years. One of the most recent was the book, Anishnaabe World: A Guide for Building Bridges between Canada and First Nations written by Roger Speilmann. This is an enjoyable and  humorous read. Written in 2009 this survival guide includes chapters such as "Everything You Always Wanted to Know About Treaties (But Were Afraid To Ask)" and "Native Humour and Why Canadians Often Don't Seem to "Get It"".
Roger and his family lived in Pikogan, an Anishnaabe community in northwest Quebec, for 11 years. All author royalties from this book are donated to the Native Students Association at Laurentian University.
This book has been held by many hands in our school district and gifted from one aboriginal support worker to another and then to me. I am wondering who I will next share it with.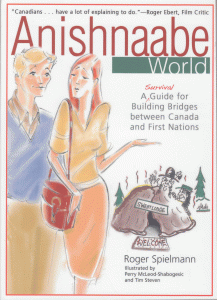 FIRST VOICES (Brentwood Bay, BC)
First Voices is a suite of web-based tools and services designed to support Aboriginal peoples engaged in language archiving, language teaching and culture revitalization.
 The First Voices language tutor is a free software that can be downloaded and local language archived in it, games and other language learning activities can be developed with the software. It support instructor and student tracking. The First Voices Language Archive contains about 60 different language communities at this time, some publicly accessible, some not.
http://www.firstvoices.com/
The First Nations Interactive Holistic Lifelong Learning Model:
I really liked this interactive flash model for holistic learning. It is a good example of how technology can support the interconnected webs of relationships in First nations communities and in education.
http://www.ccl-cca.ca/pdfs/RedefiningSuccess/CCL_Learning_Model_FN.pdf
http://cli.ccl-cca.ca/FN/index.php?q=model
A Victory for the Tsilhqot'in
Blue Gold: The Tsilhqot'in Fight for Teztan Biny (Fish Lake)
This is a fabulous film that shows the power that media can have to change the course of events when a community decides to take a stand. Blue Gold expresses the Tsilhqot'in peoples' unanimous rejection of Taseko Mines Ltd.'s proposal to drain Teztan Biny (Fish Lake) in order to stockpile mining waste.  They had help to make the film from R.A.V.E.N. and assistance with fundraising. This is an approach being taken more and more by small indigenous communities to reach the mainstream population – many of whom support the causes if they know about them.    http://www.raventrust.com/video-bluegold.html
Alanis Obomsawin
One of Canada's most distinguished filmmakers, she has worked at the NFB for over 40 years. when I was researching aboriginal film I found out that she was the director of the incredible film that I saw years ago:Kanehsatake: 270 Years of Resistance . She has made so many films and is passionate about speaking out for aboriginal people. She also received an Honourary Degree from UBC recently where she gave a speech honouring the NFB for supporting her work.
http://www.onf-nfb.gc.ca/eng/portraits/alanis_obomsawin/
National Panel on First Nations Education: News Release – Equitable Funding, Language, Culture and Technology Key to Improving High School Graduation Rates
It looks like there is money being made available to make some concrete improvements in First Nations education.  Calls for improvement in funding, integrating culture and language into curriculum and ensuring equitable access for all First Nations students has been going on for a long time. "Closing the gap between educational achievement for youth in mainstream society and First Nations' youth is the single biggest shot in the arm we can give Canada's economy where demand for skilled and knowledge-based workers is likely to remain greater than our ability to produce them," said Panel Chair Scott Haldane.
http://firstnationeducation.ca/2011/09/30/panel-hears-equitable-funding-language-culture-and-technology-key-to-improving-high-school-graduation-rates/
Hui, Stephen, First Nations Students need Internet Technology, advocates say, Georgia Straight, September 3, 2009.
Even if remote communities have technology often it is difficult at home and school to make good use of them because of the poor bandwidth. Remote communities all over Canada have been promised better bandwidth in these communities but most are still waiting. Technology would open access to online support for high school specialist courses in maths and sciences, technology skills, programs that can support digital music and art in areas where only four or five students makes it not economical to have a teacher in the community.
http://www.straight.com/article-254208/first-nations-kids-need-net
The Canadian Council on Learning (CCL) website promotes and supports research on lifelong learning in Canada.  Their Aboriginal section provides a variety of links to information on Aboriginal learning through videos and reports, articles on lessons in learning, as well as holistic lifelong learning models. One article in particular identifies how Aboriginal communities measuring success in learning and despite their diversity. They share a common vision of learning, which is that it is lifelong and engages all aspects of an individual including emotional, physical, spiritual and intellectual, and the community.
Our Voices, Our Stories: First Nations, Métis and Inuit Stories
(http://www.collectionscanada.gc.ca/stories/index-e.html)
Description:
I came across this link on the Saskatchewan Teachers Federation Website.  It is a link to the Library and Archives of Canada (government) website.  It is a collection of work, "celebrating stories from the oral tradition of the Inuit, Métis and First Nations peoples, from the past to the present."
At first I was skeptical of this Canadian Government Website but I learned that members from the Inuit, Métis and First Nations communities participated in this project so I want to assume that the stories are authentic and not "stolen" or "misrepresented".
The site serves proof that technology can be successfully used to store and share stories from Inuit, Métis and First Nations communities "bearing witness to the cultural diversity, living history and collective knowledge from which they came."  The site also makes reference to the fact the stories on this site represent a very small portion of a vast cultural heritage.  This site is a way of continuing the rich history and tradition of storytelling and oral culture via a relatively new medium.
~ Ryan
---
Excerpt: Storytellers in Motion Episode 12: The Maori Voice Part One: http://youtu.be/sJLRruZNJfU
‪Excerpt: Storytellers in Motion Episode 13: The Maori Voice Part Two: ‬http://youtu.be/vdfRT3bidvI
The series looks at storytellers in Canada and other countries. These two episodes look at the huge resurgence in Maori film and how it has preserved language and culture, as against predictions that their languages would be gone by now.  Part Two follows Barry Barclay, a very well known Maori film maker, to England and he talks bout some of the challenges he has faced. There are other resources of interest around his latest documentary Kiapara Affair which documents struggle of a small community to stop commercial overfishing in their harbour. This article documents political interference in the final cut of the documentary:
The Kaipara Affair, New Zealand, 2005. Director: Barry Barclay 
http://www.filmarchive.org.nz/feature-project/pages/Kaipara-Affair.php
Storytellers in Motion: ImagineNATIVE 2008 – Discussing the issues in mainstream media from the aboriginal perspective, and the rational for starting ImagineNATIVE:  http://youtu.be/qBPna6gngaI
ISUMA: I am looking at examples of the way media can be used to give students an interactive experience with language and culture. Isuma, in addition to video resources has many excellent teaching resources – this is one example of an interactive resource developed around their film The Journals of Knud Rasmussen:
in Teacher Resources area:  http://www.isuma.tv/sites/default/swf/journal/en/index.html
Indigenous Knowledge and Pedagogy in First Nations Education A Literature Review with Recommendations.  Battiste, Marie (2002) This article details features of traditional knowledge and links these considerations to learning styles and instructional methods. These recommendations went forward to INAC, where they were applied I have not found yet.  Retrieved from:
http://www.afn.ca/uploads/files/education/24._2002_oct_marie_battiste_indigenousknowledgeandpedagogy_lit_review_for_min_working_group.pdf
This is a link to the YouTube channel of contemporary Aboriginal artist sistagrlo. https://www.youtube.com/user/sistagrlro and this is her blog http://www.arohagroves.com/
I hope to speak with her about how she uses her presence in cyberspace to further her goals of Aboriginal identity and education about Aboriginal ideals and life in Australia.
Sometimes it is hard to get a hold of people in SecondLife, but I will post if I am able to speak with her.
Part of my research is to look at what value to education Aboriginal and Indigenous artists and creators see in their existences in cyberspace, so I want to speak with them directly as well as look at their work. Who do they see themselves as online?
One of the interesting developments in virtual worlds it the ability to create machinima, or films using the virtual world as the subject, setting, and actors. Using the virtual world means the director can create anything, in any space, in any time.
The link below is to a machinima created by An Aboriginal Territories in Cyberspace Project
www.AbTeC.org. A young man uses a fictional technology called TimeTraveller TM to visit places and spaces of his ancestors, and the colonization of his ancestral lands.
This machinima series seems to have two purposes. One, to provide some education to the rest of us about aboriginal history in North America; and two to provide some glimpse of a future man connecting with his deep past.
I would be interested to hear what you think of this concept, and whether or not this is a positive thing or a further erosion of tribal values and identity.
My own presence in virtual worlds biases me into thinking that this is a positive expression of identity.
https://www.youtube.com/watch?v=C1RNGFkzcyY
While watching the interview of Dr. Lee Brown, I was intrigued with his concept of making the classroom a healthy place by creating an emotionally competent person. His thesis "Making the Classroom a Healthy Place: The Development of Affective Competency in Aboriginal Pedagogy" goes into detail regarding the inclusion of proven educational methods in modern classroom environments.
The concept of technology being considered as something negative, i.e. something that may eradicate a culture, instead of helping preserve it, is a foreign concept to me. This is due to the fact that I've seen the impact technology has had on the atypical student with a learning difficulty, how it has enhanced their lives, allowing them to learn so much more through the assistance of educational technology. I can't help but question if it is the technology, or the educational experience, that is negatively affecting aboriginal culture. It also makes me think that there must be a way to use technology to integrate aboriginal culture in a positive manner to help students learn. Thus, I would like my research to focus on how aboriginal values and beliefs are being integrated into the educational curricula and how technology can be used to enhance a student's educational experience.
Throughout this term my weblog will allow me to connect my research interest to websites, articles, videos and different types of technology that I discover. It will be important to find information regarding aboriginal beliefs and values, the education system in general, and how technology is being used to teach students.