This is a 2010 document published by "The Conference Board of Canada".  It looks at ways in which eLearning can narrow the gap between First Nations people living on reserves and non-Aboriginal people in Canada.  The findings are based only on a brief literature review, but it does present a list of 11 recommendations supported by other research I have encountered.
While looking for resources to support online learners I came across this blog.  (http://firstnationspedagogy.com/blog/).  It has pages for education, activism, governance, health, history, knowledge, and featured articles.  There are podcasts, videos, images, information, and dialogue on all these aspects.  There are not a lot of entries from the past two years, but the information is still very relevant and well presented.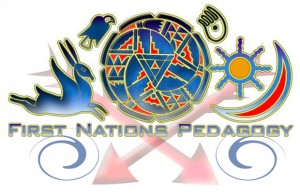 This site provides a New Zealand published report on Virtual Learning Environments and e-Learning in the Context of Te Reo Māori and Kaupapa Māori Education.  Emerging themes include:
The Learning Environment
Relationships and Communication
Collaboration
Pedagogy
Quality Tools
Barriers and benefits to effective eLearning are also identified.
This paper discusses ways to use Moodle to support the learning strengths of Indigenous Australian university students.  It looks at the ways that ICTs can be aligned with Indigenous ways of learning and presented in ways that are culturally relevant.  The paper identifies ways in which Aboriginal learning styles differ from non-Indigenous learning styles, and provides strategies for using Moodle to support Aboriginal eLearning.
www.ascilite.org.au/conferences/auckland09/procs/duggan.pdf
This online presentation looks at ways to enhance success for high school students engaged in web-based learning in Canada.  It looks at areas identified that need improving (organizational, communications, motivation, and contextual).  Key issues are addressed, and then strategies for improvement are given.
Laurel Dyson published "Constructing Shared Online Learning Environments for Indigenous Cultural Inclusiveness" (2003).  It looks at some of the challenges for online learning for Aboriginal students and identifies several conditions for effective delivery.  Some of the key conditions include:
Flexibility
Interactivity
Minimal text
Cultural appropriateness
Indigenous-specific virtual space
Optional customization for individual learners
The paper looks at several previously completed studies to support these conditions.
Presented by the Australian Flexible Learning Framework, this document is a great resources for preparing eLearning resources for Aboriginal students.  Some of the topics included are:
Cultural Protocols
Indigenous Partnerships
Technology
Cultural Inclusively
Delivery
Other Useful Resources
I liked the documents preface:
"It is important that the developers of Indigenous online learning resources acknowledge that Indigenous Australians are part of diverse nations. There are approximately 90 surviving languages and 20 of these with distinct associated cultures. Because of this diversity, any resources that are developed for Indigenous users should be developed in partnership with local Indigenous communities to ensure that the resources have been tailored for the specific community in which they are based as well as being able to be used by Indigenous communities in other areas. Cyberspace itself has a culture and is not a neutral or value-free platform for exchange."