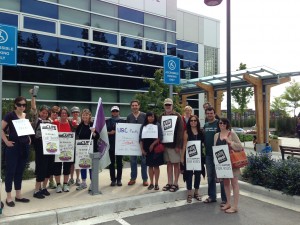 BC teachers picketing at University Hill Secondary School, Vancouver, with support of UBC faculty and staff
BC Premier Christy Clark and Minister Peter Fassbender,
We the undersigned, faculty members, librarians, administrators, students, and staff in post-secondary institutions across British Columbia, encourage you to increase your support of public education by recognizing the value of our teachers. We encourage you to demonstrate this recognition by bargaining with the BCTF with an open mind to meeting the teachers' very fair proposals. This includes de-escalation by backing down on the BC Public School Employers' Association's (BCPSEA) retaliatory lockout, which further erodes the teachers' right to bargain and threatens fair labour practices across the BC public sector. BCTF President Iker argues "It's time for Premier Christy Clark to provide the employer with new funding that will help bring the two sides closer together on class size, composition, staffing levels for specialist teachers, and wages."  We agree.
Please invest in education and labour by resolving this dispute at the bargaining table rather than through retaliatory lockouts. The teachers, who are the BCTF, and all public sector employees through their unions, deserve a fair process of reaching a collective agreement. Thank you.