By Katherine Miller, Nursing Librarian, UBC Library
On March 8th, 2018, the "In Search of Nursing's History" symposium was co-hosted by Woodward Library, the School of Nursing's Consortium of Nursing History, and BC's History of Nursing Society at Woodward Library.
The morning began with Dr. Geertje Boschma, professor in UBC School of Nursing and Katherine Miller, Nursing Librarian greeting the 36 guests gathered to learn more about how UBC Library and Archives are supporting UBC and community researchers on the history of nursing.
Aleteia Greenwood opened the presentations with a brief history of the library, amalgamation of branches through the years and unique collections. She also highlighted the contributions of Lee Ann Bryant, former Nursing Librarian. This was followed by a panel presentation and conversation with:
Amber Saundry, Digital Repository Librarian gave a presentation written in collaboration with Larissa Ringham, UBC Digital Projects Librarian, "Preserving Nursing and Health History in a Time of Digitization and Open Collections"
Krisztina Laszlo, Archivist UBC Library Rare Books and Special Collections shared about "Archival Records and Nursing History",
Claire Williams, MAS/MLIS Candidate, "Archiving Networks of Support" – Positive Women's Network.
Erwin Wodarczak, Acting Head UBC Archives "Records and Collections on Nursing History in UBC Archives"
Dr. Helen Vandenberg, Assistant Professor, University of Saskatchewan College of Nursing and UBC alumni (presenting virtually).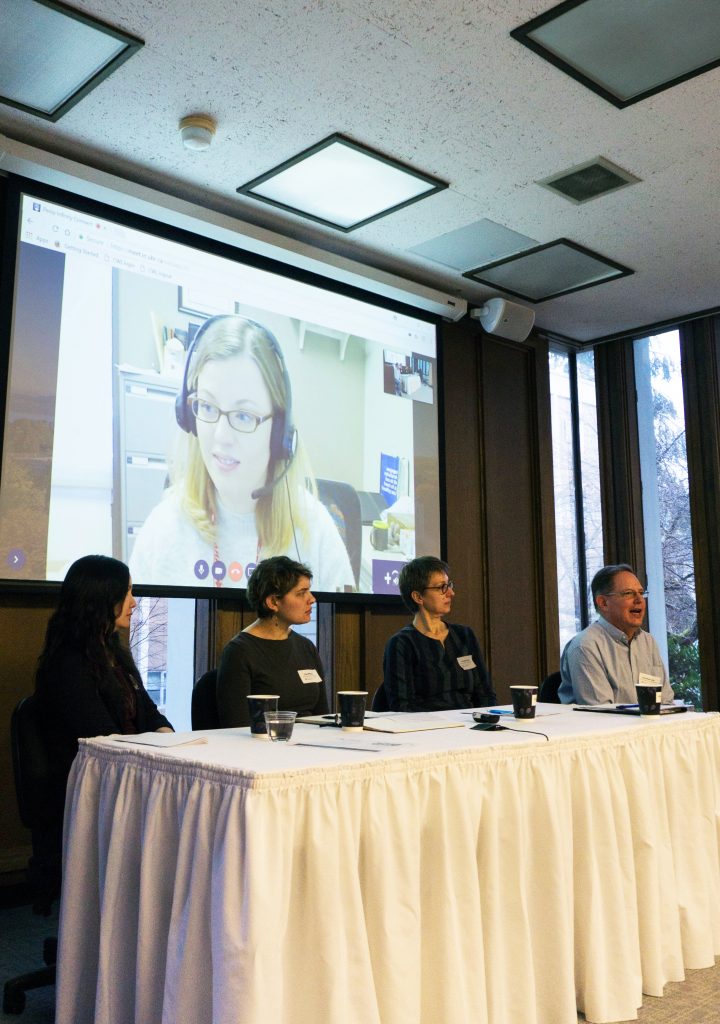 Watch the video of panel members sharing their thoughts and expertise by clicking HERE
After the panel presentations, guests engaged with the Woodward Library's spaces and nursing history resources collections and artifacts with a "Walkabout". In the Charles Woodward Memorial Room, two display cases contain nursing history artifacts from infant feeders to Ethel Johns' nursing medals. In the display case next to the Memorial Room, the Consortium for Nursing History and UBC School of Nursing displayed a visual history of the School of Nursing from 1900s until 1990s. The McKechnie Room hosted a display of books from Xwi7xwa and Woodward Libraries, a poster by Katherine Miller "Collections and Research Services", a display of new books published by UBC Press on nursing history, and a booth from the Consortium for Nursing History Inquiry at UBC Vancouver.
Thank you to the organizing committee from UBC Library: Aleteia Greenwood, Robert Janke,  Krisztina Laszlo, Jing Liu, Katherine Miller, Larissa Ringham, Amber Saundry, Erwin Wodarczak; and from the campus and community: Dr. Geertje Boschma, professor in UBC School of Nursing; Catherine Haney, PhD candidate School of Nursing; BC History of Nursing Members: Nan Martin and Kathy Murphy.
Thank you to UBC Library colleagues for your contributions and support: Carolyn Carvajal, David Cumming, Katherine Hill, Anne Miele, Zofia Szuberla and the Information Desk team at Woodward Library; Kim Lawson and Eleanore Wellwood, Xwi7xwa Library; Chelsea Shriver, Rare Books and Special Collections; Michelle Blackwell and her Communications Team.
A special thank you to UBC-IT for their support of the symposium, using technology to include Dr. Vanderberg, and special guest history of nursing author, Glennis Zilm, and for recording the symposium.
We invite you to come see the special exhibits, which will be on display until the end of April 2018.
The recording of the Nursing Symposium is available in cIRcle: http://hdl.handle.net/2429/64858