Technology can be utilized to preserve a culture rather than destroy it
Perhaps the following statement is too simplistic in nature but I assume that every race, culture and community share the same struggle when it comes to the growing disconnect between its generations.  As technology (ie: internet, computers, web 2.0, social media, etc.) have entered the discussion this divide seems to have increased even more.  Not unlike any other culture or community today's Aboriginal Youth are being raised in a digital age. Without knowledge or prejudice I assume teachers and elders from Aboriginal communities are having similar problems in engaging and connecting with the youth as their non-Aboriginal counterparts do.  I also understand that there exists a fear that technology (ie: the internet) may in fact eradicate many traditions and cultural values that the elders hold so dear.   Only three weeks into this course I have learned about some of these fears but I hold fast (at this point) to the notion that technology can be used to preserve a culture, not destroy it.
The focus of my weblogs and research will be centered on the assumption that, with respect to Aboriginal youth, technology can be utilized to preserve a culture rather than destroy it.  I intend to find examples, articles, and websites that show this to be true.  It is vital that my research be authentic and not merely from an ethnocentric perspective.  Elders may not share the same passion and enthusiasm for technology as today's youth do but I feel that if used properly technology can be a valuable tool employed to preserve a culture.
~ Ryan
The First Peoples' Project
(http://www.iearn.org.au/fp/)


(click on above image to be redirected to a video on the edutopia.com website explaining a project completed by the Choctaw Tribal School)
Description:
The First Peoples' Project uses computer technology (and the web) to connect Indigenous youth from around the world. It is a way to encourage and engage students to participate in a form of education that is meaningful, personally relevant and valued. All submissions and stories must be made with the authorization from community leaders and elders therefore nothing is posted without consent which adds to the credibility and authenticity of the project. Unfortunately it appears as though it only ran for 10 years – 2007 being the last year of the project (although I hope I am wrong on this point). I feel as though this is an excellent example of technology being used to bring Indigenous cultures together.
~ Ryan
As I mentioned in an earlier post, I have a keen interest in the aboriginal support system employed by my school district. Continuous within my district is the cultural vs academic support debate. There are those who would see aboriginal support workers provide mostly academic support with only the occasional opportunity for students to engage in cultural activities. On the other side of the spectrum some education community members believe that cultural enhancement is key to academic success and must be maintained and developed further. Who is correct? Is the best chance for success a more equal opportunity to both academic and cultural support? What does the research indicate?
If research and inquiry does provide some insight to the above questions, what next? And . . . how might technology benefit and/or hinder support? As with all of our posts and responses to date in ETEC 521, question after question presents itself.
As I embark upon this study, I can't help but be grateful for the relationships that are developing within this cohort and within my own educational community that will help guide me. This week I am completing the Inquiry Grant Application provided by the BCTF (BC Teachers' Federation). The purpose of securing the grant would be to involve others in an inquiry based learning opportunity similar to that outlined above.
LIVING SMART IN TWO WORLDS: Maintaining and Protecting First Nation Culture for Future Generations
(http://smart.knet.ca/Library/GlobalCN-paper.pdf)

Description:
In searching for articles and websites that focus on Aboriginal Youth and Technology I came across this article.  This is a paper/presentation presented in 2002 by K-Net (an IT company that worked with 6 different First Nations in the Province of Ontario).  Essentially, they looked at ways in bridging the two worlds of technology and tradition.  Most importantly, they were successful in doing so.  The paper outlines ways in which they were successful and also gives testimonials from various First Nation leaders on its effectiveness.
~ Ryan
UNESCO (The Role of Technology in Globalisation for Indigenous Youth)
(http://www.unesco.org/ccivs/New-SiteCCSVI/institutions/jpc-youth/youth-open-forum/Section_for_Youth/Resources_and_tools/Other_documents_on_youth/OXFAM_INTERNATIONAL_YOUTH_PARLIAMENT/Chapter3_Indigenous_Youth.pdf)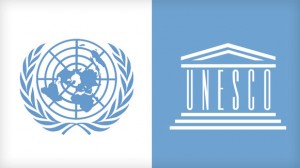 Description:
UNESCO (United Nations Educational, Scientific and Cultural Organization) is undoubtedly known by all. But just in case, UNESCO has several goals which include (but are not limited to) ending poverty, building world peace, creating life-long learners, and embracing cultural diversity.
Exploring UNESCO's website I located a report prepared by OXFAM International.  Chapter 5 of this report focuses on the effects of Globalization on Indigenous Youth.  There is a section that deals with the 'Role of Technology in Globalization For Indigenous Youth' (page 87) that I found particularly appealing because it discusses many things that we have dealt with on our course thus far.  Specifically, technology can have both positive and negative effects on Indigenous people and their communities.
~ Ryan
Red River College's H.A.W.K. Camp for Aboriginal Youth
(http://redblog.typepad.com/blog/2011/08/aboriginal-youth-soar-at-rrcs-hawk-camp.html)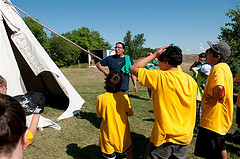 For the past two summers, Red River College has offered its Hands-On Activity Week for Kids (H.A.W.K.) which is a camp geared towards Aboriginal Youth aged 11-13.  The week-long camp introduces Aboriginal Youth to the Construction Trades, Electronics, Mechanical Engineering Technology/Manufacturing, Aviation and Civil Engineering.  Many students are getting their first introductions to these fields of study.  Besides the hands-on experiences with the trades and technologies, camp-goers also took part in many team building activities, story-telling and drumming, all aimed at bolstering each individual.  The camp is free of charge and is available on a first-come-first-serve basis. Participants also receive a free t-shirt as well as lunch and snacks each day.
~ Ryan