Weblog #2: Entry #3
The Esquimalt Nation is presently building a Community Centre, which will be on the corner of Admiral's Road and Thomas Way (see map below). The community plan is based on 'Natural Laws' which inform the 'Cycle of Life'. A quick overview of these laws are linked on the site for those, like myself, who are unfamiliar. Of particular interest to me, as it relates to my research topic, is how will this community center enhance and support all of the surrounding communities. My impression is that this site will be intended for us by all and not just the FN communities but press on such details have not yet been released.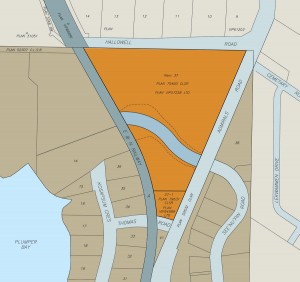 October 14, 2012 No Comments
Weblog #1: Entry #5
Thus far, my thoughts and feelings around indigenity and technology have meandered liked a tributary heading toward a large body of water. At times ideas rush forward in class 3 rapids while most other times the body of thought is happy to move downstream in careful, ponderous reflection. Being interested in the factors that have lead to the community of which I am a part of, I decided to take a closer look at the Western Communities, made up of View Royal, Langford and Colwood, approximately 15 min North of Victoria, BC. More specifically, I plan to focus on how the Western dominant culture has at times worked with, clashed or merged with the three Nations in the immediate area. My sense is that the dominant culture, although it may have initially bullied its way into determining what our community has come to look and be defined as, has been tempered by the communities, beliefs and values of the T'Souke, Songhees and Esquimalt Nations to produce a uniquely hybrid sense of community. I am eager to discover how technology has played and continues to play a role in this hypothesized relationship.
October 1, 2012 No Comments
Weblog #1: Entry #4
While viewing the Esquimalt Nation's Community Building site I happened upon the statement:
"At the core of the plan are the Natural Laws, which guide the Cycle of Life. These, in turn, inform the Plan, which will consist of a series of goals, objectives and policies covering topics of importance to the community."
I'm interested in the Natural Laws and the Cycle of Life as defined by the Esquimalt Nation. These two factors will clearly have a role in the emerging community and must therefore have an impact on the larger Western Communities. It's just a hypothesis at this stage so I'll look to refine my ideas as I progress.
http://www.esquimaltnation.ca/planningprocess.html
October 1, 2012 No Comments