Web log #4
Entry 3
The Aboriginal Enhancement Agreement is a five year (2011-2016) agreement made between schools, teachers, parents and governing bodies to meet the needs of students of Aborginal ancestry. It is a partnership between the Skwxwú7mesh Nation, and Tsleil-Waututh Nation and any other aboriginals living on the North shore along with North Vancouver School District and The BC Ministry of Education. It is a commitment by all these interested parties to improve academic achievement of Aboriginal Students.
Web log #4
Entry 1
The Canadian Council  on Learning has a variety of excellent resources. This Summary report, Naturalizing Indigenous Knowledge has been created by the Aboriginal Learning Knowledge Centre and is a rich resource for definition and clarification of Aboriginal Knowledge and Place-based Learning. It examines Aboriginal roots, social conditions, racism among a host of other topics.
Module 3, post #5
In a 2009 article by Stephen Hui, Denise Williams of the Cowichan Tribes discusses the First Nations Education Steering Committee and the need for broadband – "It's the infrastructure that's going to strengthen the entire social fabric of the community," and it can help broaden opportunities on the often remote and isolated reserves. "We have all these small communities and small, remote schools, and the issue is that we need math teachers, we need physics teachers, science teachers," Williams is the Youth initiative officer for the steering committee. "Their scope of what's possible is limited to where they are," Williams said. "What technology can do in a school with the Internet is open the whole world."
href="http://www.straight.com/article-254208/first-nations-kids-need-net">
Module 2 – Manny's Weblog continued…
In continuing with my theme on video production and broadcasting within Canadian indigenous communities, I have located the following resources that may aid me in my final paper.
1) Indigenous Independent Digital Filmmaking Program
This program has been offered by Capilano college of North Vancouver for the past decade. It allows aboriginal students to receive training in all elements of filmmaking and express these from an aboriginal perspective. The Aboriginal film and television production sector is growing at a rapid rate. This program seeks to equip students with the skills required to pursue a career in this industry.
2) Indigenous film timeline – australia.gov.au
This government website has many links and information related to conflicts that arose between settlers and the Aboriginal populations across Australia. It has a wonderfully chronicled timeline that dates back to the 1920's. There are many links to documentaries that can be downloaded or viewed online. It is very illustrative and contains a large database of information on aboriginal film. There are links at the bottom that have examples of indigenous and non-indigenous filmmakers work.
 3) Indigenous arts network (IAN)
This site boasts many examples of media produced by Canadian aboriginal artists. You can also select your province of choice and bring up local examples in many different media formats. The art presented on IAN is represented by the Nine Circles designed by the Association for Native Development in the Performing and Visual Arts – ANDPVA, namely; theatre, writing, film and video, music, new media, dance, craft and design, visual art and communication.
4) The Vancouver International Film Festival (VIFF)
The VIFF occurs annually and highlights some of the works created by local artists that have received notoriety in the filmmaking world. I recently had the opportunity to take my students downtown Vancouver to watch the movie "Iran Job." Luckily the editor was in the audience and he described to our students how he was able to make the movie in a country were filming cultural norms was outlawed. I immediately thought of the subject matter in ETEC 521 and the commonalities between cultures not wanting their traditions being recorded by outsiders.
5) Government website – First nations peoples of B.C.
This is an excellent site for those wanting to know the specifics of First Nations demography in B.C. It is a primary source of information and I am thinking that it must be updated on a regular basis to ensure accuracy. There are links to research articles and case studies that focus on aboriginal education. Great website if you need factual data on local first nations populations.
I think I have enough resources on the filmmaking portion of my final project but will focus my last two weblogs on the broadcasting and distribution networks in indigenous cultures. After sifting through the vast amounts of information, I can hopefully try to narrow in on a single topic for the final assignment. Feedback is always welcome…
Thanks,
Manny
Nurturing the Learning Spirit of First Nations Students is a "Report of the National Panel on First Nation Elementary and Secondary Education for Students on Reserve."  The panel, as listed in the report, has three members, all of whom have been involved in Indigenous education, but only one of which is Indigenous himself.  However, the report caught and held my attention because of its emphasis on recognizing and valuing traditional Indigenous knowledge.  It draws the distinction between the piece of paper (graduation certificate) that says we are educated compared to the education we receive from our parents and community.
"My dad learned different things and the different skills that are not recognized by a piece of paper. I am proud of my dad and I'm learning from him. And I cannot learn this from my teacher. … The only difference between the two types of education that I have discussed is that one is recognized and one isn't. We need papers behind our names to live in today's world but we still need those traditional teachings to learn who we are and where we come from." (Page ii)
Our High School – Prince George Secondary – has a large population of First Nations students from the Lheidli T'enneh and Carrier Sekani First Nations communities. We have a number of Aboriginal Education teachers and teacher assistants, funded by both School District #57 and the Aboriginal community. The students are exposed to many elements of their culture, and some of them only learn of these cultural activities once they get to High School. Out of the 1300 students in the school, there are several hundred students who First Nations, and a number of other students of mixed descent who have First Nations connections.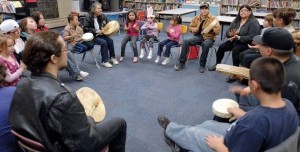 Prince George began an interesting initiative a few years ago. The school district in association with many other agencies set up an Elementary "Aboriginal Choice School" It began operations in 2010, and is the first Aboriginal school within the public school system in British Columbia.
I believe that if this is the right way to proceed. In a ground-breaking partnership, Aboriginal Peoples control the education of their children. It will go a long way towards stemming the loss of culture and the corruption of the cherished values of the First Nations peoples. A tradition of Oral history, language, and connection to the land are focuses that will allow the students to retain their identities.
References
photo: Prince George Citizen, by Brent Braaten, April 12, 2011
I have been looking into the curriculum resources for Alberta teachers and students.  According to Alberta Education's web site, they are "leading the infusion of First Nations, Metis, and Inuit perspectives" in Alberta curriculum.  At the high school level, a clear curriculum has been developed for Aboriginal Studies and approved resources to support Aboriginal language and culture are available.  There are also supporting documents for the Social Studies program.
http://education.alberta.ca/teachers/fnmi.aspx
In regards to addressing how technology relates to supporting Aboriginal language and culture, Alberta Education provides a link to their technology conference, which occurred in August (in Banff).
http://www.destinationinnovation2012.ca/
Alberta Education outlines several projects and initiatives intended to support First Nations, Metis, and Inuit students.  Just some of the projects outlined are:
As a math teacher, I am continually aware of the under-representation of aboriginal students in more academic math courses and the over-representation of aboriginal students in lower level math courses.  This is an issue because mathematics is a key entry requirement into many programs at the post-secondary level. Low success rates in mathematics, particularly in the academic math courses, restricts choices for aboriginal students and has a direct impact on the number of aboriginal students in health related careers, business and science.
My weblogs will be focussed around finding ways to support aboriginal students in mathematics, as well as how technology might fit into this support.  Finding ways to authentically use and promote aboriginal mathematics in the classroom will be one area of research.  Researching ways that First Nations peoples have traditionally taught and learned and how our classrooms might be adapted to support these styles of learning will be a second area of research.  At this point for my final project, I am looking at creating a compilation of resources, research and links that can act as a resource for classroom teachers, with the ultimate goal of supporting our aboriginal and First Nations students in mathematics.
Janet Barker
#2 Saskatchwan Ecological Network
This website has general information for Ecological Issues in Saskatchewan, but has a great section on Eco-Education and Indigenous Education. In particular, one of their focusses is using technology in a way that supports Indigenous values.
Of particular interest was an interview with the Director of Cultural Resource Development and Publications for the Saskatchewan Indian Cultural Center which provides an overview of how educators (particularly non-Indigenous educators) can teach in a respectful manner about sustainability including an Indigenous perspective. There are some great resources, written by Indigenous Educators, interviews with other important community members and links to other schools and organizations that might be useful for individuals (Indigenous or not) who have an interest inrespectfulIndigenous Education.
http://econet.ca/eco-ed/indigenous_resources.html
#3 Rekindling Traditions
From the Saskatchewan Eco-Network I found myself on a particularly interesting website which included units that combined TEK and Indigenous values with "Western Science". Their goal is to provide resources so that "students are not expected to set aside their culture's view of the material world when they study science at school". The project is funded through 3 school divisions, the University of Saskatchewan, the Dr. Stirling McDowell Foundation and the Cameco Access Program for Engineering and Science and is called the Cross-Cultural Science and Technology Units Project.
One of the things I particularly liked about this website was that the way a user moves through it. For example, in the units menu you pick an animal to enter a section. The animals are in a circle. Whoever designed the website made a concious effort for it to be aesthetically more holistic (less linear) and perhaps more meaningful to Indigenous users. Even entering the website requires that you click on the raven, instead of an "enter" sign.
The resources specific to certain grades/topics and are very well laid out, providing additional resources for teachers and students in a print or web-based format. Contributors include teachers, elders and community members. A collaborative process like this, where the correct sources and individuals participate in a meaningful way, is a good example (or starting point) for how technology education can include Indigenous values in a respectful and meaningful way.
Aboriginal Perspectives is a site dedicated to providing teachers with lessons, videos, games and workshops that include Aboriginal content and focus.  Each of the videos is of a First Nations person or persons, from different age groups, and is accompanied by lesson plan suggestions.  This site is a joint venture between the University of Regina and the Saskatchewan Urban Native Teacher Education Program.