I enjoy languages (I speak 3-1/2 languages) and will probably be doing my final paper on language revival/dying languages.
Here are some of the website and articles I've been looking at:
http://www.endangeredlanguages.com/
This site covers endangered languages from all over the world. I had no idea my place of birth was home to a few of them! And I had no clue how many languages were on the verge of extinction. I think if I head down this research path I'll probably focus on Central/South America or the Middle East. While this is a great starting point, that's all it is. The technology behind reviving a language is a whole other kettle of fish.
There's no single cohesive way to record a language:
http://travel.nationalgeographic.com/travel/enduring-voices/
http://www.livingtongues.org/talkingdictionaries.html
There's audio recordings, video recordings, databases, online tools, apps, and written documentation. Here's a fellow who may point the way to some more ideas…I'll contact him to see what his thoughts are:
http://challengingtraditions.wordpress.com/2013/04/
One of my concerns (and Coppélie hints to this) is the notion of technology being the silver bullet (didn't the education world go through this a decade ago?):
Digital is not the savior of dying languages. We may be able to archive the languages, but languages are dead unless people speak them, and to speak them they need to interact with others and withing an environment that's not hostile to that language. This may be something to explore…the archiving of languages vs. actually reviving them…
I think there's an inherent problem in trying to revive a language outside of a given culture that is or has disappeared. I don't say this to be mean, but just to point out that things like idiomatic expressions, subtle meaning, and things like double-entendres and jokes are often heavily dependent on context, without an environment or a mind who understands the environmental/social context , a dead language is like looking at a game board and not knowing the rules!
There's plenty of fodder for this approach to endangered languages:
Peter Ladefoged  Another View of Endangered Languages Language Vol. 68, No. 4 (Dec., 1992), pp. 809-811
Ken Hale, Michael Krauss, Lucille J. Watahomigie, Akira Y. Yamamoto, Colette Craig, LaVerne Masayesva Jeanne and Nora C. England Endangered Lanuages. Language Vol. 68, No. 1 (Mar., 1992), pp. 1-42
Nancy C. Dorian  A Response to Ladefoged's Other View of Endangered Languages Language Vol. 69, No. 3 (Sep., 1993), pp. 575-579
There's also the political/cultural push for dominant cultures to eradicate other cultures, either forcibly or through other means (often economic in nature)…
Alexandra Y. Aikhenvald Language Death by David Crystal Journal of Linguistics Vol. 38, No. 2 (Jul., 2002), pp. 443-445
http://www.worldaffairs.com.au/reviving-endangered-languages/
There's also the cost involved in reviving a language:
http://www.meertens.knaw.nl/ss17/contributions/abstract.php?paperID=360
The topics surrounding language revival/dying languages are many…
Here are some videos I've been watching to get a better idea of what I'm getting into…
https://www.youtube.com/watch?v=-rRgoP1nG3c
https://www.youtube.com/watch?v=iCVWltWfbBA
https://www.youtube.com/watch?v=YbE53FKUV5g
https://www.youtube.com/watch?v=KB7kLNwKEVU
https://www.youtube.com/watch?v=GxZAbA3NuEM
https://www.youtube.com/watch?v=FTk3JL01TZ0
I may have to narrow down this research a bit more. If you have any suggestions or would like to discuss this topic  I'd love to hear from you!
This Aboriginal Storytelling site provides detail about the importance of storytelling – as something more than entertainment.  Storytelling is a means to communicate culture, ceremonies, and spirituality.  Storytelling acts as a bridge to teach an audience a way of life – the history and culture of indigenous peoples.  Specifically, this site focuses on the Aboriginal people of Saskatchewan and provides useful information and links to other relevant sites.
Aboriginal Affairs and Northern Development Canada
www.aandc-aadnc.gc.ca
AANDC envisions a future in which indigenous communities are healthy, self-sufficient, and prosperous – " a Canada where people make their own decisions, manage their own affairs and make strong contributions to the country as a whole."
This site provides a wealth of resources, including (but not limited to):
– Arts, Culture, and Heritage
– Acts, Agreements, and Land Claims
– Education
– Environment and Natural Resources
– Social Programs
I have been thinking about the connection between mass media and indigenous peoples – at the production level, on the screen and behind the scenes, in programming, and in air time.  How is indigenous culture represented on the Canadian screen?
CBC Aboriginal  
Links to the CBC programs and features relating to Canada's aboriginal communities.
http://www.cbc.ca/aboriginal/
Cultural Diversity on TV and Radio
Canadian Radio-television and Telecommunications Commission's (CRTC) site outlining Canada's Broadcasting Act and the upholding of cultural diversity on screen and on air – by ensuring equal rights are given based on gender, linguistics, culture and race are represented. Consideration is given to programming by and for specific groups, as well as reflecting diversity in all broadcast services.
Policies Described:
Native Broadcasting Policy
Ethnic Broadcasting Policy
increased licensing of ethnic and third-language stations
expanded availability of non-Canadian, third-language services


http://www.crtc.gc.ca/eng/info_sht/b308.htm
Emerging Filmmaker Programs
The National Film Board of Canada offers several initiatives to support new and emerging filmmakers from every part of the country.
http://www.onf-nfb.gc.ca/eng/directing-co-producing-film/emerging-filmmaker-programs.php
imageNATIVE Film Festival
Founded in 1998 in Toronto, imageNATIVE is considered to be the most important Indigenous film and media festival in the world, annually showcasing, promoting, and celebrating both emerging and established Indigenous filmmakers and artists.  "imagineNATIVE is committed to dispelling stereotypical notions of Indigenous peoples through diverse media presentations from within our communities, thereby contributing to a greater understanding by audiences of Indigenous artistic expression.
http://imaginenative.org/festival2012/
The Aboriginal Voice: NFB and Aboriginal Filmmaking Through the Years (Gil Cardinal)
Gil Cardinal, an Edmonton-based Métis filmmaker and producer,  shares the history of the NFB and Aboriginal filmmaking in a playlist of NFB films from 1968 to present day.  A comprehensive body of films is shared to outline the NFB initiatives involved in sharing the Aboriginal Voice. http://www.nfb.ca/playlists/gil-cardinal/aboriginal-voice-national-film-board-/
Module #2
Site#5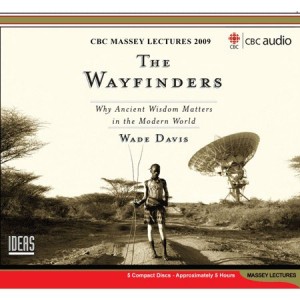 I have included this book as I have found the authors perspective on global cultural diversity unsurpassed. Author Wade Davis an ethnographer and self described story-teller has travelled widely and shares his experiences of vastly different cultures from a global perspective. He has made his home base in central BC and has gained a respectful reputation among the Tahltan First Nations peoples as he has contributed to the opposition of development in the 'Sacred Headwaters' of the Stikine, Nass and Skeena rivers. Davis argues that globalization does not create harmony and integration among all groups. Instead he says, in many places it has wiped away languages, cultures and "visionary wisdom" (p.201)
Davis, W.  (2009) Wayfinders Why Ancient Wisdom Matters in the Modern World. Toronto, Ontario: House of Anansi Press.
For my weblog this module I started looking at different aspects of Indigenous identity in relation to ecological issues.
The Six Faces of Traditional Ecological Knowledge: Challenges and Opportunities for Canadian Co-Management Arrangements
This website is about natural resource co-management. It discusses First Nation involvement in making decisisons and incorporating the values and worldviews of First Nation's groups. Also discussed is the idea that there are 6 faces of TEK that need to be considered when negotiating co-management arrangements.
First Nations Land Rights and Environmentalism in British Columbia
This is a very different sort of website than the others I came across. The website opens with "We were never conquered and we have never surrendered the right to govern or be stewards of our traditional territories." The website also states "Disclaimer: strategies of dispossession of First Nations have included representing them in degrading ways. This website promotes a re-iconization of some of these illustrations by placing them in a new context to serve indigenous peoples." The author of the website is a German woman, Dr. Karen Wonders and the site is very political in nature and continues on with the very clear standpoint taken on the first page. There are links to the websites of different First Nations groups as well as all kinds of lectures, symposiums, exhibitions, articles and media that relate to these topics.
The focus in this article from the Latin American Studies Association is on Indigenous people in Columbia. The author looks at how "representations of indigenous peoples have changed from 'the savage colonial subject' to 'the political-ecological agent.'" This is a point that I think is important with respect to our discussions this module and also when I am doing my research and writing my paper. Even positive steretypes must be examined. In addition, the political aspect of environmental issues and resource management is an important consideration. The main website of LASA provides links to a variety of articles, some of which involve Indigenous issues.
First Nations Environmental Network
Incorporating traditional values, this network of individuals and groups encourages and supports others who are trying to protect traiditonally important areas. There is an area where members can post news updates and links and a link to the forum Turning Point,which offers up a place for Aboriginal and non-Aboriginal individuals to egnage in discourse. Even though the site does not appear to have been active since 2009/2010, the way the site, and particularly the forum, is set up and the guiding principles are interesting and useful when considering how Indigenous communities could network and share their experiences.
Assembly of First Nations: Environmental Stewardship
This is a fantastic resource with respect to First Nations' environmental conerns and current stewardship examples. The areas of Earth, Air, Water and Fire each have a variety of link to videos, factsheets, First Nations funding, articles and other resources to do with environmental stewardship within an Aboriginal context.
I explored some of my own country's literature on cultural issues, ICT and Indigenous Australians. I have combined these three weblogs because of their similarity.
Dyson (2004) focused on the reasons for low adoption of ICT with Indigenous Australians and concluded that access was the major issue and that ICT was embraced by indigenous Australians and able to be adaptable to other cultures provided people from that culture have input into ICT design and management.
Samaras (2005) identified similar access issues to Dyson (2004) and argues that the digital divide for indigenous Australians stems from socioeconomic inequalities. She concludes that more needs to be done by government and the information profession to ensure a more socially inclusive information society for all, but especially for indigenous Australians.
Now over 5 years later this concern about the digital divide here in Australia was again  identified by the University of Adelaide Dean of Aboriginal Education Professor Lester-Irabinna Rigney speaking at the Australian Council for Educational Research national conference on indigenous education in very strong terms:
"Most Indigenous communities have had a decade of lag time in accessing and effectively using online services. ………. Policymakers need to act now or risk condemning indigenous Australians to digital ghettos."
It would appear that we may still have a long way to go……
References
 Dyson L,E. (2004) Cultural issues in the adoption of information and communication technologies by indigenous Australians. Sudweeks F., Ess C. (eds). Proceedings cultural attitudes towards communication and technology. Murdoch University, Australia. 58-71.
Samara K. (2005) Indigenous Australians and the "digital divide". Libri 55: 84-95.
Indigenous digital divide widening due to wrong education. Sourced from news.com.au on 23/09/12
UNESCO Institute for Information Technologies in Education developed a policy brief in 2011 ICTs and Indigenous People.
It outlines the importance of Indigenous knowledge, and acknowledges that ICTs can be viewed as a "double-edged sword" with the potential to accelerate erosion of indigenous culture and knowledge but also the ability to empower and support resources and environments for indigenous children.
The paper describes some examples of how ICTs can be used positively by indigenous people to strengthen and reinforce indigenous cultures and knowledge. Here are three of these:
The Four Directions Project (USA) which includes:
Restructure of curriculum in schools – art, mathematics, science, fine arts etc
School-home and school-community focus
Networked virtual communities of indigenous teachers and students
Network database of culturally appropriate teaching resources
Teacher Education in Sub-Saharan Africa (TESSA)
The aim of this project is to research and development network is to improve the quality of, and extend access to, teacher education in Sub-Saharan Africa. It has an open education resources to support culturally-based teacher education adn training. 120 African countries are involved, 700 teachers have participated and the resources are available in 4 languages on the TESSA website.
Honey Bee Network – India
This project has multi media/multi lingual database of primary educational resources in native languages and supports exchange of ideas and innovations around horticulture, biodiversity and herbal medicine. They have public access "kiosks" in remote villages so that geographically disadvantaged people can share across the country and also globally.
The document outlines a number of policy recommendations which include:
Provide a policy framework that enables indigenous communities to have control of their schools
Encourage and fund research in use of ICTs to support culturally based education Develop educator professional development programmes designed to help non-indigenous educators to understand and support the culture of the indigenous community and the ways that ICTs may support access to indigenous content, expertise, and cultural resources
Develop online educator development programmes to prepare indigenous peoples to become teachers
Develop policies to use ICTs to provide continuous and adult education, retraining, life-long learning, and distance learning
The Indigenous Position Paper for the World Summit on the Information Society (WSIS) was the draft version submitted for the World Summit on the information Society (WSIS). This was a two summit UN conference and the WSIS is now in its implementation phase. It has now been followed up by the Internet Governance Forum.
The Indigenous position paper is interesting to read and consists of a number of statements and recommendations about being part of the global Information Society that focus on Indigenous Rights in the Information Society in the specific fields of:
Traditional Knowledge
Information and Communication Technology (ICT) applications
Education and Language
Health
Youth
Environment
E-business
Media
I have copied the general principles here as I think they underline the importance of technology for indigenous people as we have begun to read in module 1.
We, the Indigenous Peoples, affirm our right to be part of the global Information Society on our own terms.
We note that the Information Society, as it is currently evolving, has become another instrument for colonizing, assimilating and marginalizing Indigenous Peoples in a new and subtle way.
We therefore emphasize that our participation in building and implementing the Information Society must be based on our right to self-determination and the recognition of our cultural diversity and distinctiveness as Indigenous Peoples.
Moreover, our full and effective participation in the evolution of the Information Society must take place in equal partnership with its non-Indigenous actors.
We therefore demand to be represented with our own visions, philosophies and concepts in the conceptual framework of the Information Society and its action plan for implementation.
Furthermore, we strongly request the worth of our cultures and the value of our traditional knowledge to be fully acknowledged for past, present and future positive contributions to global human progress and sustainable development.  We particularly call for recognition of our historic contributions to human development.
We stress that the Information Society and its core elements – knowledge, information, communication and Information and Communication Technologies (ICTs) – are cultural concepts and expressions. We therefore demand that our own culturally defined approaches, protocols, proceedings and obligations are respected by non-Indigenous actors when implementing the Information Society.
We recall that our peoples, no matter where they live, are affected by the digital divide. We assert our right of access to ICT applications and strongly call for recognition of our right to bridge the digital divide on our own terms.
The Innu Virtual Museum provides an excellent example of the use of technology to create a record of the elders' (Tipatshimuna's) stories.  The Innu people have created a digital website to share their traditional lives with other Innu and people across Canada.  The perspectives provided offer an understanding of what life was like for Innu youth and families.  Exhibit galleries, videos, audio clips, Innu youth stories and elder autobiographies help create this digital cultural story.
I believe this website would be an excellent resource for teaching about Canada's Indigenous, particularly northern Quebec and Labrador.  As well, the collection is an excellent example of empowering Indigenous youth to learn about their culture through the use of technology.
Camille