Category —
Connection to Research Topic
I have been considering my topic for quite some time for my research focus and I keep coming back to Winston Churchill's quote: "Those who do not learn from history, are doomed to repeat it".
My struggle and interest within the field of education technology has always been focused on relevance and the absolute need for it when considering educational policy and spending. Out of my current understanding of the historic and colonial systematic exploitation of Canadian First Nation's people, my question is: "How has the contemporary Globalization economic movement, with its focus on worldwide neo-liberal capitalism and the privitization/exploitation therein, compare and contrast to the conquest and exploitation of the Aboriginal people's residing in the Americas, and more specifically Canadian First Nations." Research materials with regards to both subjects should be plentiful as Canadians first nations exploitation (residential schools, resource claims, treaty issues, marginalization effects etc.) are still being dealt with today, (or not dealt with in the case of the Harper Government), and the documentation of the worldwide privatization of public resources is a contemporary concern, very often focusing on Aboriginal treaties/resource and land claims.
Any input or suggestions from my classmates will be valued.
It was five years ago today, that Stephen Harper stood in front of the country and apologized for the government's role in Residential Schools.  In my school at the time we watched it live.  A number of students refused to watch and I found out later they had family members go through the residential school 'system' and refused to believe in the sincerity of the apology.  I freely admit to being aware of Residential School problem, but almost unaware of the local impact.
There was a Residential School an hour south, and an hour north, so many Aboriginal families in Quesnel faced the atrocities these schools brought.  The goal was to assimilate the First Nation peoples and make them 'Canadian' by destroying the culture that they had built over a millennia.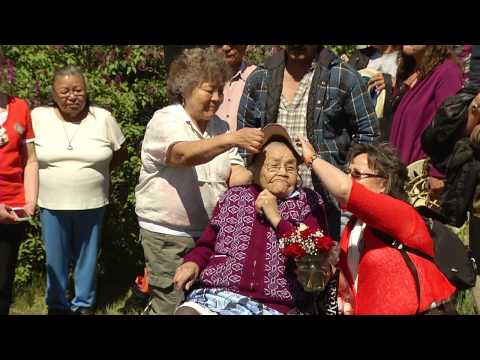 The clip is from a local Residential School.
My project will be to research the history of local Residential Schools and their impact on residents.
I would like to make it movie format, complete with interviews of survivors from the system.  The atrocities the people faced were terrible.  Students were beaten (or worse) for using local language or dress.  Students were ripped from their homes, given hair cuts and   taken from the only lives they've known to be forced into a school which didn't value them.
Residential Schools should not be forgotten.
I look forward to hearing from classmates with ideas, concerns, suggestions…..
The inspiration for my blogroll topic came from a conversation I had with Iban tattoo artist Ernesto Umpie of Borneo Headhunters tattoo studio in Kuching, Malaysia. At the time I was coming to my own realizations about learning to make the traditional crafts of the Borneo tribes; even something as seemingly simple as basket weaving would take at least a year or two of living with a community to engage with the way craft is integrated into daily life.  Ernesto is one of the few artists left practicing the traditional tapping tattoo method. His studio is a small museum, dedicated to authentic Iban artefacts (those used in actual ceremony).
We struck up a long conversation, and I told him about my research endeavors to use the internet to teach crafts. His response was that it would be fine to teach technique, but there would be no way to pass on the cultural significance of making a craft. He became quite adamant about how there can be no community on the internet because there is no  way to guarantee honesty. These two points have directed my research interest in this course. For the blogroll I will explore the ways that the culture of Borneo indigenous craft has been and can be explored on the internet.
As I reflect on my web log entries, I see how much I wanted to try to find the key to connect Outdoor Education and Native Education of our youth. I had a personal experience when I was 16 year old in Outward Bound that shaped me for my whole life. I personally learned the impact of spending time in the wilderness. In my 20's, I discovered a program called Rediscovery that combined the benefits of Outward Bound and Native Culture. I wanted to see how to utilize some of these ideals and implement them into the classroom; and help teachers see the value of this approach. I discovered the connection between place based learning and Traditional Aboriginal knowledge that was the thread that ran through much of my research. In order to narrow my topic and make it feasible for my own practice, I chose to take the approach of place based learning into the classroom. Though the impact of learning in the out-of-doors would not be as great on single day journeys (field trips) as it would be on multi day immersion in the outdoors, I found that starting with this approach was a positive step.
Web log #4
Entry 5
The British Columbia Teachers Federation has put together an Aboriginal Education Program (2012) that has some good resources and contacts for Aboriginal Teaching and Learning in B.C.
Web log #4
Entry 4
This paper, Traditional Ecological Knowledge of Aboriginal People in British Columbia is by Nancy Turner, an Ethnobotanist out of UBC. She looks at three main themes of Traditional Ecological Knowledge and Wisdom (TEKW), sustainability, world view and communication of knowledge. She charts plant resources like edible mushrooms, seaweeds, alder and cedar and their harvesting practices. Then she takes a couple of specific examples (yellow avalanche lily and balsamroot) and traces the use, knowledge and history of the plant. It gives a non-native a food sense of the scope of knowledge held by Aboriginal Peoples.
Web log #4
Entry 3
The Aboriginal Enhancement Agreement is a five year (2011-2016) agreement made between schools, teachers, parents and governing bodies to meet the needs of students of Aborginal ancestry. It is a partnership between the Skwxwú7mesh Nation, and Tsleil-Waututh Nation and any other aboriginals living on the North shore along with North Vancouver School District and The BC Ministry of Education. It is a commitment by all these interested parties to improve academic achievement of Aboriginal Students.
Web log #4
Entry 2
The National Film Board has an unbelievable treasure of resources to use in the classroom including a vast resource of aboriginal material.  You have to sign up for an account (free) but they have created teachers guides to go with their movies. Here is the link to the National Film Board and a link to one of the Teacher Guides, First Nations A Circle Unbroken.
Web log #4
Entry 1
The Canadian Council  on Learning has a variety of excellent resources. This Summary report, Naturalizing Indigenous Knowledge has been created by the Aboriginal Learning Knowledge Centre and is a rich resource for definition and clarification of Aboriginal Knowledge and Place-based Learning. It examines Aboriginal roots, social conditions, racism among a host of other topics.
When I started out this research project, I searched long and hard for academic articles relating traditional ecological knowledge to the science curriculum. What I ended up finding was actually more hands-on materials to use in the classroom instead of only theoretical articles. I found full units online that can be used to integrate TEK into the science curriculum and that there are other nations who have been working on adding an indigenous perspective to the science curriculum already which could serve as good models to follow. Also, there are many articles out there about teaching strategies for teaching science to Indigenous students and being culturally sensitive to the fact that the Western scientific perspective is only one way of looking at science. My research focus shifted from finding a theoretical knowledge base of ideas to work with in implementing TEK into the curriculum to finding more of a "teaching tool kit" of materials, activities, units and strategies that can be used in the classroom.