On Saturday I had a full day of training and orientation in preparation for my new job as a Chapman Learning Commons (CLC) assistant. As I probably mentioned before, I refer to the CLC as my mini Hogwarts and it's my absolute favourite student space on campus. During our tour of all the restricted no-student-allowed lounges and offices on Saturday, I learned a funny anecdote where a student came up to a staff here and asked, "Where's the Harry Potter room?" The befuddled staff eventually realized that the student was referring to the portrait-filled Ridington Room on the 3rd floor of Irving K. Barber. Gorgeous, isn't it? (Here's another shot of the back of IKBLC in the snow)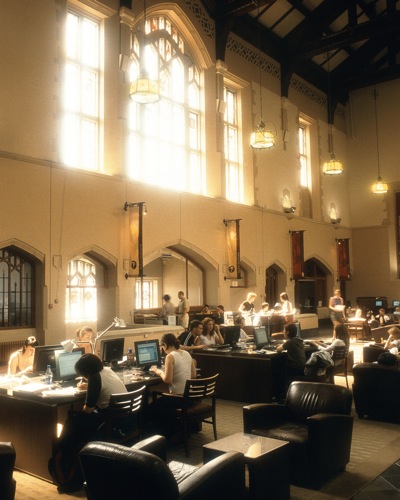 So I'll be behind that counter on most afternoons, shrouded in a heavenly glow 😀 [edit] Ah, Mimi just mentioned that I neglected to mention more details about my job! So in addition to taking care of patrons who come with inquiries to the info booth, I attend workshops and work on several "programming" projects, ie. usually technology-oriented student-led initiatives like LEAP. See the Meebo chat on the right side of the LEAP website? The CLC Assistants also provide live help while on the job. There are so much more to it and I'm of course still exploring all the possibilities. COME SAY HI.
On a sidenote: 72 days until the release of Harry Potter and the Half Blood Prince. I'M EXCITED! MIDNIGHT RELEASE, WHOOO.