Poetic and visually compelling, this film is the Woodhaven Eco Art Project as seen through both bright and dark lenses and as witnessed by the natural world itself.  Saved from developers in the 1970s, Woodhaven hovers in the liminal space between fragile wilderness and powerful urban pressures.  In the film, the place is shown to be haunted by a darkness, as anxiety and worry press upon it, as darkness seeps through it, as chainsaws hover, and as animals huddle in trees overlooking the creeping presence of damaged and damaging human beings.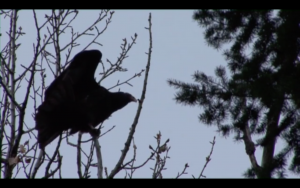 But in an act of hope, a group of artists comes into the park.  They celebrate creation and light rather than destruction and storm.  They bring music and song, dancers and words. They weave offerings of steel and wool and braid bark and twigs. There is falling and swaying, marching and waiting, looking and talking. What comes out of this joyful invasion is an awareness that trouble still exists, damage and consumption still wreak havoc, but nature has the power to beguile and heal us and that we can tread lightly on the earth and live more wisely.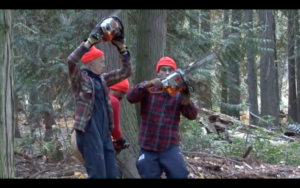 By juxtaposing nature footage of the park with footage of the artwork that came out of the Woodhaven Eco Art Project, the film raises questions around how we experience our conflicting relationship with the natural world and the film celebrates Woodhaven as not just a park as passive object of inspiration, but a complex living entity actively collaborating with human beings.