Creative Studies students from UBC's Okanagan campus created and toured a collaboratively created devised performance, called 'SQUARE/CIRCLE'. This was presented at the 19th annual Director's Theatre Festival hosted by the University of the Fraser Valley Theatre Department, as well as at UBC's Okanagan campus performance studio. This project was made possible primarily by the Tuum Est Student Initiative Fund, it was also sponsored by the Faculty of Creative and Critical Studies, the Eco Art Incubator research initiative, and the University of the Fraser Valley Student Union Society. 
Sit at the lunch table of our technology driven age, in a silent school cafeteria top full of LED glowing, texting, young-adult-zombies. Using abstract dance based movement and new media technology, this devised interactive performance experience brings its audience to public school in the 21st century. Through this piece, we ask our audience to consider what is at stake if we continue down our path towards a completely un-embodied, un-natured, disconnected educational system. This piece has been created by Shimshon Obadia in collaboration with fellow Interdisciplinary Performance program students Emily MacMillen, Shangning Zhu, & Melisa Hernandez-Paccagnella. This piece was created with mentorship from UBC Interdisciplinary Performance assistant professor, Denise Kenney.
While attending the Director's Theatre Festival, 'SQUARE/CIRCLE' was featured on local TV station, Shaw TV Chilliwack. As well, this being the third year UBC's Okanagan campus has sent a submission to British Columbia's largest inter-university play festival, the students and UBC were given a special mention in the festival's opening ceremonies for bringing new and interesting creative pieces each year. 
For more from Shimshon Obadia, visit www.ShimshonObadia.com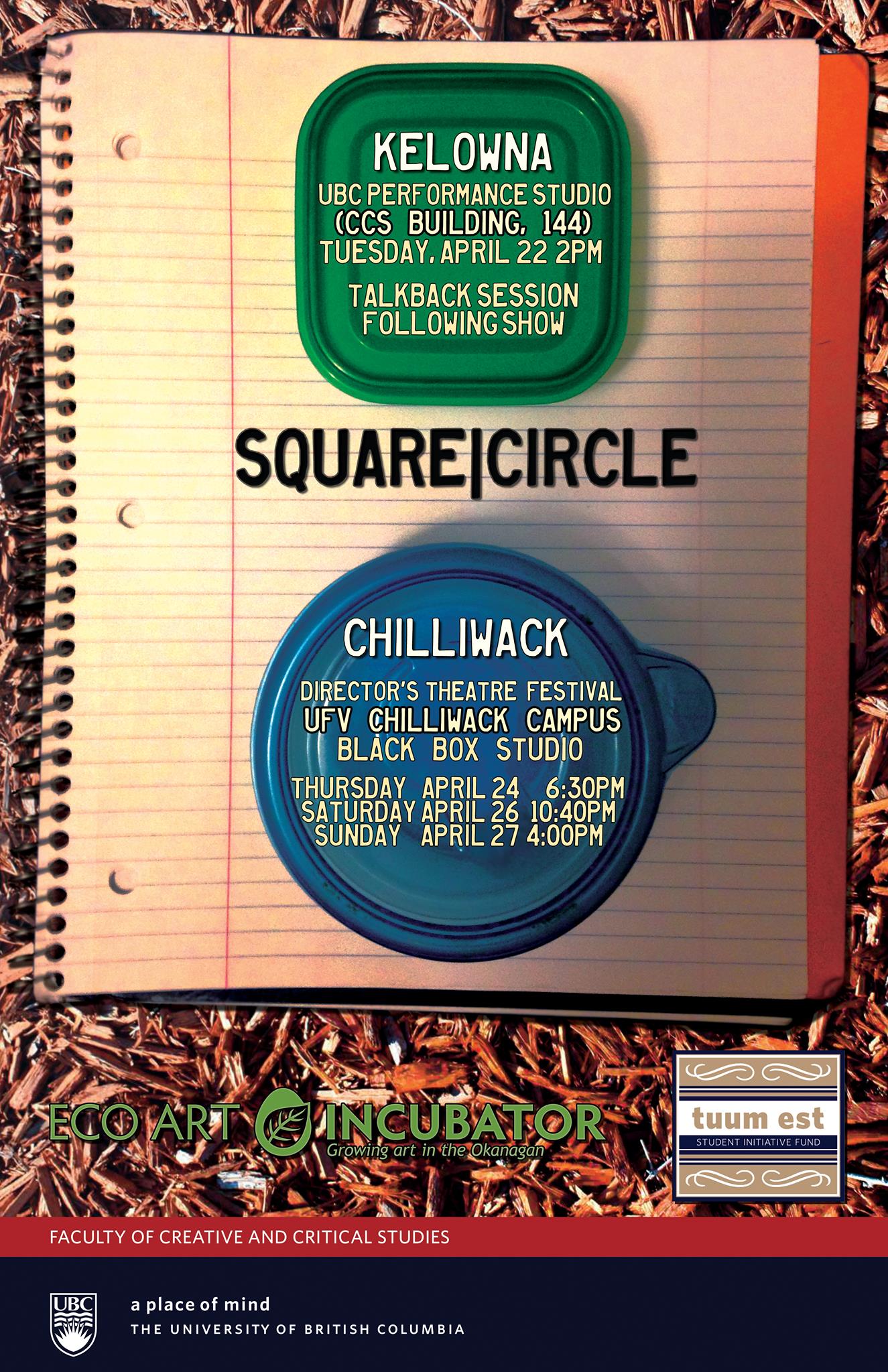 Praise for SQUARE | CIRCLE
"SQUARE/CIRCLE was a welcome addition to our programming as it explores important questions regarding our educational system in the technological age.  As many of the students attending the festival are engaged in devising theatre practice, your piece was inspirational as it demonstrated how movement, sound and technology can be employed to explore relevant, contemporary issues.  I was delighted to see you took the bold step to transform our studio into a theatre-in-the-round performance space creating a fresh audience-performer relationship.  I would encourage you to continue to develop this piece as you have opened up a field of inquiry that is rich in possibilities for further exploration.  Our students always look forward to the innovative pieces you and your colleagues bring from UBC Okanagan.  And everyone here enjoys the way your group interacts and supports your fellow participants from the other college and university programs. I do hope you can bring another project next year."
 – Ian Fenwick, Festival Curator 
"In watching Square Circle, I experienced an interesting & intriguing flow between intellectual stimuli and emotional response. It was unique. The contrast between thinking and feeling created a space for a deeper level of connection & understanding of the work."
 – Jaide Ashcroft, Festival patron 
"Once again, the work of UBC-O's interdisciplinary arts students has contributed greatly to UFV's annual Director's Festival.  "Square/Circle" provided a unique perspective on the relationship between today's youth, technology and nature.  The devised nature of this show also contributed to the festival's exploration of performance and gave theatre students an opportunity to experience an alternative method of storytelling.  This show was received very well and we are already looking forward to the work these students will bring next year." 
 – Danielle Warmenhoven, Theatre Student Association V.P. External
"I liked how Square Circle's innovative use of contrasts juxtaposed the characters connection with technology at the expense of their connections to the environment, to one another, and to themselves. The work poses some interesting questions about the role of technology in the context of our relationship to the natural world."
 – Mike Metcalf, Festival patron
"This year marked UFV's 19th Annual Directors' Festival and the third time I have seen a show put on by the ever surprising and entertaining people of UBC O. It is always an absolute pleasure watching the high quality and think outside the box kind of theatre that UBC O brings. It is always just as nice to get to know the people from UBC O outside of performances. They all bring a positive, uplifting, yet deep and thoughtful, approachable attitudes to the Directors' Festival. Their show, SQUARE/CIRCLE really hi-lighted that this year, it showed their spirit and character in their performance, it is always a pleasure having them around."
 – Cheyenne Douglas-Ruttan, Theatre Students Association Treasurer