PREFACE
In April 2017, we were invited to facilitate Eco Art Incubator Cyprus: Sites Embodied, in collaboration with the European Dance Network and Dance Gate Lefkosia as part of the programming for the Eco Art Projects associated with Paphos 2017 European Capital of Culture. The Eco Art Incubator Cyprus workshop and performance series brought together local and visiting artists from various disciplines throughout Europe to research ecological art methodologies as they pertain to a particular contested site.  These artists shared their expertise and used site-specific embodied research to generate new artistic and ecological resonances.  The intent was for artists to experiment with their own practice through a thematic lens and to seed practices for ongoing engagements in this region.  This catalogue documents that experience.
INTRODUCTION 
The Eco Art Worksop April 13 – 19, 2017
Cyprus, like every idyllic spot on earth, has its share of ecological troubles—from developers wanting to put waterfront hotels on turtle habitat to the most severe water scarcity problem in Europe. The Akamas peninsula is located in the northwest of the island of Cyprus.  Because of its isolation and its short brutal history as a British army firing range, Akamas missed out on the rampant development of the 1980s and 90s and still has wonderful natural places, small out-of-the-way villages, and lots of people trying to figure out how to develop better, with nature in mind, not just money. Large parts of the Akamas Peninsula are ecologically protected under the EU's Natura 2000 but many areas are under pressure to develop hotels, tourist condos, resorts and other economically-driven real estate-focussed initiatives.  At the same time, many of the local villages are working on plans to protect the land and enhance local economic development in more sustainable ways. The village of Androlikou's plan for sustainable development includes eco tourist ventures such as organic gardening demonstrations, natural building education, and as a place for a Centre for Cooperation and Cultural Bicommunal Interaction between Turkish and Greek Cypriot peoples.
The Akamas Peninsula, and in particular, the village of Androlikou, seemed to be a place that could teach us something and also that might value some artistic attention. With this context always in mind, the workshop began, with us (Denise and Nancy) from Canada, our wonderful support team from Dancegate Lefkosia, and our 13 artist-participants from various places in Europe.
LENS OF EARTH AND STONE: PREPARATORY SITE VISIT
November 2016
We first arrived on the Akamas Peninsula of Cyprus in November 2016 to explore potential sites for our spring workshop.  As soon as we got off the plane, our exemplary host, Arianna Economou of DanceGate Lefkosia, introduced us to Aphrodite.  Just south of Paphos, in the Kouklia Archaeological Museum, stands the "aniconic stone of the Paphian Aphrodite":  a solid monolith, a single, four-foot rock that is smooth and black and warm as a body.  You can stroke its dark back.  They actually let you.  The purpose of the stone is to evoke the presence of the goddess.  It's unlike any Aphrodite we'd seen before.
Then, Arianna took us to the Rocks of Aphrodite where the goddess is said to have arisen from the sea in the foamy semen of a god, or maybe sui generis out of the amniotic water of the Mediterranean.  Large upright rock islands jut up out of this soup, and rounded beach pebbles hiss as the waves roll them in and out.  All around us were charms and tokens— plastic ribbons tied on trees and rocks arranged into hearts with lovers' initials.  As the sun set, the foamy sea and brilliant sky caught on fire.  Here, we realized, was a glorious, rich and troubling marriage of nature/culture, divine/human, monuments/gestures, stone/sea, timelessness/ ephemerality—all elemental forces that arouse our senses and inspire the exploration of the riches and failures of the human relationship with the entire natural order.  The ground zero of eco art.
Somehow we needed to align ourselves with this Aphrodisial influence.  Yes, align ourselves to love, to the sea and to sensuality—we expected that, we were in Cyprus after all— but it surprised us that it meant aligning ourselves also to stones and rocks. We had to keep our eyes, arms and hearts open, but we also had to keep our feet ready for encounters with the earth.
Where then, should our workshop take place?  Everywhere we went there were queens, goddesses and saints, all connected to the earth.  Some, like the numerous Christian hermits, lived in caves. One of the most famous saints of Cyprus, Neophytus, while excavating new quarters above his cave church, was nearly struck down by a huge boulder that miraculously changed its course because of his holiness.  But also the geographical terrain is dotted with earth mothers and fertility goddesses, Madonnas and Byzantine princesses—many of them whose legends have them hiding out in caves and gracing shrines in tunneled-out rocks.  Aphrodite's Bath is in a dank rock grotto.
One day, we picked almonds out of the dirt, smashed their shells and ate their meat while waiting for Antonia, one of our powerhouse environmental guides, to pick out some rocks for a worksh
op she was hosting.  Another woman showed us her carob harvest—carobs being long woody pea pods that crack open to reveal seed but whose brown meat is what you eat and grind into carob powder.  Carob pods were stuffed into large pink plastic bags and mounded high around the rocky orchard.
Yet, the dark side of our relationship to rocks, stone and the earth also spoke loudly to us.  Coming from British Columbia Canada with its own legacy of colonial land theft, clear-cuts, and rampant development, we know that our relation to the earth and consequently to each other and other beings is fraught with violence and carelessness.  The Akamas peninsula is similarly marked.  It was the site of a British army firing range, so for decades the land was shot at and made forbidden.  The villages are still living in the shadow of the suppurating wound in the land that was the civil war of 1974 when the country was physically divided into two patrolled zones.  Several of the Akamas villages, Androlikou, Fasli, and Kato Arodes, were "ethnically cleansed" of Turkish Cypriots.  In Fasli and Androlikou, stone houses and outbuildings sit abandoned, crumbling, caved in, unused and strangely undeveloped into tourist cabins or hotels in spite of their staggering views.
Many homes are now occupied by chickens and used as animal shelters and thetangle and bitterness of land disputes and exiled owners haunt these places.  In Androlikou, the remaining villagers –a dozen or so—work at a huge rock quarry—cranes, bulldozers and other machines gouge out the boulders, rock that is ground into bone-white powder for making concrete or building roads.   And in the same village, there is a Turkish graveyard with simple rock headstones sticking out of wild grasses.   Most of these headstones have no names or identifying labels, but at one end, two single graves are marked off by fences and concrete barriers: the graves of two locals, a Turkish Cypriot man and his Greek Cypriot wife (their story is featured in the film Akamas the love story of a bicommunal marriage by director Panicos Chrysanthou).  The graveyard's earth is demarcated clearly, keeping the Christian bones far from the Turkish ones. Our favorite Cypriot proverb became: A fool throws a stone into the sea and all the wise men cannot get it out again. 
By the end of our November visit, we had chosen Androlikou as the site for our workshop—besides all of the above, there are rich red clay banks scooped out for pottery-making, and the rocky agricultural fields with old fig and orange trees are littered with fallen stone walls and villagers' homes and goat trails. Near the quarry are deep biodiverse gorges, and the town overlooks the beautiful sea and its turquoise bays, nurseries to rare turtles who nest on the beaches below.
The mayor of the town, son of the bicommunal couple in the graveyard and employee of the quarry, generously offered us the use of the empty school house for our workshop.  It is made of stone, surrounded by a rock wall.  We were going to have an Eco Art Workshop in Androlikou, Cyprus.  And we would plant a garden at the school.
HOME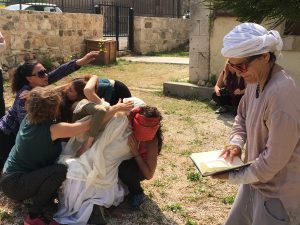 We were an internationally diverse group, though except for Denise and Nancy, everyone was from Europe.  But it was the new Europe. These artists had travelled around—the Spanish artists now lived in Berlin; the British artist had attended graduate school in Canada, the Norwegian artist had trained in Paris, the Greek artist was doing a PhD in England.  Even the Cypriot artists with us either had trained elsewhere in Europe or were living elsewhere and had come back to Cyprus for this workshop.  So where was "home" for these artists, and how would the concept of "home" play out in this eco art workshop?
The concept of "home" is crucial to eco artistic practice as it is in our homes where we have our deepest relationship to places, where we "make" homes, "keep" homes and "feel" at home. Commitment to stewardship, an emotional connection, and a sense of belonging are important for strong environmental ties to places and these qualities are manifest in our experience of home. Eco art theorists and artists, often using the word "dwelling", see something analogous in "home" and human bonds to environments and ecosystems.  It seemed to us, coming from away, we needed to bring the concept of home to the fore from the very beginning.  Not only is "home" a complex concept that affects eco art practice in general, but we were also conscious that we were parachuting into the homes of the local villagers and into a geography where ideas around "home" were fraught with political tremors.  "Home" was the sore spot, the pulse, the deep thing that we were sure would haunt us there.
So we began the workshop by having us, the participants, and our support team introduce ourselves in relation to our own far away or not so far away (in the case of the Cypriot artists) places.  In this exercise, we asked participants to describe their home without using place names.
This is not an easy task.  First one must internally identify where "home" is, and then describe it using sensorial or other characteristics of that place.  Essentially one must reconstruct the coordinates of "home."
Many participants, especially the younger ones, expressed feelings of homelessness. As noted, without exception, all of the artists taking this workshop had done extensive training far from their place of origin and many continued to live and practice their art away from that place of origin.  Also, many of these artists also lived in an urban setting rather than the more regional or rural ones of their childhood homes. Many people around the world are mobile—through choice or necessity—and the contemporary human being seems to abandon homes and places of origin with great frequency but we were made aware of how widespread this uprootedness is in artists' lives.
This realization has since made us wonder what this means for site-specific eco art?  How do the artists' experiences of rootlessness and hopelessness about finding a sense of home affect the work that is created?  What is the value of ecological art and site-specific art activities in such a migratory context?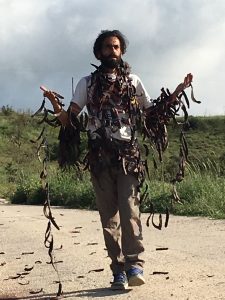 Ironically, while we were focussed primarily on one village in Cyprus and we had several Cypriot artists with us, the workshop was yet another transitory experience that mimicked this rootless context—most of us were from away and many of us were unclear about what "home" meant to us.  Many of the Cypriot artists were deeply ambivalent about their relationship to their own country. Our hope is that for the young Cypriot artists who expressed feelings of disconnection with their country, some of our exercises, the local support team and the invited artists enabled them to see their homeland through a different lens.