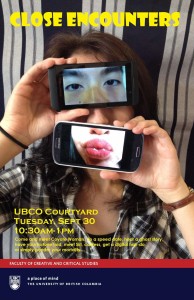 CLOSE ENCOUNTERS BLURBS
Students in THTR 401 (Live Art, New Media) created one-on-one intimate encounters using their cell phones, their bodies, their voices, and a small tent. The individually created and performed works varied from satire to romance. These pieces were performed at the University and at Nuit Blanche, an event hosted by the Centre Culturel Francophone de L'Okanagan, September 27, 2014. 
COTOTE WOMAN'S LODGE IN THE 21ST CENTURY- Journey with Coyote Woman to the land of technology!
Coyote Woman travels to the 21st century from the Captikw (legends) time of the Syilx to discover technology… the good, the bad, and the ugly! Smell the deer hide and warm your hands by the electronic fire and let trickster Coyote Woman take you on a 5-minute one-on-one cultural journey. Poking fun at the use and misuse of indigenous culture on the internet, the visitor will leave the lodge with new cultural sensitivity as well as a new BFF!
TAKE A HIKE- An interactive live digital eco-art experience with Shimshon Obadia.
Take a Hike is an encounter with technology alone in a tent surrounded by smart devices and a voice in your ear. Take a relaxing walk in nature with your iPhone's music and nonstop notifications. This experience invites you to explore the liminal space between every day presence and digital disconnect. Can you immerse yourself in nature while connected to your waiting, watching, digital umbilical handset? Take a hike and find out.
SO YOU THINK YOU CAN DANCE?- Meet Terrih. Terrih fancies herself to be one heckuva dancer.
Terrih is a real trooper practicing hard and posting dance videos to her YouTube account every single day… and now it's her time to shine. She thinks she's ready for the Big Time. She's itching to show you what a skilled dancer she is so that she can gain your vote. Yes, that's right, your vote. She's relying on winning over folks, one at a time so they will vote for her when she appears *fingers crossed* on season 12 of Fox's smash hit, So You Think You Can Dance.  Do you think she's got what it takes? Because Terrih sure does.
MEETING SIRI- 5 Minutes in the life of a Virtual Assistant
The participant is invited to experience a life-sized interaction with the inner workings of an iPhone. 'Meeting real-life Siri' will take you into the world of this obedient digital space, navigating sequential and contextual awareness in an effort to "have a relationship."
SPEED DATE– A digital candle, two digital meals, two glasses of wine, and a man who loves his technologies.
You will experience a five-minute speed date in a tent with Shane, an Asian man who has decided to take the risk of meeting real people in real life.  But will he get a date out of the deal?  Will you be his next true love or is he destined to spend those long lonely nights with Siri?
EXIT LINE– Let's read your prognosis.
Lindsay is going to die, and "when" is not a question. She knows when. The question is when you are going to die. But don't worry, there's an app for that. Enter Lindsay's tent and she will lead you on a journey to explore your own mortality. Within five minutes, you'll be given a prognosis tailored to your lifestyle and family history. This begs one more question, though, and that is: can you deal with it?  Subtle satire meets poignancy in this interactive piece of theatre. Will you enter the tent? Don't be scared. We'll all die, anyway.
CURIOSITY!- The intimate spectacle of the conformed human female
Welcome one and all to the exhibit showcasing the unattainable and rare conformed human female! For five minutes, anyone and everyone can be witness to a demonstration of the exclusive habits of such a pure specimen, including a feeding ritual, mating patterns, an excerpt of traditional dancing, and much more! By witnessing this freak-show-like spectacle, Curiosity encourages viewers to engage critically with their everyday assumptions and interactions of themselves and other Western women.
THE STALKER– Are you my friend?
Have you ever truly thought about your level of privacy on Facebook- not only to strangers, but also with your "friends"?  Come and reconnect with one of your closest pals: Ali. Discover just how important your active social networking has been to her. You may be surprised with what she knows about you, but why should you be? You are friends right? This five minute performance explores the alarming possibility of having a Facebook Stalker, while asking the participant to question his or her privacy on social media.
KATE'S CONFESSIONAL- How much would you share with a stranger if you couldn't see each other?
Would you be comfortable enough to share your darkest secrets and regrets if you were hooded, in a tent, with a complete stranger? Hear Kate's confession in exchange for yours. Can you trust her? Would you feel comfortable having your confession recorded- even if you remain anonymous? This encounter is simply about sharing and the limits that we place on the information we share.
THE HAIRDRESSER- Come in to this tent, to rock your soon to be new style! On the house, Of course.
The first thing we do after your one-on-one consultation is a before pic. We live to see results at this salon. The magic begins after draping you with our Italian made cape. This performance explores how our hair defines us and how we so love to be pampered. Fun creativity is required from both parties. Pop in and get a virtual "trimmin'."
UNDER THE LED LIGHTS- Come warm up by the campfire app.
Have you had a spooky experience while out camping? Brianne has. Have a seat, roast a marshmallow and get cozy.  Experience the paradox of the distance and closeness technology can create between people. By digitally creating the age-old dynamic of campfire stories, this piece raises the question: Is technology the culprit in distancing us from others, or can it have the capacity to connect us as well?
DIGITAL FORTUNES- Let's investigate your finger for future financial, romantic and childbearing prospects.
Uncover all of your lives: past, present and future. Sit down, relax, listen, breathe in the mystical smoke that surrounds you and present your index finger. See and feel the warm glow of Lucia's prophetic device. Extend your palms and let her reveal the power of digital fortune telling. Your future awaits you, let's begin.
COUGH- When Technology Catches A Cold
Sounds have a profound effect on people. This is true even when sounds are replicated virtually. Working with this idea, Cough elicits a visceral response during a one-on-one performance encounter by using digital sound. Allowing the participant the opportunity to interact with the technology, it is up to them to choose whether they would or could stop the sounds from playing… and make the illness go away. But will they get infected themselves in the process?
THE DISEMBODIED PERSONNA- How do you know what is true?
What do you say to someone you've never met before? What do they say to you? What would you do if you caught them in a lie? And what if the body you're interacting with doesn't actually belong to the voice you're hearing? This performance explores the degrees of honesty surrounding disembodied identities such as online personas; the degree of trust during encounters with strangers; and the relationship between body and word.
MADAM BUTTERFLY– Auras made accurate
Madam Butterfly's temporal portal she greets you with her butterfly wings outstretched. Let her digital device read you palms.
BLINDED HONESTY- Unveiling truth to the veiled
How can someone be watching you and not watching you at the same time? In this performance, you may discover how digital eyes can be captivating, and discover more about yourself as you answer Kate's questions. At the end, decide for yourself if your answers should be kept anonymous or if they can open a gateway to make a new friend.