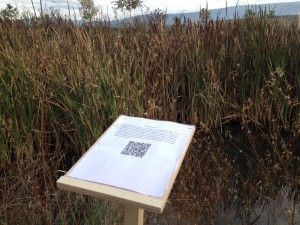 5-10 minute site-specific sound pieces were created and uploaded  so that they could be accessed using a QR code.  Podiums were built and placed at various locations on campus describing each work and providing the QR code so that any passerby might stop, scan, and listen to the work using their phones.
Story of a Place – N'sis-oolowx- Mariel Belanger
LOCATION: Next to spiral garden, behind Platypus House and Performance Portable.
Behind the portable between the marsh is a little oasis where corn stalks and sunflowers grow in front of three cut blocks in a row. A few feet in front of the cut blocks is a spiral rock garden that creates a walking path. Listeners will be guided between the two spiral rows, noticing a single deer track and hearing a story of a past summer when Mariel Belanger went out on the land to allow something to find her. This place reminds the listener of this home that we all share.
Perspective Test- Lucia Vajdova
LOCATION: Between Admin Building and fountain.
Do you ever zone out into your own world, ignoring your surroundings, completely absorbed in your thoughts? Daydreaming interferes with reality. Let Lucia take you on a short 6 minute tour through campus to the EME gardens. She will bring attention to certain objects while ignoring others. Perhaps she will while make you question reality. Perhaps she will challenge your common sense as well as your senses.
Ode to the Fountain- Kate Janus
LOCATION: Between Admin Building and fountain.
Listen to a 4 minute satirical poem written about the beauty of the artificial water fountain that stands in a man-made oasis created within the centre of a cold concrete circle. This water feature is untouchable, admired by passers-by in the central courtyard, even though the water does not flow for most of the academic year.
Vertigo- Kuan Ieong Cheng
LOCATION: CCS Lobby.
How's your balance? Is your vestibular system all up to par? Step up and test yourself with this audible challenge that pits you up against your own senses. "Vertigo" is a perception warping experiment that attempts to alter your sense of balance through a series of destabilizing sounds that suggest unbalance, recreating the sensations of vertigo.
Minor Shifts- Emily Macmillan
LOCATION: CCS Lobby.
Why do shapes flash in the corners of our eyes? Why do the back of our necks prickle? Why do we look to see if anyone is there? Minor Shifts is an exploration of the more than mundane possibilities in our everyday mundane environments. Set at early evening in the Creative and Critical Studies building of the University of British Columbia's Okanagan campus, this first person audio experience leads the listener through a series of observations that has them pay attention to the minute details of their surroundings. Through these apparently unimportant details, the question is asked: are you really alone?
Pulp Talk- Ashishvangh V. Contractor
LOCATION: Next to tree facing Tim Hortons in courtyard.
Rumor has it! Here gossip about the scandalous lives of UBCO students under this crown of branches and leaves. This tree has eavesdropped on conversations on benches and witnessed drama in the Tim Horton's line up for years now and needs someone to vent out to.
We Share this Land- Cori Derickson
LOCATION: On trail being EME leading to Platypus House.
Journey with Cori Derickson a Syilx Woman from Westbank First Nation as she takes you on a eco- cultural trip through the marsh wetlands of UBCO. It is a documented audio presentation sharing the ecological and cultural meaning of this land we share with the Indigenous people of the Suqknaken (Okanagan). Listen to life, its celebration, fragility, beauty and purpose from an indigenous perspective. We are all connected by this land we share. At the end you are invited to leave an offering of tobacco to the land. Way' Limlimt. Thank you for listening.
Cinemesque- Lauren Hjalmarson
LOCATION: In courtyard just outside Arts Building, next to picnic table.
Student Lauern Hjalmarson is often struck by the way that what she notice changes when she puts on a pair of headphones and allows music to colour her vision. Suddenly everything around her gains a new sense of poeticism, as if she has moved into an art film and her eyes, the cameras, are live-editing the world around her. This piece was designed to recreate that sensibility. It layers Hjalmarson's own singing voice to create a soundtrack for the quotidian moments of UBC's Okanagan campus.
Panic- Rhian Jack
LOCATION: On path leading down to H Parking Lot.
Panicis a 5 minute sound narrative about a student's struggle with social anxiety during her first year studying at UBC-O. On your way to your car, take the time to listen in as a narrator tells you the story of Liz, hurrying along this path to her car between classes.
The Critic- Brianne Messing
LOCATION: Next to sculpture on grass outside of CCS Building.
Listen to a montage of responses to the metal sculpture outside the CCS Building. Listeners are invited to examine the sculpture for themselves. This piece explores the interface between art and public.
Pillar Placard- Lisa Marples
LOCATION: Arts foyer (leading into courtyard).
Have you ever wondered how many people have occupied this space before you? Or have you ever taken a moment to think about the lives of all the people you pass by on a daily basis? This short sound performance seeks to explore these ideas and invite you as a listener to do the same. Use your phone to scan the QR code located above and headphones
A Moment to Meditate- Alison Gill
LOCATION: Arts Atrium
We cold all use a break. This piece invites you to take yours while listening to a six minute sound art experience. Whether you are just beginning, ending or taking a break in your long day on campus, these few short minutes will help you to unwind and recharge.