Weblog#2: Entry #5
Check out the video at the bottom of this site. In collaboration with the written text of the webpage, the video seems to pictorially tell a story of how the city of Victoria, BC and it's surrounding 9 Coast Salish FN Bands have created a uniquely Northwest FN, British/European, and Asian community. Interestingly, there is no dialogue or voiceover. Be forewarned, the video was produced in partnership between the Province of BC, Tourism Victoria and the Victoria Conference Centre. As a result, everything is presented with a slight air of picturesque, romantic perfection, which I guess is important if you want people to visit. Needless to say, none of the unsavory aspects of Victoria made the video 😉
Weblog #2: Entry #4
In my attempt to refine my understanding of how different FN communities define culture I happened upon this Federal 2004 report by the Strategic Research and Analysis Directorate Indian and Northern Affairs Canada which aimed to do 4 things:
[Identify] prosperous First Nations communities which could serve as role models and sources of best practices for less developed communities.
[Identify] those communities whose particularly serious socio-economic difficulties demand immediate attention.
[Create a] system of scores can be used in myriad other research projects to expeditiously and cost-effectively assess the determinants and correlates of wellbeing in First Nations communities.
[Examine] wellbeing in First Nations communities relative to other Canadian communities.
At first I was surprised by the fact that such a report existed but then I quickly bought into the need to establish present benchmarks upon which future research could be compared and referenced. Recognizing that this 2004 report was based on 2001 data, it seemed logical to me to expect subsequent reports deriving from the 2006 and 2011 censuses. I would estimate that completed reports would be published in 2009 and 2014 respectively as per the 3-year research and publishing window of the 2001 census and 2004 report. I have not been successful in finding any such reports. As a result, the following questions have emerged in my mind:
Did Strategic Research and Analysis Directorate Indian and Northern Affairs change it's name?
Was the Directorate quietly removed in a post 2004 Federal Budget and thus ceases to exist?
Did the Directorate determine that such research was not longer needed or important?
Did the census stop asking questions that produced relevant data?
Part of me hopes that questions a. is the reason why I have not found any subsequent reports. Sadly, if any of the remaining questions are the reason for the lack of follow up reports, then we may be doing our society and collective culture a disservice.
Weblog #2: Entry #3
The Esquimalt Nation is presently building a Community Centre, which will be on the corner of Admiral's Road and Thomas Way (see map below). The community plan is based on 'Natural Laws' which inform the 'Cycle of Life'. A quick overview of these laws are linked on the site for those, like myself, who are unfamiliar. Of particular interest to me, as it relates to my research topic, is how will this community center enhance and support all of the surrounding communities. My impression is that this site will be intended for us by all and not just the FN communities but press on such details have not yet been released.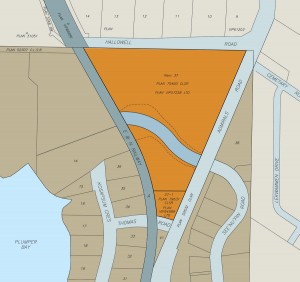 Weblog #2: Entry #2
In Victoria there is there is the Victoria Native Friendship Centre (VNFC), which lists the following aims on Community and Culture Relations page:
To create better understanding between Frist Nations people and the general public, and to promote planning with government, health, welfare, church and other agencies to improve the quality of services and facilities for First Nations people in the community; and
To encourage the public to take an informed interest in the promotion of these objectives and in the general well-being of First Nations people.
Implicit in aim Number 1 is the fact that there is a need to improve the understanding(s) between FN people and the general public. While there is no great surprise there, I did find aim Number 2 interesting in that there is a desire to engage the public involved in achieving aim Number 1. To me, it seems that there is a welcoming and inclusive tone to this second aim which hints that the creation of community is not to be looked at in isolation. A FN community is linked to the surrounding community and vice versa. My future searches need to revolve around tangible examples of such an interconnected relationship.
Weblog #2: Entry #1
A quick viewing of the T'Sou-ke Nation's website hilights a strong relationship between it and the group SolarBC. It seems that the T'Sou-ke Nation, through its Smart Energy Group was "created with the purpose of educating the T'Sou-ke community about the importance of low impact sustainable energy, through the use of culture, traditional values and historical means of communication." My take of the information presented is that the T'Sou-ke Nation is taking a clear leadership role in welcoming environmentally friendly, smart energy solutions by blending Western and traditional Coast Salish beliefs and sciences. Of continuing interest to me is the amount of publicity that the project is garnering, see the Solar Forum & Gathering page. It is clear that this unique venture is redefining the T'Sou-ke Nation and as a result the interdependent communities that surround it.
Weblog #1: Entry #5
Thus far, my thoughts and feelings around indigenity and technology have meandered liked a tributary heading toward a large body of water. At times ideas rush forward in class 3 rapids while most other times the body of thought is happy to move downstream in careful, ponderous reflection. Being interested in the factors that have lead to the community of which I am a part of, I decided to take a closer look at the Western Communities, made up of View Royal, Langford and Colwood, approximately 15 min North of Victoria, BC. More specifically, I plan to focus on how the Western dominant culture has at times worked with, clashed or merged with the three Nations in the immediate area. My sense is that the dominant culture, although it may have initially bullied its way into determining what our community has come to look and be defined as, has been tempered by the communities, beliefs and values of the T'Souke, Songhees and Esquimalt Nations to produce a uniquely hybrid sense of community. I am eager to discover how technology has played and continues to play a role in this hypothesized relationship.
Weblog #1: Entry #4
While viewing the Esquimalt Nation's Community Building site I happened upon the statement:
"At the core of the plan are the Natural Laws, which guide the Cycle of Life. These, in turn, inform the Plan, which will consist of a series of goals, objectives and policies covering topics of importance to the community."
I'm interested in the Natural Laws and the Cycle of Life as defined by the Esquimalt Nation. These two factors will clearly have a role in the emerging community and must therefore have an impact on the larger Western Communities. It's just a hypothesis at this stage so I'll look to refine my ideas as I progress.
http://www.esquimaltnation.ca/planningprocess.html
Weblog #1: Entry#3
The more surfing/research I do the more I realize that I have so little knowledge about the communities around me. Just looking at the Songhees Nation website you get the sense of just how organized and structured a Band can be. There are departments and systems in place to help foster a growing community.
http://www.songheesnation.com/html/band.htm
Another point of interest to me was the clear link and partnership with two post secondary institutions, UVic and Camosun College, which were linked directly on the Songhees' Community Development Page:
http://www.songheesnation.com/html/community_development/educational_management.htm
Weblog #1: Entry #2
So I decided to start with the T'Sou-ke Nation as a jumping off point by which to frame my research into how indigenous and the Western dominant community have worked together to create a larger community. Check out the Solar-Power Project on the T'Sou-ke Nation Website – apparently the largest solar power project in BC. Here is a prime example of FN sustainability and environmental awareness blending with Western Science.
Weblog #1: Entry #1
Hey everyone,
At this stage, my ideas seem pretty specific to me but let me know if I'm either too specific or not. I presently teach in SD 62: Sooke which is just outside of Victoria BC. The area has a rich and involved history meshing First Nations, Spanish, English and Russian cultures, a a clear result of European exploration here on the West Coast of Canada. Next semester, I'm scheduled to teach what I believe to be is a locally developed course called, English 10: First Peoples. Based on my meetings thus far it seems to be focused on delivering the English 10 Curriculum while focusing on First Nations Culture, Literature and Art.
My intent with regard to our collective research is to explore how the Sooke and Songhees Nations helped to build the existing culture that is prevalent in the Western Communities just outside of Victoria, BC.
More to come as I refine my resources and links,
Ryan