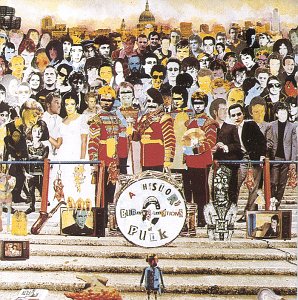 [Multiple warnings apply. This may not be the longest post I've ever written, but it certainly sets a personal record for embedded media bits. Since I only link to existing song files, it is quite likely much of this linkage will soon be gone. And being a history of punk, plenty of what gets linked below the jump would qualify as in dubious taste, or as outright obscenity.]
Now this is a learning object. Jeffrey Lewis sings the evolution of punk from its origins in the darkest regions of American folk right through to its explosion in popular consciousness, situated against the backdrop of New York City's Lower East Side.
I have plenty to say and link about Lewis' "History of Punk on the Lower East Side", but before I do, give his track a listen, it's a little under ten minutes long.
If you prefer, there's also a version of the surprisingly youthful Lewis doing it up on YouTube.
I have more — a lot more — elaboration of this wondrous slice of musical history after the jump…
[In the time it took me to listen to the 9:40 of Lewis' "History", I was able to assemble this Seeqpod playlist, which you may prefer to listen to in shuffle mode and skip my pedestrian commentary. It's got a quite a few tracks not referenced below. I'll embed the player at the end of the post.]
Lewis traces the origins of punk to the landmark 1952 Anthology of American Folk Music, a truly incredible collection of tracks, one that feels canonical and underground all at once. The music was originally issued between 1927 (the year electronic recording allowed for decent reproduction) and 1932 (when the Depression finally obliterated the market for buying it). The anthology is widely acknowledged to have been a huge influence on the folk music revival of the 1950's and 1960's.
Harry Smith is best known as an archivist and ethnomusicologist (in Lewis' terms a bohemian freak with a monstrous vinyl collection) but as his Wikipedia entry and dedicated archival website reveal, he was arguably more famous with the avant-garde crowd as an experimental filmmaker. He was also a shaker in occult circles, described by Kenneth Anger as "the greatest living magician." Now that's a diverse career.
Next up are the Holy Modal Rounders who took the darker currents of old timey folk and brought it squarely into the context of New York City freakdom. The incomparable Oook alerts us to the Bound to Lose documentary, with a truly twisted trailer. (Was SAM SHEPHERD really their drummer?)
Their weirdest material from later in their career doesn't seem to be readily available on the open web, but here's a taste:
And this was the closest they ever got to a hit, probably because it was featured on the Easy Rider soundtrack:
Next up in the narrative is an early incarnation of the Velvet Underground, who do typically get credit as an early precursor of punk music. They certainly strike me as one of the best examples of 'poor' technique nonetheless yielding wildly original and enduring sound:
I once had a Philosophy professor who had been on the front lines of the sixties counterculture in California, and when pressed he would reluctantly drip a few anecdotes my way. He turned me on to The Fugs. Sad to say the message of these tracks have aged pretty well:
I find The Godz harder to listen to than anything else listed here, though I like some scattered bits. Just one selection from them:
David Peel was completely unknown to me before his star turn in Lewis' "History". He is a study in contrasts, the inner city hippie, the peacenik who indulges violent confrontational fantasies. And his take on the Lower East Side may be the first explicit expression of NYC punkdom.
Peel recorded his early records on NYC street corners, and even after he got a record deal and an album produced by John Lennon (if you see a vinyl copy of "The Pope Smokes Dope" pick it up for me, willya?) he kept his street-based persona. I saw one busker clip of him on YouTube, now removed, that was clearly from the past few years, and he is full of hilarious fury. This video of Peel's answer song to "Okie from Muskogee" backed up by John, Yoko, et al… is a hoot:
On first listen, Silver Apples seem an odd fit in this history, but it's worth remembering that NYC rock at CBGB's wasn't just the Ramones, it was also the Talking Heads. Some of their stuff sounds shockingly contemporary to my ears. My favorite track by them ("You and I") isn't online, but this is probably a better sample anyway:
The Stooges were from Detroit, but whatever, their sound did change when they moved to NYC, and it's hard to imagine telling this story without them:
Jac Holzman and Lenny Kaye's anthology of 60's psychedelic rock Nuggets may have been as influential in its own way as Harry Smith's folk collection. Oooo, would I like a vinyl copy of it! It's near impossible just to pick a couple tracks:
One of the producers of the above Nuggets anthology went on to play guitar for Patti Smith — whose best work is woefully absent from semi-legal online sources:
I love how Lewis characterizes the New York Dolls — as one of the first groups who made stupid seem like the new smart. This was the first song to get me into them, when I heard it performed by a cover band in Tucson:
There's a wonderful exchange about that song when Dolls' singer David Johansen actually stumps legendary Vancouver DJ Nardwuar the Human Serviette (who really deserves a blog post of his own) in this funny 2006 interview. We learn that "Pills" was itself a cover of a Bo Diddley song, and yes, Skreemr has the original. It ain't exactly punk history, but I just gotta include it:
Lewis' "History" kind of careens to its conclusion from here, and thank goodness, as I'm sure that if you're still clicking through this post that you've had more than enough. Before he wraps, he namechecks Richard Hell, Television (they played CBGB's but featuring some truly epic guitar work), and fittingly he ends where many might have begun, with The Ramones:
As threatened, this hastily assembled accompanying Seeqpod playlist. If you can point to additional or superior tracks to what is here, drop me a line — I'd like to hone this collection in the coming weeks into the ultimate online companion to the History of NYC Punk.