The Best Show on WFMU – 2009 Marathon, originally uploaded by notladj.
So it's something of an annual ritual (see here and here) for Abject Learning to offer its meagre but heartfelt mojo to the WFMU Fundraising Marathon (background here). As I've written in the past, the legendary freeform station is a towering cultural touchstone in our home, and the sense of adventure and fun with which they pursue their mission is a constant source of inspiration. They are a model of a pre-digital organization enhancing their profile through the intelligent embrace of open digital media (archives, search, blog, MP3s and podcasts) without sacrificing the values that made them special in the first place. They are leading the way on the Free Music Archive which is set to launch next month, and offer a home to projects like the astonishing avante-garde archive UbuWeb.
It was a treat for me to discover this video of Station Manager (and dream keynote) Ken Freedman talking about WFMU's "Open Source Marriage of Audio, Music & Radio": webgeek stuff like MySQL databases and RSS feeds, the lunacy of present copyright law and industry stances with respect to noncommercial culture, and just generally sounding like he wouldn't be out of place at one of my favorite conferences…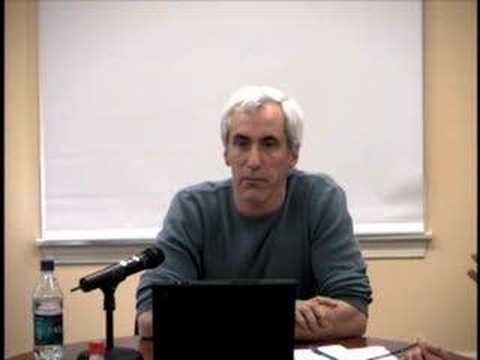 Thinking about what I could add to my previous years' posts, I was struck by my memories of a post Mike Caulfield wrote some time back. I know lots of people love the automated music services such as Pandora and Last.FM, and certainly I understand the appeal. But for reasons that Mike articulates much better than I can, I always find myself amused but unmoved by these services. The automated services, no matter how intelligent, no matter how wired into real social activity, end up feeling somehow sterile to me. And if I put special effort into my channel I will like the music I get back, but eventually I start to feel as if I am in an echo chamber of my own making. Mike writes: "A web radio show of the KEXP or WFMU type is put together by a person. And to listen to it is in some sense to engage in a dialogue with that person."
And that's exactly it. When I connect with a WFMU DJ, I will often be delighted and surprised, and I will sometimes feel bored and even mildly offended. But I will be connecting over weekly hits with a human consciousness that takes the creation of a playlist seriously… someone who links songs together in an act of personal sensemaking, often with something like a creative or narrative arc. The typical musical flow is 30-40 minutes of music followed by 5-10 (and yes, sometimes 15) minutes of patter. And in the age of Last.FM (or, for that matter the excellent and much more streamlined CBC Radio 3), some people find that extended human interaction intolerable. And I'll admit, I listen mostly on the archives and I frequently scan through the mic breaks. But if the music is great, chances are the stories and tidbits behind it are great as well, and the chance to hear an articulate and engaging person share those things can end up being great radio.
So in a sense, my support of WFMU endorses a vision of the web that understands its awesome power, that accepts the imperatives for comprehensive change, yet refuses to relinquish the human sensemaking and communication elements from the equation. I would hope for nothing less from my own practice.
The marathon (which is pretty much the station's sole means of support, no ads, no foundation grants, no underwriting) is probably not the best time to be introduced to the station. If you are new, it's just a bunch of people you don't know asking for money. If you want to check the station out, I suggest going to the advanced playlist search, and entering the name of an artist you love. You'll almost certainly be rewarded with a list of DJs and specific shows that have that artist, and you are quite likely to enjoy what those DJs are spinning.
But for those of us who love WFMU, the marathon is oddly enough a time where the station seems to elevate its game, where there is a pervasive sense of "expectation and a sense of occasion." Keira noted that part of this energy derives from the unusual pairings of DJs with disparate musical and personal styles which brings out usually unheard elements of their personalities (and occasional acts of litigation and violence if Kenny G is involved). The pledge-drive culminates in a riotous on-air party and live karaoke show known as the Hoof and Mouth Sinfonia in which most of the DJs perform songs via live videostream. As I've written in the past, it's kind of like Super Bowl Sunday at our house. I could only wish that the funding/business side of more organizations could be handled with such spirit of celebration.
If you don't know the station and love free culture, check WFMU out. And if you feel prepared to support it, there's lots of great swag and premiums to help ease the dollars out of your wallet.