Photo by Julio Albarrán
Audio clip: Adobe Flash Player (version 9 or above) is required to play this audio clip. Download the latest version here. You also need to have JavaScript enabled in your browser.
Yeah, I'm losing my edge.
I'm losing my edge.
The kids are coming up from behind.
It's been more than a week since I came home from the Symposium on Expanded Education hosted by the ZEMOS98 collective in Seville, Spain. My failure to blog about it does not reflect anything so much as how overwhelming I found the experience. Simply put, it was one of the great weeks of my life. And nothing like any other event I've ever attended. Imagine a week-long festival of film, music, activism, and learning held in some of Seville's most beautiful locations, including a home base with the Centro de Arte de Sevilla. Imagine all the activities open to the general public, most of them free of charge. And the focus of the event was as close to a pure expression of my professional passions as I could have imagined: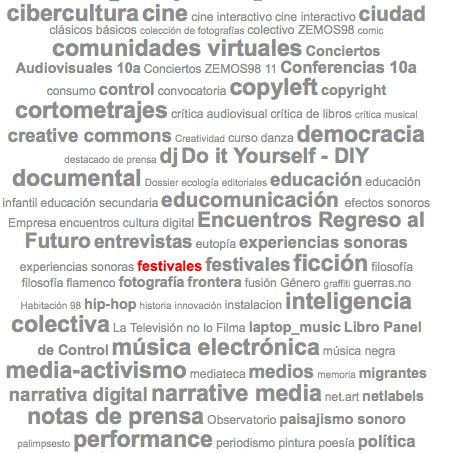 Even wilder, the event had a tremendous youthful vibe, largely because the average age of the ZEMOS98 collective seems to be around 25 years old. I knew this would be a different kind of event when I was picked up at the hotel my first day by a young woman on a skateboard. And though the feel of the week was very casual and informal, it was not an unconference… to the contrary it was incredibly well thought-out and meticulously planned, logistically flawless. Watching these gifted, passionate and relentlessly professional young folks do their thing, I couldn't get that LCD Soundsystem song out of my head (which presumes I ever had edge, but let's not think about that right now):
But I'm losing my edge
to better-looking people
with better ideas
and more talent.

And they're actually really, really nice.
After I finished my talk, I had a couple free days in Seville, and going into the event I intended to be a tourist at that point. But as it turned out, I found there was nothing I wanted more than to spend time with these remarkable people. I can't thank everyone who was part of that feeling enough, they created a learning environment that was inspiring, stimulating, great fun, yet also oddly relaxing. I love this video (via Pedro Carrillo), as it captures the flow of a typical day of the festival as it felt to me:
I want to blog much more, if only to hold onto this feeling a little longer. I intend to interview Juan Freire and Rubén Díaz to capture and to better understand the thinking that went into the remarkable programming. I also want to follow up on a number of the projects I saw, for instance to talk more with Olivier Schulbaum about the inspired and inspiring Bank of Common Knowledge. I wrote in an earlier post about wanting to know more about Brazil's fascinating relationship with free culture and copyright, so it was an incredible opportunity to speak with Ronaldo Lemos at length about his home country, about music (he's a huge music geek) and I want to share some of that as well.
I also have a couple funny stories relating to my own talk, including my attempts to legally show a clip from a movie that is about the absurdity of copyright.
But this post is already too long. So in the meantime I refer you to Julio Albarrán's wonderful photos, and Tiscar Lara's phenomenal job of bilingual blogging. And of course the ZEMOS98 site itself is a trove of delights I have yet to fully unearth (more videos here)…
But I was there!