Windspeaker-Canada's National Aboriginal Newsource

http://www.ammsa.com/publications/windspeaker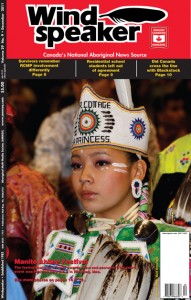 This publication is very broadly distributed throughout all of Canada. The editorials and submission pieces come from writers nationally. They focus on current events, music and art and personal pieces. Links are available to other Canadian publications and Aboriginal radio stations. I really liked the section on health and book reviews – point of view pieces and experts providing information and advice on a plethora of projects.
First Nation's Education Steering Committee
http://www.fnesc.ca/publications/index.php
An independent society that focuses's on improving education in British Columbia. The links are an excellent support for learners, parents, and educators. There is also a focus on news releases with editorial reviews to delve deeper into issues that are being identified. The publications page has a search engine to research topics and reports related to Aboriginal education.
First Nation's School Association
http://www.fnsa.ca
At first glance, I noticed that these pages from FNSA really centred on progressive education for First Peoples. I really found the current events section of the site extremely informative. And there was also a publications centre which has a variety of articles, papers and publications. They have a lending library! This is a fabulous resource that I haven't seen before. There is also, a special needs resource toll free hotline for parents, educators and administrators who are seeking advice or connections. To have full access to all publications and services you do need to become a member or associate member but it would be immensely worthwhile to undergo that process.
National Centre for Firsts Nations Government
http://www.fngovernance.org/publications/index.htm
NCFNG site contains an enormous amount of articles for all Canadian to learn and understand to process involved in the First Nations Government process. There are research publications, governance best practice reports, and presentations of findings. It is a trans-national site from BC to the Atlantic Provinces that is fabulous at detailing information for support and services for communities and youth engagement. You can find commentary that is specific for your centre or you can garner a better understanding of issues and events in other areas of Canada. They have offices in each area for support.
First Nations Summit
http://www.fns.bc.ca/
FNS is a very professional set of pages that has live webcast broadcasts from Chiefs and community members nationally and internationally. The references available include editorials, and FNS press releases. I was really intrigued by the current events section which included the FNS presentation to the BC Missing Women's Inquiry which is available in pdf format. As you scroll through the pages, it is a great option to look at the videos from Grand Chief Edward John as he speaks to a variety of organizations including but not limited to; the United Nations and a National China Trade groups.
The website, Asia Indigenous Peoples CCMIN (Climate Change Monitory and Information Network) has as one of its partners, Indigenous Peoples' Foundation for Education and Environment (I.P.F) that was officially launch in November 2005 to meet the needs of the indigenous community. The  aim of the group is to "best serve the need of its target communities particularly on issues of indigenous peoples' education, self-determined development and customary land use and natural resource management." The site provides a wealth of resources and articles which details of the policy changing efforts and case studies of unhealthy environmental practices. Overwhelming information on environmental and land issues can be examined as well as guides into capacity building exercises.
http://ccmin.aippnet.org/index.php?option=com_content&view=article&id=189&I
temid=146
This webpage is authored by the Department of Indigenous Affairs in the Government of Western Australia. It details the difference between aboriginal and mainstream culture as it relates to education, death and individualism. Lifestyle traditions are also discussed with additional links provided on Aboriginal kinship. From this site information can be gleaned on the uniqueness of aboriginal culture and heritage and provides visitor the unique opportunity of examining how simplicity, care and respect has governed their lifestyle and survival when compared to mainstream way of life.
http://www.dia.wa.gov.au/en/Heritage-and-Culture/Aboriginal-culture/Lifestyles-and-traditions/Aboriginal-culture-versus-Western-society/
This site Mission Aviation Fellowship (MAF) site details the offerings of a group of Christians who seek to share their love for Christ by reaching out and transforming isolated people. Using their skilled personnel and "out of the box" technology application they provide training in aviation and technology to indigenous people in many regions across the globe. Complete with resources such as news briefs, photos, videos and newsletters views are provided with exciting information about their work and accomplishments.  This site shows that there is hope for indigenous people as persons continue to bridge the distance of time and space with the use of technology to realize the hope for parity.
1. Indigenous Culture and the Western Concept of Development
http://www.fountainmagazine.com/article.php?ARTICLEID=74
 This site reflects an article written by Imran Sabir which gives an insight into the Indigenous and the Western cultural concepts of development. The article first clearly explains the meaning of the key terms development and culture. It further suggested how development and culture would be defined by the Indigenous and westehe articles also outlined the problems associated with both type of development and possible solution. The effect of globalization and technological advancement in western societies were also looked at.
2. Defining People Differently: Claiming Space for Aboriginal Diversities In Contemporary Canada
 http://www.canadian-studies.net/lccs/LJCS/Vol_16/NorrisNicholson.pdf
 This article was written by Heather Norris Nicholson from Birkbeck College and published in London journal of Canadian Studies 16:2000/2001. Her academic paper looked at the relations of the culture, socio-economic status and politics of Canada's Indigenous people and the people of the rest Canada over decade. This paper emphasized on the issues based on the following:
   • Conflict to Reconciliation and Healing;
   • Life-skills, Enterprise and the Language of Survival Economics;
  • The Languages of Restitution, Recovery and Cultural Autonomy
3. "Ideas for Cultural Videoconferencing in the Cairns Area (Northeastern Australia)"
 http://www.storytellingandvideoconferencing.com/44.html
 This are article was written in 2005 by Eric Miller,an American. In his article he discussed the roles that videoconferencing can play the cultural preservation of Aboriginals in the Cairns area of Australia. He stated that videoconferencing is a good way in which people across the globe can interact with Aboriginal people and become expose to their language.
4. Taking Ownership: Strengthening Indigenous Cultures and Languages through the Use of ICTs
 http://learnlink.aed.org/Publications/Concept_Papers/taking_ownership.pdf
 This article looked at the ways in which ICT can strengthen the indigenous culture and broadcast it to the rest of the world. The article clearly outlined areas in which technology helped the culture of the indigenous people. It also mentioned that ICT can have both negative and positive effects on indigenous people. However, the article mainly focused on the positive effects. Some of the points highlighted in the article include:
      • The integration of ICTs and indigenous cultures;
     • The use and the effect ICTs in indigenous communities;
     • The national policies and access initiatives of ICTs;
     • Technology as a vehicle to share knowledge across boundaries ;
    • Bilingual Indigenous Education and technology.
5. ICTs AND INDIGENOUS PEOPLE
 http://iite.unesco.org/pics/publications/en/files/3214689.pdf
This article displays a brief overview of policies on the use of technology among indigenous people. These policies were developed by the UNESCO in June 2011. The policies clearly outlined recommendations that follow the guidelines of United National Declaration of the Rights of Indigenous Peoples. The article highlighted some major points which include the following:
     • The importance of indigenous knowledge;
     • The critique of the policy option;
     • The erosion of indigenous people's culture by ICTs;
     • The reinforcement of indigenous culture and knowledge by ICTs;
     • Effective ways that ICTs can support indigenous education and culture.
http://iite.unesco.org/publications/3214689/
This website consists of vital information that will help me effectively develop my research paper.  The website presents the IITE Policy Brief report that acknowledges Indigenous people lack of access to information and communication technology resources which contributes to the digital exclusion they are faced with.  The paper highlights the challenges that contributes to this issue and also provide examples of models used across the globe that can be used by indigenous peoples to strengthen and reinforce indigenous knowledge and culture and provide more culturally responsive learning resources and environments for their children.
http://project.it.uts.edu.au/ipit/CulturalIssuesInIndigenousAustralianAdoptionOfICT.pdf
This website presents a paper that examines issues that Indigenous Australians face in relation to information and communications technology. The paper examines the impact of Western values on Indigenous people and also explores possible challenges that cause the low adoption rate of ICT use and implementation in indigenous communities.  In addition, the paper highlighted ways that ICTs are implemented in indigenous communities to help preserve and maintain their culture.
http://www.homelesshub.ca/ResourceFiles/Taylor_Social%20Media_feb2011%20%281%29_1_2.pdf
This website presents  the findings of research commissioned by the Horizontal Policy Integration Division (HPID) of HRSDC to determine "the extent, nature and benefits of social media use by five vulnerable populations – Aboriginal peoples, people with disabilities, recent immigrants, the homeless and seniors – and by the institutions that serve them, and to explore the extent to which such media help to overcome social isolation and barriers to inclusion in Canadian society".  I find the section related to Aboriginal peoples use of ICT very helpful for my final research paper as it provides empirical data on the usage of social media by Aboriginals, it examines the benefits, challenges and concerns related to ICT usage and it also highlights different social media tools that are used by Aboriginals.
http://www.sit.polytechnic.edu.na/news/2011/09/20/it-system-support-indigenous-knowledge-preservation
This website highlight the step taken by Academics from the Polytechnic of Namibia to preserve indigenous knowledge using technology as they feared that indigenous knowledge may be lost as time passes.  They are of the view that there are many indigenous knowledge that are important and must be preserved such as telling of stories, which could be easily lost with the absence of elders since they are not recorded in text or electronically, hence the need to preserve these traditions with technology.
The researchers are looking at developing an indigenous knowledge management storage system for selected communities in Namibia as a proof of concept to be transferred to other communities later. It will be accessible to individuals who want to be up to date with their respectful community's.  The initiative will also serve the village people with the means to upload/download recorded material on the indigenous knowledge system from anywhere within the village.
http://www.ethnosproject.org/site/?p=472
This website presents a three-phase model that can help to effectively preserve Indigenous traditions using digital media in meaningful ways.   There phases of the model are
Straightforward documentation of Indigenous traditions.  This step involves creating videos, animations, tutorials, booklets, and interactive websites etc.
Translation of Indigenous traditions into emerging technology and contemporary cultural modes of expression using tools such as youtube and facebook apps.
Application of principles of Indigenous traditions to develop new technologies such as 3D modeling, shared documents and cloud computing.
The article also highlights some opportunities and risks inherent in the digital preservation of indigenous knowledge.