So we delivered the Web 2.0 Online Learning Video Awards for the NMC conference a couple hours ago, and it was an absolute blast to do. We ended up using MediaWiki for our presentation space, you can check it out at http://video.learningparty.net/ — and yeah, I think we're going to do more with that domain.
This was a simple idea, but immensely satisfying to move along. Just before the session started I remembered a post that Gardner wrote last month that really hit me:
My friend (it was usually one-on-one) would bring over a stack of records, and I'd have my latest acquisitions, and for several golden hours we'd play songs for each other. By the end, I'd have had a full run of sharing and learning in about equal proportions, and with about equal intensity, so much so that sharing and learning became two versions of the same thing.

At times, teaching is like playing records, even though (or perhaps because?) I'm now the one with the huge "collection," much of it unfamiliar to students, and most of it something they're paying to find out about. I have a good deal to share, but I still like to be shared with as well, and I'm always thrilled when a student responds to something I've said with "hey, that's interesting; have you read (or seen, or heard) this other thing too?" I'm especially taken when the exchange happens in a surprising context. Some of that serendipity factor: not random, but not predictable either.
I think that riff speaks to why this session was so much fun, and why I feel I learned so much. Thanks to all the people who sent in nominations (58 great clips as of now). We were blown away by the number and the quality of videos, so much so that we mostly dispensed with the whole idea of assigning awards to a small number of them.
And as ever it was a special privilege to work with my friends. Jim was a MediaWiki master, and provided monster energy to the whole process. He was a riot during the IM planning. D'Arcy made a quick transition out of holiday mode and was his usual genial, knowledgeable, articulate self during the session. And Gardner was Gardner. During a wee hours IM session last night, Jim, D'Arcy and I came up with the idea of giving a "lifetime achievement award" to Doug Engelbart, largely in recognition of the stunning prescience of 1968's "The Demo". We knew that if we did it, Gardner would have to be the guy to do it. Not only did he agree on extremely short notice, but he absolutely hit the encomium out of the park… really, he actually did Engelbart justice.
And special thanks (and no small amount of contrition) to Alan, who was an arms-length co-conspirator from the beginning, and who once again had to deal with some unpleasantness because we took it down so close to the wire. I keep promising that next time it will be different… And his colleagues at the NMC were more than open to this admittedly off-beat presentation proposal.
One things about these more participatory structures for events… they always seem like less work when you think them up ("Hey! We'll just play our favorite YouTube videos!"), but usually if anything they take a lot more time and mental energy. When so many people make such wonderful contributions, you have to treat them right. The risks of disaster are omnipresent. But the payoff is more than worth it.
The wiki is open — if there are more videos to add, or if you have commentary to offer, please go to it. Nothing would be cooler than to keep this video party rolling.
OK, just one other thing that's gnawing at me…
Separated at birth?

Post-Hawaii D'Arcy Norman…
AND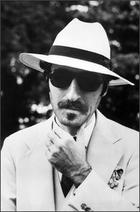 …Leon Redbone?