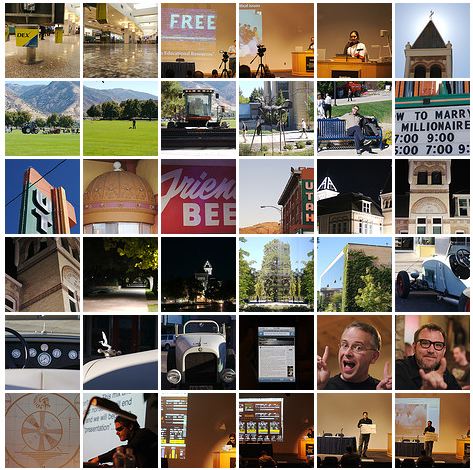 I'm in the Salt Lake City airport as I write this, and positively knackered. So I'll apologise upfront for a post that is incomplete and probably incoherent. I'm sure I'll miss lots of stuff.
Some highlights this week:
* getting an early start to the week at quieter than normal COSL office, getting the chance to hang out and talk more than usual with Justin, as he pushed the promising conference application 51 Weeks out the door.
* Ramita Shrestha's keynote was her first talk ever (she was awesome), and this was her first trip out of Nepal. Listening to how she approached her work running a community-access library with a handful of computers and a shared dialup connection, and what she was up against (even to be allowed to come to the event) was a truly humbling experience. Frankly, I felt like a spoiled punk — which in the global sense I am, of course. She was really gracious in conversation as well. I hope she had a worthwhile experience coming here.
* It's been my immense good fortune to share an apartment with Pedro Pernias when I've been in Logan on COSL business the past couple months. He's simply a fantastic dude, great fun to be around. And the kicker is that in Alicante he's been implementing the kind of whacked-out syndicated distributed content framework I've been dreaming of, and on a massive scale. His OCW in Motion project — which among other things uses RSS as a content import method into a wiki-based CMS. He presented this amazing system with great style — what wonderful PowerPoint slides (never thought I'd write those words). He says he wants to work with us (I wish he could meet my own whacked out RSS-buddy at UBC, Novak Rogic) and I can only hope it happens.
* D'Arcy and Jim kicked out the WordPress jams, and made a clear and compelling case how free tools can support a dynamic and rigorous network for the creation, remixing and redistribution of educational resources. Honestly, when I reflect on how higher education tends to spend technology money, and refract it against the simple but irrefutable points these guys made (in the expected entertaining fashion), I get kind of pissed off.
* I got to meet the dudes who did the Rick Noblenski video! I am not worthy.
* Scott Leslie's screencast on client-side extensions and educational resources is freaking amazing. Go watch it now. Prepare your mind for a blowing.
* Had a fun edublogger beer with the boys, and two great additions to the illuminati — Jen and Keri.
* David Wiley's talk on the proposed license was immensely clarifying and provocative. I'm still a bit uneasy about a license attached to "education", but I see the overall logic. His "Four R's" framework is something I will be revisiting.
* I had my mind blown by this talk on location-based metadata. This is huge in terms of mashups, authentic learning experiences, and learning activities that create useful public resources. I need to integrate this subject into my learning, and they gave me a great start.
* My own talk was something of a comedy of errors, but thankfully people seemed to focus on the comedy part and were very kind with me. I might blog more about it (I learned a lot), then again I might not.
It's a good thing I need to go catch my flight, as I could get intensely goopy about what this week meant to me in terms of friendship. David Wiley describes COSL as a family, and they make me feel very much part of it, and I can't express how grateful I am for how I am treated by that wonderful and gifted group of people. And any chance to spend time with D'Arcy, Scott and Jim is something to treasure. They are talented, ethical, thoughtful, and funny as hell. And damned good people to have as friends. David made a bit of fun about how we tended to be seen together, but I just wanted to soak up every bit of those fantastic dudes, it was an opportunity not to be missed.
— Apologies for the calibre of blogging here. No time for the usual proofread. (Yes, I usually proofread and revise — hard to believe, huh?)
opened2007 – hope that works, I'm hallucinating from fatigue right now.